Main Index
Random Page
Featured Topic
Affiliated Site
External Link
News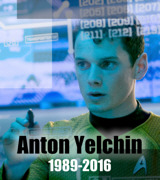 Bryan Fuller reveals more details on the new series - good as well as worrying ones.
Anton Yelchin's death in a stupid accident, at the age of only 27, comes as a shock.
Reviews of two more Voyager season 2 episodes: "Deadlock" and "Innocence".
Here are three new ship designs in the Journal of Applied Treknology. If you sent something and it wasn't posted, please add images or improve your drawings!