Main Index
Random Page
Featured Topic
Affiliated Site
External Link
News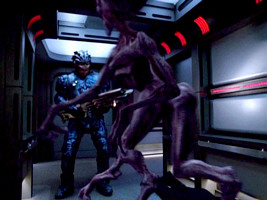 Read my updated reviews of the Voyager season 4 episodes "Prey" and "Retrospect".
It's time to continue my Voyager rewatch. Here are the updated reviews of the season 4 episodes "Message in a Bottle" and "Hunters".
Here are my considerations about Time Travel in Star Trek: Discovery (DIS) (covering the so far two episodes that featured a time travel).
And while I was at it, I also added a small article on Time Travel in Star Trek: The Animated Series (TAS).
The Starfleet Museum is available in print now. Dan Carlson has created a richly illustrated book of 286 pages with the starship designs by Masao Okazaki and their histories. This fan work is made available at no profit, for the cost of printing.