Main Index
Random Page
Featured Topic
Affiliated Site
External Link
News
28 Sep 2015
I have redesigned the EAS index page, getting rid of the nested tables in favor of mobile-friendly divs. Also, I hope that more people find the way to important guide pages such as the Trek Feeds. Finally, after some complaints that the design was too busy I have moved the direct links to sub-index pages to sub-menus that appear when hovering above the section symbols to the right. I am aware that this is a step away from my concept to show as much as possible at a glance, but it really helps to keep the design clean.
20 Sep 2015
I have discovered a secret(!?) RSS feed that allows me to compile a list of recent Disqus comments, without the need hire a department of programmers who can handle APIs. You can find the recent posts on the EAS Today page, so you know what is going on and where to comment.
19 Sep 2015
More content can be seen in the new layout, such as the EAS Fleet Yards.
Furthermore, I have added the Disqus comment box to the Fan Fiction section.
18 Sep 2015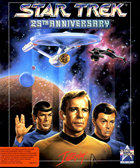 Here is an extensive article by TTP on The History of Star Trek Gaming - major games, minor games, their releases and subsequent evolution.
07 Sep 2015
Continuing my Voyager season 2 reviews. Here are "Projections" and "Elogium", the so far best and worst episode of the series, respectively.
This website is not endorsed, sponsored or affiliated with CBS Studios Inc. or the Star Trek franchise. The Star Trek trademarks and logos are owned by CBS Studios Inc.
The content of Ex Astris Scientia is made available for non-profit use only. © Ex Astris Scientia 1998-2015