Main Index
Random Page
Featured Topic
Affiliated Site
External Link
News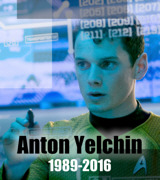 The new timeline from the Abrams movies is officially called "Kelvin Timeline" from now. Definitely a good decision, but before you expect me to drop the name "Abramsverse" and rework the whole site, here are a few comments on the policy at EAS and on the new name.
Bryan Fuller reveals more details on the new series - good as well as worrying ones.
Anton Yelchin's death in a stupid accident, at the age of only 27, comes as a shock.
Reviews of two more Voyager season 2 episodes: "Deadlock" and "Innocence".