Main Index
Random Page
Featured Topic
Affiliated Site
External Link
News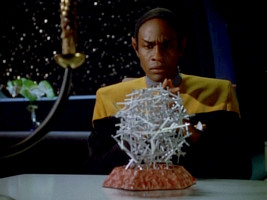 Two more Voyager season 3 reviews: "Alter Ego" and "Coda".
Here are my reviews of two more Voyager season 3 episodes, "Macrocosm" and "Fair Trade".
Happy New Year 2017!
Cuddly puppies, standing on the Enterprise at warp and planetary spring cleaning! Here are our Observations in TNG: "True Q" in SD and HD screen caps.
New Poll: What would you like to see in Star Trek Discovery?
Here is a new story by Travis Anderson, set in the TOS Movie era: Star Trek: In the Shadows. Mira Romaine is called out Memory Alpha for an unprecedented information exchange with the Romulan Star Empire. Romaine is unprepared for just how much information she'll be exchanging.