Main Index
Random Page
Featured Topic
Affiliated Site
External Link
News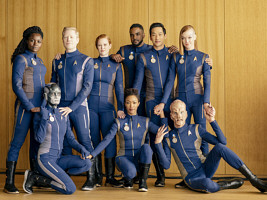 Here is a gallery of Star Trek Discovery Characters, consisting mostly of high-resolution publicity photos.
Just four days after Discovery executive producers Gretchen Berg and Aaron Harberts were fired, CBS announces that Alex Kurtzman has signed a five-year extension of his contract, with the goal to develop more Star Trek TV productions for CBS. Read my thoughts on the recent developments.
Daniel Tessier reviews two more novels, Drastic Measures by Dayton Ward and The Face of the Unknown by Christopher L. Bennett.
New Poll: What are your wishes for Discovery's season 2?
I conclude the starship database updates with the Discovery Mirror Universe Ship Classes. As always, supplements or corrections are welcome.