In Alien Hands
by Jörg Hillebrand and Bernd Schneider
Aliens with Five FingersAliens with Other than Five Fingers
Many alien looks in Star Trek essentially comprise a forehead make-up or some spots painted into the face. This is the method of choice under technical and budgetary production restraints, because the face is the foremost distinguishing mark among human beings and hence between humans and alien species as well. But there is one other body part that is frequently modified with special alien make-up: the hand. This small article provides an overview of the variations of hands that could be seen in Star Trek.
Aliens with Five Fingers
Most humanoid aliens have five fingers just like humans.
Suckers
Some alien species have vacuum cups on their fingertips.
Openings
Other aliens exhibit openings or pores on the backs of their hands, preferably above the knuckles.
Spikes
Many species can be seen with spiky extensions on the backs of their hands. Here are just some examples.
Varied backs
There is a diversity of other modifications to the back of the hand.
Long fingers
Some aliens have considerably longer fingers than human beings.
Other variations
There are some more variations among the aliens with five fingers.
Fingernail colors
Finally, while their hands look basically human, the fingernails of some alien species have distinct colors.
Aliens with Other than Five Fingers
Certainly one way to create a distinct alien look is to give a species more than five fingers or less.
Six fingers
Six fingers per hand seem to be a very rare trait.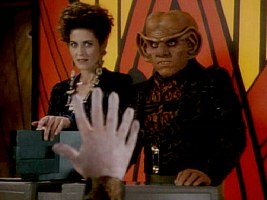 Kolos (species unnamed) in DS9: "Q-less"
Kolos's race has six fingers.
Four fingers
We know of one special case where the thumb and the forefinger are coalesced and of one race that has four equally spaced fingers.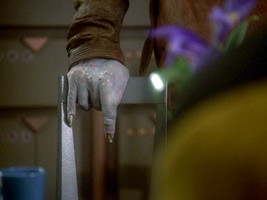 Jaglom Shrek (Yridian) in TNG: "Birthright I"
The Yridian thumb is grown together with the forefinger. Hence, they are four-fingered, as seen in TNG: "Birthright I" and DS9: "Business as Usual". There are Yridians with five fingers though.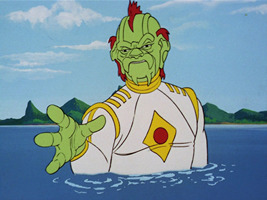 Bem (Pandronian) in TAS: "Bem"
The Pandronian Bem has just four fingers.
Note that human characters have five fingers in TAS, unlike in other animation styles that often prefer a reduction to four.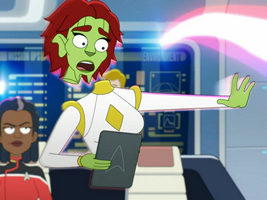 Yem (Pandronian) in LOW: "I, Excretus"
The fact that Pandronians have four fingers was taken into account for Lower Decks.
Three fingers
There is a wide variety of three-fingered hands or claws.
Two fingers
These races have a thumb, and the other fingers are coalesced to one.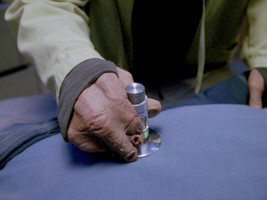 Malcorian in TNG: "First Contact"
The Malcorians possess no more than a separate thumb, while the remaining fingers are all grown together.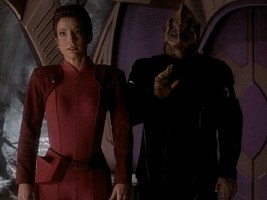 Parada in DS9: "Whispers"
Likewise, the Parada have just two fingers.
Anomalies
This race doesn't fit into the other categories.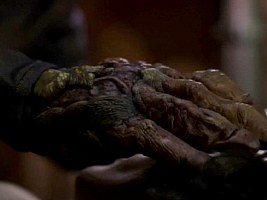 Vidiian in VOY: "Faces"
Vidiian hands are as diverse as the species from which the disease-ridden Vidiians steal them. The hands look just as cluttered as the rest of their bodies.
See Also
Races with Changing Faces - Tellarites
Races with Changing Faces - Gorn
Races with Changing Faces - Yridians