EAS Today
EditorialEAS @ TwitterEAS UpdatesEAS Random Page & ImageEAS CommentsEAS @ FacebookEAS @ Deviantart
The latest posts and comments on this site and on the social media pages of EAS. See Trek Feeds for feeds from other important sites.
No Discovery Season 4 Reviews Any Time Soon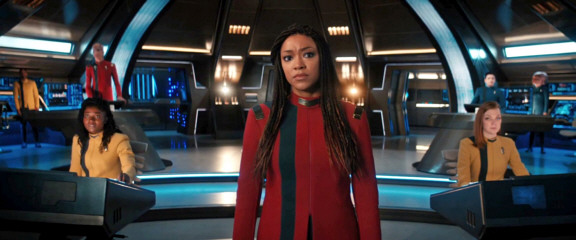 On November 17, Netflix clandestinely removed Star Trek Discovery for good from all of its international streaming services. I was aware that the deal with Netflix would expire some day, knowing that ViacomCBS produces fresh Star Trek content primarily as a crowd-puller for their streaming service Paramount+. But Paramount+ doesn't yet exist in most countries. I am angry about how ViacomCBS effectively bribed Netflix to suddenly pull the plug, only two days before the fourth season was to go up on Netflix. Even though Discovery is not exactly my favorite series, I was looking forward to it, I had slots reserved in my professional and private schedules to view and review it and everything was set on my website.
It seems that fans outside North America are only second-rate fans in the eyes of the people at ViacomCBS. Every season premiere of streamed Trek so far was overshadowed by the question if, where and when it would become available. We already had to wait several months for the release of Lower Decks and we also miss out on Prodigy until further notice. Being barred from watching Prodigy and now Discovery as well, there is no way for us to join the discussion or to stay informed at all, without running into spoilers just everywhere. At least, there is no legal way. If Paramount+ wants to scare away international customers or foster content piracy, they are on the best way!
For EAS, the delay means that there will be no coverage of Discovery's season 4 for the time being - no reviews and no updates to any articles either. I will eventually (have to) get Paramount+, but although the prospect is to have all Trek in one service, I'm not really looking forward to it, especially if it will require to subscribe to an expensive Sky package.
On a positive note, perhaps I can use the involuntary break to tend to some side projects without the deadline pressure imposed by newly released episodes. I can't absolutely promise it, but I think that EAS will remain spoiler-free for people outside North America.
I am not even sure if I will write episode reviews again any time soon. Already before being locked out from Prodigy and now from Discovery, I felt like it was more like a self-imposed duty. Even when US and international releases are aligned again, EAS just can't compete with news sites that don't only have veritable wordsmiths at work but also receive new episodes several days in advance. This head start gives them the opportunity to analyze everything frame by frame and also paves the way for an accommodating consensus that makes it hard for more critical fans to be still taken seriously. Actually, in recent years, most reactions to my reviews were like "You missed an Easter egg!", "Didn't you get what it was supposed to mean?" or even "Reviews must be positive or they ain't worth shit." - even with regard to Lower Decks, a series that I criticize a lot less than Discovery. Looking around on other sites that used to keep a critical distance, it seems I am not alone with my reluctance to write down my honest impressions, in a time when most people compress their comments to 280 characters, and anyone with an opinion is assigned to either the group of the "cheerleaders" or the "haters".
This was not really meant to be another rant on the state of the fandom. But keeping in mind how we are already divided, at least I hope that there won't be yet another schism, this time between North America and the rest of the world.
I will have patience. But once Discovery and Prodigy are available, I will likely watch them without an obligation in mind to catch and write down every single detail.
Bernd Schneider






















Important notice Part of the above feeds, videos and galleries are not under the control of the EAS webmaster. EAS is neither responsible for the correctness and legality, nor for the safety and correct display of the external content. In order to preserve the visitors' privacy, EAS does not include any kind of "social plug-ins" anywhere, the only exception being the above gallery and video players.