Star Trek TV Blog
2020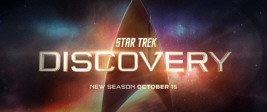 New Discovery Season 3 Trailer, International Distribution Secured
A new trailer for Discovery's third season has been released. It gives us the so far best idea of what will happen in the far future, more precisely in the year 3188. The Federation has collapsed after some sort of cataclysm known as the "Burn", and the Discovery is much like a last resort. Perhaps even more notably, a new wordmark for the series is introduced in the trailer.
Also, the international distribution and release date has been clarified. The series will be shown on on CBS All Access in the US, on Bell Media's CTV Sci-Fi Channel and streams on Crave in Canada (October 15), and on Netflix in 188 other countries (October 16).

Discovery starts over with a mostly clean slate in the year 3188. Although the radical change of the setting will not undo the damage this series has already done to Star Trek's integrity and morality, it is a chance to reclaim some of the abandoned or neglected qualities of the franchise, without having to admit that the initial concept was a failure. I expect that I can watch the third season with more ease than the first two ones, now that there is less of a danger that historical facts and beloved characters are screwed with. That questionable honor may quite possibly go to Star Trek: Strange New Worlds.
I never liked Andromeda, or Gene Roddenberry's propensity for post-apocalyptic science fiction of the mid-1970s for that matter. For Discovery (the ship and the series), this is a bit like jumping out of the frying pan into the fire. However, since Discovery never felt like Star Trek to me anyway, this does not have to be a bummer but may be a chance to redeem itself. Perhaps the writers have learned by now how to build a coherent story and work with their characters. I expect and even hope that the world of the 32nd century looks and feels very different than the past as depicted either in DIS or in classic Trek. I am curious if and how they try to sell the ridiculously advanced Discovery as a 900-year-old ship in its new galactic environment.
If we don't like at all what happens in Discovery's third season, there's still the option to ignore it altogether, this time without getting into arguments with fans whose view of canon is very selective. After all, the future is not yet written.
I like the new wordmark of Discovery. It is much cleaner than the previous, "weathered" one, and I am glad they got rid of the "broken" font.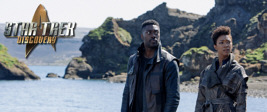 Discovery Returns on October 15
As just announced by startrek.com, Star Trek: Discovery is set to return with its third season on October 15. The post production of the season was delayed due to the coronavirus pandemic.

This is good news, although I still have huge issues with Discovery. With the ship being stranded in the far future, the series now has the potential to tell stories that don't damage the integrity of the preexisting Star Trek. And that feel like they belong to Star Trek in more than only the affirmations of the staff. I keep my fingers crossed that the people around Kurtzman have learned by now how to make a Star Trek show. Picard was a step into the right direction, and there is a chance that Discovery may change for the better too.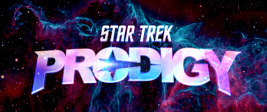 Titles for Nickelodeon Series and for Lower Decks Episodes
Star Trek: Prodigy is the title of the second new animated series that is set to air on Nickelodeon. It will be released some time in 2021. As already announced last year, this series "follows a group of lawless teens who discover a derelict Starfleet ship", and it is being developed by Kevin and Dan Hageman. It is aimed at a younger audience. No further details are known as of yet.
Furthermore, additional artwork for Lower Decks was revealed, as well as the first four episode titles:
Episode 101: "Second Contact" (August 06)
Episode 102: "Envoys" (August 13)
Episode 103: "Temporal Edict" (August 20)
Episode 104: "Moist Vessel" (August 27)
Also, a clip showing the first 90 seconds of the pilot episode was released.
There is still no word if and where the series will air outside North America.

There is nothing yet to comment on regarding Star Trek: Prodigy. Although the premise of "a group of lawless teens" doesn't seem to bode well at all, there is a chance that the series can fit into the Star Trek Universe. And this still wouldn't mean that it has to be canon too.
Despite my harsh reaction on the trailer and despite the fact that the opening scene isn't funny (except perhaps in a Rick and Morty way), the above is my take on Lower Decks as well. If the series manages to embrace the spirit of Star Trek in more than only factoids and visuals and if it also brings us intelligent humor unlike in the bits we already know, count me in. And even if Lower Decks turns out to be just a sicko parody of the real Star Trek, this still wouldn't be a reason to hate it. I very likely won't accept the decree that it is canon anyway. Because why should an animated series about infantile and irresponsible junior officers on a crazy ship be eligible, whereas the canon status of a show with the very characters of TOS on the original Enterprise is disputed?
Lower Decks deserves a chance, and I would watch it if there were a legal way. But CBS seems to have failed to market this series internationally. Even Netflix, the logical choice for anything related to Star Trek and to Rick and Morty, does not seem to be interested in Lower Decks, at least not for the price that CBS demands.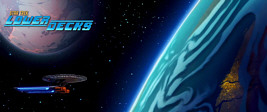 Lower Decks Trailer Released
CBS has released a trailer for the new series Lower Decks that gives us a first impression of the crew and the ship and also of the kind of humor to expect.
Lower Decks will premiere on CBS All Access on Thursday, August 6. Except for Canada, other international releases have not yet been announced.

I don't want to judge Lower Decks by its trailer, as trailers are customarily composed of random bits that are not really representative of the series. I hope there is more about the show than extremely silly humor that revolves around embarrassing nudity, farts, slimy substances, zombies, being swallowed by a monster, or Star Trek clichés that stopped being funny many years ago. There is still a chance that other jokes are less generic and more intelligent than the ones in the trailer. It is possible that the show has Star Trek spirit after all, and isn't governed by the nihilism of Rick and Morty. And perhaps Ensign Mariner does not act like a six-year-old child all the time? Please?
I still think the Star Trek franchise is big enough for a comedy show, perhaps even one that parodies the very thing. But in order for Lower Decks to become a welcome addition to the Star Trek Universe, the setting and stories need a serious undertone. After all, the series was announced as aimed at adults, something that is hard to believe after seeing the trailer.
On the bright side, there is much attention to the details of Starfleet design and technology as it should look around 2380. Only the sickbay logo is an unfortunate crossover with Discovery.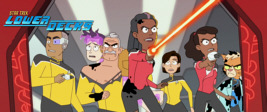 Lower Decks Coming on August 6
The animated series Lower Decks, created by Mike McMahan, will premiere on CBS All Access on Thursday, August 6. The ten episodes of the first season will be released on a weekly basis. Each of them is about 30 minutes long. As already announced, the series focuses on the crew of "one of Starfleet's least important ships", the USS Cerritos, in 2380. A teaser poster with the motto "Rarely Going Where No One Has Gone Before" provides a first look at this ship.
The series will stream in Canada on CTV Sci-Fi Channel (English) and Z (French).

This is good news in a time when we all can use some distraction! I only hope that the international release will be announced and will happen just as fast. Like many international fans, I am absolutely willing to pay for a legal way to view this series timely, if this legal way exists.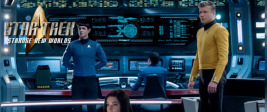 Pike Series Announced: Strange New Worlds
After months of speculation what other Star Trek projects CBS may be planning, the series order for Star Trek: Strange New Worlds was announced earlier today. The series will feature Anson Mount as Captain Christopher Pike, Rebecca Romijn as Number One and Ethan Peck as Science Officer Spock in the decade before Captain Kirk took command of the Enterprise. "This is a dream come true, literally," said executive producer Akiva Goldsman. "I have imagined myself on the bridge of the Enterprise since the early 1970s. I'm honored to be a part of this continuing journey along with Alex [Kurtzman], Henry [Alonso Myers] and the fine folks at CBS."
On other news, Patrick Stewart spoke of "startling events" in Picard season 2 without getting any more specific. He would love to include more guest stars from TNG, whereas Narek (Harry Treadaway) from season 1 may not return.
Mike McMahan gave an update on his new animated series Lower Decks, which he considers to be a part of the canon.
There is no news on the release date of Discovery's season 3 yet, which may have to do with its post production being stalled because of the coronavirus.

The announcement of Strange New Worlds doesn't come as a surprise at all.
When Star Trek Discovery was launched in 2017, many fans disliked the total redesign of everything Star Trek, the unrelatable characters and the bleak universe the series was set in, among other gripes. Alex Kurtzman promised that the second season would take care of the blatant canon issues of Discovery. And although Akiva Goldsman still negated in December 2017 that Spock would appear on the show, Spock (Ethan Peck) as well as Pike (Anson Mount) and Number One (Rebecca Romijn) became recurring characters in season 2. The three were enlisted for no lesser purpose than to save Discovery, by reconnecting it to the rest of Star Trek. Pike and Spock quickly gained more popularity than most of the regular series cast. Even many fans who still disliked Discovery began to campaign for a series with their adventures on the Enterprise. Hence, Strange New Worlds was a no-brainer for Kurtzman, who has a mandate to produce plenty of new Trek shows and who increasingly seems to listen to the fans.
That much is positive about the announcement of the new series. But is this what the fans really want? Is this what Star Trek needs?
Discovery's reimagination or reboot of the 23rd century has to be labeled an utter failure, despite or just because of the attempts to mend some of its numerous problems in season 2. In the end, it was certainly a good idea to send the ship to the far future and thereby averting further harm from Star Trek's continuity, as well as from its previously known utopian vision.
Strange New Worlds, however, will take up the baton and continue to overwrite TOS. At least, Akiva Goldsman more or less admits that it is his dream to better The Original Series, rather than to tell really new stories. I too imagined myself on the bridge of the Enterprise in the 1970s, but unlike Goldsman I have no desire to modernize these dear childhood memories or even replace them with a totally different vision.
Anyway, there is a new school of thought among fans, even some old ones, that Discovery's reimagination of everything Star Trek is the only authentic depiction of the fictional universe, at least as far as the 23rd century is concerned. In the opinion of these fans, The Original Series is nothing more than a "low-budget documentary (or mockumentary?) on the voyages of the Enterprise under Captain Kirk". As such, TOS is a series that is allowed and even required to be massively "upgraded" - visually and otherwise. Although they would never officially admit they effectively dispose of TOS, the people at CBS foster such thinking. The first season of Discovery with its almost total absence of visual links to TOS was still a reason for fans to dissociate themselves from DIS, rather than from TOS. In its second season, however, the producers of Discovery did something insidious by re-establishing some of these links and including half-way familiar characters in half-way familiar uniforms on a half-way familiar ship. The series was still deep in reboot territory (and the story was not really better), but now with a shiny production design that outperformed TOS in a way that many fans would replace the original with the alteration in their headcanon.
Being led by characters to whom the fans can relate, Strange New Worlds will likely have more Star Trek spirit than Discovery, and perhaps more than Picard. Even though I strongly disapprove of the continuation of the reboot, if the series explores strange new worlds more than only in its name, it may earn itself a place in the Trek lore. And if it brings back some positivity to Star Trek, it may be even a ray of hope in this corona-ridden world. More than ever, what we need is escapism in science fiction instead of the omnipresent dark stories about shady characters that are supposed to be a mirror of our bad real world.
But will Strange New Worlds be able to shake off the shadow of Discovery? In Discovery, Starfleet is a dishonest, even criminal organization. The planned genocide on the Klingons, Sarek's conspiracy with Space-Hitler and the lies about her true identity were just the beginning. The second season added Section 31, a sinister organization that is granted unlimited power, and ultimately the biggest cover-up in the history of the galaxy, the architect of which is no one else but Spock. Pike too is a proponent of the big scheme, and only tries to make it more acceptable with a kind smile. Rather than attempting to change it, the two are part of the system of lies and denials, of a Starfleet I would not confide in and do not have respect for. A series about Pike and Spock on the Enterprise would either have to carry on in this same vein - or would be hypocritical.
I may belong to a small minority, but I have no interest in the adventures of Pike's reimagined Enterprise (I like the design of the new ship but hate the idea to discard the original). Strange New Worlds will be covered at EAS like every canon Trek show, but will be labeled as a reboot just as Discovery. On a final positive note, perhaps the announcement of Strange New Worlds implies that the Section 31 series with Mirror Georgiou will never see the light of day, speaking of listening to the fans.
Three More Picard Episode Titles Announced
The following episode titles were announced today:
Episode 106: "The Impossible Box" (February 27)
Episode 107: "Nepenthe" (March 5)
Episode 108: "Broken Pieces" (March 12)
More Picard Episode Titles Revealed
Following the series premiere, "Remembrance", the next four Star Trek: Picard episodes will be titled:
Episode 102: "Maps and Legends" (January 30)
Episode 103: "The End is the Beginning" (February 6)
Episode 104: "Absolute Candor" (February 13)
Episode 105: "Stardust City Rag" (February 20)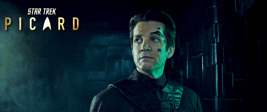 PIC Season 2, DIS Season 4, S31 and Still More Trek Shows
A couple of weeks ago, it was made public that the first showrunner Michael Chabon would leave Star Trek: Picard after season 1, which implicitly revealed that there would be a season 2. The second season of the show has now been officially confirmed by CBS All Access. Terry Matalas will be the new showrunner. On more news about Picard, CBS All Access announced that Wil Wheaton is going to host the after show, "The Ready Room". Also, some great Picard cast photos were released, which can be found at Trekmovie.com, for instance.
On the occasion of the announcement of the second season of Picard, Heather Kadin also stated that the Section 31 show is in active development. Finally, Alex Kurtzman revealed that "there are two more live action shows that haven't been announced yet."
It has not yet been officially confirmed, but a fourth season for Discovery is currently listed as "in development" in Production Weekly (Jan 9, 2020).

It almost seems like the early (premature?) announcements of new Star Trek seasons and shows happen in defiance of a certain faction of fans, who keep claiming that Discovery performed poorly and lost money, that the same is bound to happen with Picard and that Chabon was fired because of the expected failure, according to their "CBS insiders". I think we have solid evidence by now that none of this is true and that Star Trek is commercially attractive enough, at least on streaming TV, for the studio to obtain the necessary funding.
While it is basically good news that the franchise performs well and spawns new shows, I still have a bad feeling about the upcoming inflation of new Trek in the course of Kurtzman's "five-year mission". My first concern is that Kurtzman may trade quality for quantity as the franchise expands. I don't think the motto should be "Make Star Trek great again" but rather "Make great Star Trek again". Kurtzman may have listened to some complaints of the fans as he corroborates at the press conference. We all know what he alludes to. But the amendments to the concept and look in season 2 hardly improved Discovery, which still suffers from its absurd storylines and from being defiantly detached from Star Trek's rich continuity. Star Trek: Picard is just ten days away, and after reading Patrick Stewart's statements about how he insisted on turning the post-TNG world into a dystopia and after seeing this dystopia taking shape in "Children of Mars", my mood has turned from pleasant anticipation to "let's just give it a chance". In light of a possible failure of Picard, Kurtzman and Kadin are courageous to announce the second season before the pilot has even aired. I'll give them that.
Maybe Picard will positively surprise me. And even if I don't like it, it may become a success story, just like Discovery purportedly is one. Perhaps, rather than Picard, one of the two still unannounced shows will return to the old continuity and ethos? The expanding franchise attempts to create shows for all kinds of target groups: fans of dystopian sci-fi, action fans, comedy fans, teens, and maybe eventually old-school Trek fans like me. And exactly this is actually my second issue with the Star Trek inflation. I already addressed it in one of my earlier comments that I'm afraid of a Marvelization of the franchise.
Well, it may be possible and perhaps desirable to produce shows in short succession. And there is no fundamental problem if these are tonally different. A comedy show set in the Star Trek universe may work, because I suppose humans of the future will still have fun, except perhaps Michael Burnham. And even the Section 31 series that I dread so much may not destroy the franchise if it is balanced out by other new shows that show a bright future. But the coherence of the franchise is gradually lost if some of the shows are "darker", some are "more serious" and still others are "more canon", adding to the already existing discontinuity between old and new Trek as well as between live action and animation. Star Trek used to have a positive message that pervaded all six old series and all ten old movies and that vanished with the Abramsverse and Discovery. Irrespective of whether Gene Roddenberry's vision might resurface again in Picard or in a later series as a result of Kurtzman's learning process, "a buffet of Star Trek food to pick from" may seem like an attractive business concept, but the right way to build or preserve a caring fandom would be to offer a well-rounded dish.
Regarding the two more live action shows that Kurtzman spoke of at the press conference, the by far most popular fan theory is that one of them will be the much-requested Captain Pike series. As I mentioned in a previous comment, even many fans who dislike Discovery would love to see the return of Anson Mount as Pike and Ethan Peck as Spock, although it would be set on the reboot Enterprise. I can understand the affection for these characters, who are arguably more popular than anyone of the regular Discovery cast. But I am personally glad that the USS Discovery has left the 23rd century, and no more damage is done to the world of TOS. Let's leave it at that, please!
The perhaps best news is that Wil Wheaton will host "The Ready Room", which is reason for me to watch the Trek after show for the first time (that is, if it's included in Amazon Prime). That also gives me one more reason to hope Picard won't be a failure, because otherwise poor Wheaton will be forced to pretend it doesn't suck.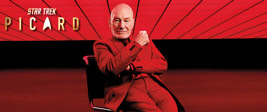 Stewart on How Much PIC Differs from TNG
In an interview with Variety, Patrick Stewart talks about his motivation to return to the Star Trek franchise, after an absence of 18 years. According to Alex Kurtzman, "he [Stewart] is uninterested in repeating himself." It was only out of courtesy that Stewart, in 2017, agreed to a discussion with Kurtzman, Michael Chabon and Akiva Goldsman about how he could return as Captain Picard. He declined but then suddenly changed his mind. Stewart agreed under the condition that the new series would be unlike TNG: "The world of 'Next Generation' doesn't exist anymore. It's different. Nothing is really safe. Nothing is really secure." According to the article, "in 'Picard', the Federation - a union of planets bonded by shared democratic values - has taken an isolationist turn." Stewart adds that the show "was me responding to the world of Brexit and Trump and feeling, 'Why hasn't the Federation changed? Why hasn't Starfleet changed?' Maybe they're not as reliable and trustworthy as we all thought."

I can understand very well that Sir Patrick Stewart, as an actor, doesn't want to repeat himself, just as Kurtzman is cited in the article. Stewart is an awesome actor, who should always be given any leeway he needs in his roles. It is clear anyway that his character Picard has to move on, for more reasons than only Stewart's age. The world of television has changed a lot since the 1980s, and a series like TNG would be produced differently today, for example as production values and serialized stories are concerned.
In an attempt to justify the changes in Picard, Variety calls TNG "quaint", which not only refers to its look and feel. The article takes it for granted that the series has lost its relevance on more than only the stylistic or technical side. I don't think this is true. And even if it were true, I don't see the rationale why, in order to be more modern, Picard has to be yet another dystopia, just like every notable non-Trek science fiction show. Isn't the very idea of Star Trek (that Stewart mentions in the interview too) that the Federation of the future is a better world? One with without racism, without poverty, without selfish leaders, without warmongering, for instance? Stewart says that "we are remaining very faithful to Gene Roddenberry's notion of what the future might be like." But so did already the makers of the Abramsverse movies, an action universe devoid of the traditional profoundness, and of Star Trek Discovery, a reboot that decries Starfleet as a ruthless organization of lies and denials. Assuming that he did have as much influence on the premise and on the scripts of PIC as the interview insinuates, at least I have some more faith in Stewart's words than in the past affirmations of Abrams, Fuller and Kurtzman.
Yet, I find it objectionable that Stewart came up with the idea of an isolationist Federation in the first place, in an unabashed and rather clumsy analogy to Trump and Brexit. He makes it sound like he incorporated his biggest pet peeves into the setting of Picard. Also, what he tells us about the theme of the series is an old hat anyway. Back in 2017, Discovery's Klingons were advertised with almost the same words, as an isolationist empire under a leader who promises to make Qo'noS great again. T'Kuvma, however, utterly failed as a 23rd century Trump, as did the whole idea of totally altering every aspect of the Klingon culture. In the series, as already mentioned, the totalitarian Federation and its ruling class (Vulcan ambassadors, admirals, dictators, prodigies) constitute the actual dystopia of the Discoveryverse, rather than an unrecognizable alien race that few fans still care for. I can only hope that the aspect of a corrupted Federation, however popular the idea may be among the producers and a part of the fandom, does not prevail in Picard, although Discovery sets a very unfortunate precedent.
I am the last person to deny that, unlike science fiction adventures in a galaxy far, far away, Star Trek has always had relevance for our world and time. The franchise has had its share of stories that commented on political topics of the real world, sometimes more and sometimes less successfully. But it is also a tradition of the classic Star Trek to tackle real-world issues in an encrypted fashion and to limit dystopian elements to single characters or alien civilizations. Of course, DS9's Dominion War was a close call to ruining the peaceful and tolerant society of the Federation. The recipe of DS9 only worked because the series was firmly embedded in such a world already established in TOS and (more notably) in TNG. With Discovery compromising the 23rd century (and possibly continuing along the same lines in the far future), many fans saw and perhaps still see Picard as the last chance for Star Trek to return to the continuity and look but also to the ethics and the positive vision of the future that pervaded the five classic series.
Not all hope is lost. We have to wait and see whether Patrick Stewart's announcement means that his series is a 24th century Discovery, or whether he merely wants to prepare us that the world of Picard is not quite as pleasant and benevolent than it still was in TNG.
From the spoilers that I glimpsed of the new Short Treks episode "Children of Mars" (that I can't watch although I'm a paying Netflix and Amazon Prime customer), we may be in for some unpleasant surprises though, both in terms of the back story of PIC and of crossovers with Discovery.
2019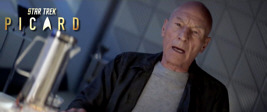 New Picard Trailer
A new trailer for Star Trek: Picard has been released by CBS on Facebook. It shows previously unseen footage of Picard sitting in Ten Forward of the Enterprise-D(!), watching how a planet is destroyed.
The series is set to start on January 23, 2020 on CBS All Access (USA), on CTV Sci-Fi Channel (Canada) and on Amazon Prime Video (other countries).

It is obvious that the Ten Forward scene has to be a nightmare, just as any appearance of Data in TNG uniform must be illusory. The trailers released so far are heavy on TNG references that may or may not be important for the story. In the worst case, they are just token nostalgia without a real impact.
I still expect that Picard will honor the classic Star Trek and that the alterations will be limited to visual effects and to the way that the story is told, although it is produced by the same people that made Discovery into a total reboot. In any case, fans who have turned their backs on the newer iterations of the franchise (I known many of them!) should consider giving this one series a chance.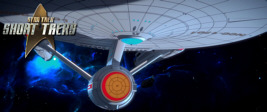 Preview of Animated Short Treks
The latest Short Treks episode, "Ask Not", comes with a preview of the two animated episodes "The Girl Who Made the Stars" and "Ephraim and Dot". They will both air on December 12.
The two new episodes are the first officially produced Star Trek animations in as long as 45 years. Both Short Treks are set in the Discoveryverse. As could be expected, "The Girl Who Made the Stars" picks up the African creation myth already mentioned in the teaser of DIS: "Brother". "Ephraim and Dot" deals with the encounter of a tardigrade ("Ephraim") and a repair bot ("Dot") of the USS Enterprise.

The writers of the previous Short Treks show a good sense of continuity with Star Trek Discovery. Almost every one of the short episodes made sense in the larger context of the series. We can expect the same from the two animated Short Treks. And whether they are meant to be canon or not, they won't be just isolated stories with some kind of Star Trek flavor.
Yet, after seeing just two seconds from "Ephraim and Dot", it is clear that this is going into a silly and cutesy direction. A laughing tardigrade? Come on! I understand that the episode may be aimed at children, but some basic rules of Star Trek should still apply in an animation. Well, maybe this episode is a trial balloon of how something like Star Trek may work for a still younger audience than targeted with the already announced two animated shows?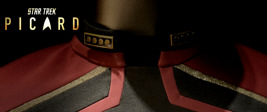 Picard Updates from Destination Star Trek
As the launch of Star Trek: Picard is less than three months away, there is some new information on the upcoming show. Trekmovie.com summarizes the news from Destination Star Trek In Birmingham.
The most visible news is Picard's admiral's uniform from 2385 that was on display. Also, Patrick Stewart confirmed that Jean-Luc Picard really is 94 at the time of the new series, and that his age wouldn't be retconned to 79. He negated the question whether the show would be suited for children: "No, there's some adult language and subject matter that's intense."
Probably most notably, Brent Spiner confirmed the speculation that the trailer from NYCC doesn't show Data's final appearance, and that post-production was not yet finished at the time the trailer was compiled.

I like the direction of Star Trek: Picard. The uniform looks in line with the style we know from TNG and DS9, and not retconning Picard's age is a further step of keeping the series in canon.
It is a bit of a disappointment that Patrick Stewart would not recommend Star Trek: Picard for children. TNG was definitely suited for kids (and popular among them), despite addressing serious issues, because it didn't need graphic violence and foul language to tell stories. While I'm not an advocate of (self-)censorship to achieve a TV-PG rating by all means, kindness was the general tone of classic Star Trek. Star Trek: Discovery set a new standard for profanity and violence in the franchise, and I'm generally fine with that aspect of the show, but I wonder if it couldn't be done differently on Picard.
Finally, I'm relieved that there will be no "Botox Data" on the show. But now that the word is out that Data will be changed, fans will have an even more critical eye on how he looks in the series.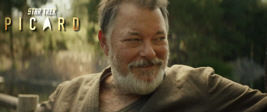 NYCC Brings Us New Trailers
New trailers for Star Trek: Picard, Discovery Season 3 and the Short Treks were posted on the occasion of New York Comic Con.
The Picard trailer confirms the already teased return of Jonathan Frakes as William Riker and Marina Sirtis as Deanna Troi. It also shows one familiar and unadulterated starship we could hope for, the Enterprise-D, and another one that comes as a big surprise: a TOS-style Romulan BoP with the correct proportions.
The premiere date for Star Trek: Picard will be January 23, 2020.
The Discovery trailer shows how, 930 years into the future, Burnham is separated from the crew for some time, how the ship visits the Trill homeworld and brings hope to a world that looks like a Federation, or what's left of it, trying to get back on track. The third season will consist of 13 full-length episodes.
Finally, the Short Treks begin streaming right now with the first episode "Q&A", at least for CBS All Access subscribers. No word from Netflix yet...
"Q&A" - Oct 5
"The Trouble with Edward" - Oct 10
"Ask Not" - Nov 14
"The Girl Who Made the Stars" - Dec 12
"Ephraim and Dot" - Dec 12
"Children of Mars" - Jan 9

The new Picard trailer keeps up the excitement about the upcoming series. Instead of revealing more about the direction of the show, this trailer evokes even more nostalgia than the first one: Riker & Troi, Data in TNG uniform (albeit just in a dream sequence or on the holodeck), Vasquez Rocks, the Enterprise-D, and even a Romulan BoP last seen in TOS. Star Trek: Picard clearly wants to cater to the needs of old-school fans like me, and I hope this will be more than only lip service in the form of a few details that we are believed to pay attention to.
On the other hand, as Patrick Stewart says in the narration: "I came here for safety, but one is never safe in the past." I appreciate that the series will move on because that is what Star Trek is all about. I hope it will not simply abandon its ties to the past though. I don't mind that the series borrows the view of Starfleet Headquarters and the shuttle design from Discovery, especially since the latter fits a lot better into the late 24th century anyway. Hopefully the makers of Picard are aware that too much Discovery in their series, whether it's in the story or "only" visually, will scare away many viewers. But I'm optimistic that Picard will look and feel like the next chapter of the very characters I love, and not like they are thrown into the action universe of Discovery.
The Discovery season 3 trailer too looks surprisingly promising. Although the Andromeda-like theme of restoring the Federation doesn't seem to bode well, at least Discovery leaves the beaten path. Perhaps the series finally lives up to its title, that it discovers a new time and space for the fans, instead of reimagining the existing Star Trek. Also, it is remarkable that there is far less action and visual overkill in this trailer than in the ones of the first two seasons, or even the ones for Picard. I'm cautiously optimistic about Discovery, although a great third season will not undo the damage this series has already caused.
Regarding the Short Treks, the situation has not improved a bit since last year, when CBS All Access subscribers could watch them months before they were available for the second-rate viewers on Netflix. No matter whether it's mainly the fault of CBS or Netflix, you don't build an international fanbase with a policy that keeps content away from worldwide viewers. And with geoblocking of trailers, while I'm at it.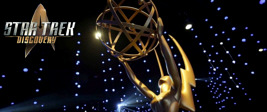 Discovery Wins Makeup Emmy
Star Trek Discovery wins its first Emmy, in the category of Outstanding Prosthetic Makeup. The series was nominated in three other categories: Outstanding Main Title Design, Outstanding Sound Design and Outstanding Visual Effects. The winning episode is "If Memory Serves", featuring the reimagined Talosians.
Discovery also wins three Saturn Awards: for Best Streaming Science Fiction, Action, & Fantasy Series, Best Actress in Streaming Presentation (Sonequa Martin-Green) and Best Supporting Actor in Streaming Presentation (Doug Jones).

Credit where credit is due for the things that Star Trek Discovery gets right! The Emmy for the makeup work is definitely a deserved prize because from a technical and artistic viewpoint Discovery is among the best that streaming TV has to offer. And since the Emmy explicitly goes to "If Memory Serves" with its respectful reimagination of the Talosians, it is a decision I am additionally happy with as an old-school fan.
I'm not sure whether Discovery is really the "Best Streaming Science Fiction, Action, & Fantasy Series" because I don't watch much else. And while I'm not always happy with Sonequa Martin-Green's performance in the series, even critics like me have to acknowledge she is the face of the new Star Trek, and quite convincing as such, whether we like the current direction of the franchise or not. At latest the Saturn Award for Doug Jones is an undoubtedly deserved honor. So congratulations to the crew and cast of Star Trek Discovery! Let's hope that this series (and the new ones that will launch in 2020) does not just garner awards but will also try harder to relay the core values of Star Trek.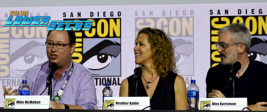 Mike McMahan Gives More Details on Lower Decks
Mike McMahan, the creator of Rick and Morty, negated that Lower Decks, his new animated Star Trek series, would be like "Rick and Morty in Space". In an interview with Comicbook.com, he said that "on Lower Decks, it's more about that optimistic Starfleet kind of emotional intelligence. Where Rick and Morty is fun and dark and nihilistic and it's about the multiverse, Star Trek is really about exploring our galaxy..."
McMahan also addressed the canon status of the new series. He said that "it's important to me that canon and Star Trek really go hand-in-hand. It's important, to me. It's not worth making a Star Trek show unless you are at least trying to make sure that it fits into the canon because the canon is part of why I and everybody else loves Star Trek."
The series will feature the California-class USS Cerritos and will be set in the year 2380. McMahan argues that he "wanted to choose a year that was kind of untouched, was kind of blank slate, that didn't touch on anything that they might be doing for whenever Picard takes place but also doesn't get in the middle of anything that was like, 'Oh, this was happening during the Dominion War.' Or, you know, 'This would be happening during [Star Trek: First Contact].'"

It's a clever and fan-friendly move that McMahan sets his series in a time that is not yet taken, rather than the two latest reboots that created a clean slate by removing (Abramsverse) or ignoring (Discovery) the established historical context. Although there is a certain danger that Lower Decks will clash with facts established in PIC, I think the year 2380 is a good choice. The world of Star Trek of the late 24th century is a dear memory from their young days to many of the (adult) target audience, obviously including McMahan himself. They would much rather embrace a show set in that era than yet another attempt to reboot the 23rd century.
Regarding the canonicity of Lower Decks, I wonder if McMahan mixes up "making a canon show" and "fitting it into canon", or intentionally blurs the difference. It is obvious that the first question, whether the show itself is canon, is the decisive one. Regarding the latter, adherence to canon is something the fans expect from every new Star Trek movie or series, animated or not, as well as from the expanded universe of non-canon books and games. This should usually be a no-brainer, if it were not for the recent trend to reboot the franchise. McMahan speaks of his show being "in canon", which could mean both. So while the actual canon status of Lower Decks may still be undefined, it is a good start to make it fit with the established facts of Star Trek. For a positive decision, Lower Decks would have to measure up to the canon criteria of Star Trek as well as to TAS. Considering that the latter is widely regarded as non-canon and hence sets a precedent for animated shows, Lower Decks may have to outperform TAS in several regards, a mission that will be very hard to accomplish.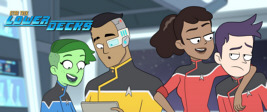 More Production News: Lower Decks, Short Treks, Discovery
Besides the much-anticipated Picard trailer, San Diego Comic-Con brought us new information on the other ongoing Star Trek productions as well.
The characters, the voices and some key art of Star Trek: Lower Decks were presented at SDCC. The new adult-oriented animated show is set for a release date in 2020. The first season will consist of ten episodes. The voice actors and their characters are:
Tawny Newsome (Ensign Beckett Mariner)
Jack Quaid (Ensign Brad Boimler)
Noël Wells (Ensign Tendi)
Eugene Cordero (Ensign Rutherford)
Dawnn Lewis (Captain Carol Freeman)
Jerry O'Connell (Commander Jack Ransom)
Fred Tatasciore (Lieutenant Shaxs)
Gillian Vigman (Doctor T'Ana)
There will be six new Short Treks episodes. Two of them are the already announced animated episodes. As many as three will feature Captain Pike's crew. The remaining episode is something like a teaser for Star Trek: Picard. The episode titles are as follows:
"Ask Not"
"Q&A"
"The Trouble with Edward"
"The Girl Who Made the Stars"
"Ephraim and Dot"
"Children of Mars"
Finally, David Ajala has joined the cast of Discovery for season 3. Some photos showing his appearance in the season 3 opener (shot in Iceland) were released on that occasion.

Wow. That's a lot of news. It appears CBS gets things moving despite all rumors to the contrary. I freely admit that now that we get Picard, a series that could save the franchise, I don't care as much for the other endeavors as I perhaps should. It doesn't seem to bode well that Mike McMahan, the creator of the very silly (yet often very funny) show Rick and Morty, is responsible for an animated Star Trek series. I still believe that comedy set in the Star Trek Universe may work. But I can't tell yet whether the new show can be serious enough to add to the canon (or at least to the legacy), or whether the humor will be of the kind of Rick and Morty. The character art looks more like the latter than like TAS. But Lower Decks may still surprise me. And as already mentioned, with Picard taking care of the serious part of saving Star Trek, it may suffice if the other series don't suck.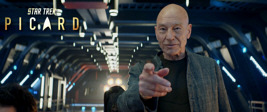 Picard Trailer Shows Many Familiar Faces and Places
Patrick Stewart brought three surprise guests to the Star Trek: Picard presentation at San Diego Comic-Con: Brent Spiner (Data), Jeri Ryan (Seven of Nine) and Jonathan Del Arco (Hugh). They all will appear in the new series. It was also announced that Jonathan Frakes (Riker) and Marina Sirtis (Troi) will return.
Some of the new characters were named too. They seem to belong to a team that Picard assembles. Isa Briones plays Dahj, a young woman who comes to Picard because he appears to be the only one who could help her (given the many other cues in the trailer, she is very likely Borg). Evan Evagora is Elnor, a young Romulan and apparently a master of martial arts. Alison Pill is Dr. Agnes Jurati, a researcher. Santiago Cabrera as Cristobal "Chris" Rios and Michelle Hurd as Raffi Musiker complete Picard's team. Harry Treadaway plays another Romulan named Narek, whose role is still unclear.
The premiere of Star Trek: Picard is set for early 2020.
The trailer for the series shows the new characters, but also many familiar faces and places that are almost too numerous to list them.

For the first time in many years, I am truly excited about a new Star Trek series. And although objections and doubts may be justified especially in light of the failure of Discovery (Will they get the Borg right? What about Data, considering that Spiner was always opposed to playing the role again? Will Picard be contaminated by DIS?), the pleasant anticipation clearly prevails. We may just get genuine unrebooted Star Trek again, for the first time in 15 years.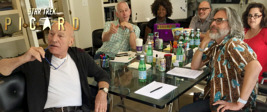 Michael Chabon Named Picard Showrunner
The official website startrek.com reports that Michael Chabon has been appointed showrunner of the upcoming series Star Trek: Picard. The Pulitzer Prize winner is known for writing the Short Treks episode "Calypso". He is working closely with Akiva Goldsman and Alex Kurtzman. In addition, Patrick Stewart, Heather Kadin, James Duff, Rod Roddenberry and Trevor Roth also serve as executive producers with Aaron Baiers (Secret Hideout) serving as co-executive producer and Kirsten Beyer as supervising producer.

It is no surprise that Alex Kurtzman does not take care of the day-to-day business of the new series, which definitely isn't a sign that he has been withdrawn or demoted in any fashion (although the rumor mill will probably make it look like their predictions are confirmed). Michael Chabon knows how to tell stories, and perhaps he has a knack for Star Trek. At least, I hope that his mostly well-received episode "Calypso" was more than just a lucky shot.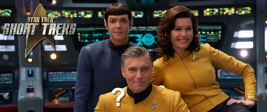 Spock and Number One in Short Treks
Director Mark Pellington posted a photo of himself posing with Rebecca Romijn and Ethan Peck, after wrapping up the filming for a new Short Treks episode titled "Chaos Theory".
According to Alex Kurtzman, who outlined his plans for the franchise in the years to come (possibly in defiance of recent rumors that he has been fired), there will be six new Short Treks episodes, two of which are animated.

Discovery critics are almost unanimous about what we dislike about the series: bad writing, unlikable characters, lousy continuity, lacking Star Trek spirit. We pretty much agree that we don't care for Discovery in spite of the course correction in season 2, and that after sending the ship a thousand years into the future the series could just as well end for good. But we are divided in our opinions about how much has to change to give us better Star Trek. Some think that we don't need yet another series set in the reboot universe, and this is my opinion as well. Others have come to like the characters of Pike, Spock and Number One as they were introduced in Discovery's second season, so much that they would support a series set on the reboot Enterprise. Moreover, even many of those who are into Discovery have expressed an even greater interest in a possible Pike series than in Discovery's adventures in the far future.
I don't know if Kurtzman could anticipate the strong desire for a Pike series. The production of the Short Treks episode with the existing characters and sets is a no-brainer, unless of course the new Short Treks are once again designed to foreshadow the things to come. So far we only know that Romijn and Peck are in the mini-episode. There is no mention of Anson Mount. My guess is that he won't appear, considering that each of the previous Short Treks too featured at most one or two of the principal cast.
Perhaps a Pike series has the potential to bring back some optimism to the franchise and to reunite the divided fandom to a certain extent. But seeing the further adventures of Pike and Spock would only unpleasantly remind me of everything that was wrong with Discovery and its depiction of the people and the history of the 23rd century. Rather than Pike, Picard is meant to be the old new spearhead of the franchise, and I still hope Kurtzman doesn't screw up Patrick Stewart's show. Discovery may have fun in the far future, and without the burden of explaining why it doesn't fit in I may even eventually come to like it a bit.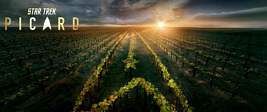 Picard Teaser Trailer
A first Picard teaser trailer and a poster, both with a vineyard theme, have been released by Amazon Prime Video.
Also in the past couple of days, some more screen caps and photos from the Picard set have leaked, albeit in a rather bad quality. From what we can tell, the Starfleet of the series uses DS9/Voyager-style uniforms with rank pips on the chest and a high collar, as well as a Discovery-style split arrowhead symbol.

The trailer with the wine theme looks nice and evokes a genuine nostalgia as it has been absent from Star Trek in the past ten years. Yet, it also unmistakably ties in with the events from "Star Trek (2009)", the destruction of Romulus. Although I know very well that this was always meant to be canon in the Prime Universe, I dislike the crossover and I would have hoped for a setting that features Picard in an unspoiled timeline, in one that looks to the future instead of the past. I am definitely willing to give the series a chance though.
However, the sword of Damocles is hanging over Star Trek Picard (PIC). The inclusion of the Discoveryverse arrowhead logo in the actual footage (unlike the ones in the promotional art!) doesn't bode well. It is a detail I normally wouldn't care for. If it were not for the things that have happened in the franchise in the past few years, it would be a non-issue and a mere matter of style. It would be easy to make up reasons why the logo was split only in Discovery until 2258, and once again 140 years later.
But the PIC logos were most likely designed in DIS style on purpose and are an indicator that the producers may be unwilling to go back to a pre-reboot Star Trek.
The dilemma in the age of "visual reboots" is that we can't tell any longer what actually looks the way it does (if it differs from something shown earlier) and what is meant to be a "reimagination" of something familiar. Case in point: the uniforms seen in the PIC footage with Patrick Stewart. They resemble the DS9/VOY style, which could indicate, in an analogy to the anachronistic DIS-style Enterprise uniforms of season 2, that they are meant to be the very same ones that we know from DS9 and VOY, only "reimagined". In the spirit of a "visual reboot", this is a perfectly valid assumption, unless the difference is explicitly shown or hinted at.
I want to believe that the PIC uniforms are new ones and that the series is not a visual reboot. I want to believe in what my eyes see. I am very much looking forward to the next chapter in Jean-Luc Picard's life. But the series becomes far less relevant if Picard is put into another reboot series that does not feel bound by the continuity of Star Trek.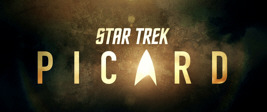 It's Star Trek: Picard!
As revealed by CBS today, the name of the new series featuring Sir Patrick Stewart in the role of Jean-Luc Picard is Star Trek: Picard. Also, a first picture of footage from the series leaked, showing Stewart as Picard and a Starfleet officer in what looks like a DS9/Voyager-like command uniform.

Star Trek: Picard is a good name for the new series, also because it has already been unofficially called so for quite some time. In any case, it suits Star Trek better than something invoking "Destiny". Regarding the uniforms, perhaps this is a first sign that the series avoids the gross mistakes of Discovery on the visual side, but for a real judgment we have to wait until we see the Klingons or the Starfleet technology of the new show.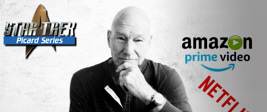 Picard Series to Stream Internationally on Amazon Prime
CBS announces that the new Picard series will stream exclusively on Amazon Prime outside of the U.S. and Canada. Each episode will be available within 24 hours of its U.S. premiere.
Update 14 May 2019: In Canada, the series will be shown on Space Channel.

CBS tries hard to sell the deal with Amazon as great news to international fans when in fact it is a major annoyance. Not because Amazon Prime is such a bad channel or too expensive at EUR 7.99 per month but because this adds to the EUR 11.99 we already have to pay to watch Discovery on Netflix. Especially in a country like Germany with high ISP costs and with compulsory extra fees for "public television" (EUR 17.50), many viewers will reconsider whether they still need Discovery and/or Netflix. If CBS wants to promote the further fragmentation of the Star Trek franchise, selling the rights to as many different streaming services as possible is clearly the right way. I bet that we are in for more unpleasant surprises regarding the international distribution of the two animated series (well, and of the Section 31 series if it is actually produced). Perhaps I should already begin to save some money for a Maxdome and a Sky subscription.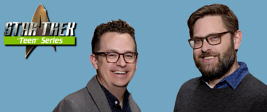 Animated "Teen Trek" Show Announced
The official Star Trek site announces a new CG-animated Star Trek series to air on Nickelodeon. The still unnamed show "follows a group of lawless teens who discover a derelict Starfleet ship and use it to search for adventure, meaning and salvation". It will be produced by Emmy Award winners Kevin and Dan Hageman. The new series is the second animated Star Trek to enter production, besides Lower Decks, which will be shown on CBS All Access.

The new animated series brings the number of ongoing or planned Star Trek TV productions up to five, not counting the Short Treks. As with everything new, we should be cautiously optimistic whether or not it will look and feel like Star Trek (knowing that Alex Kurtzman, who supervises everything must have learned a lesson from Discovery). And as already with the previously announced animated series Lower Decks, we don't have an idea yet how such a format will be like, more than four decades after Star Trek previously appeared as an animated show. It seems very likely that the still unnamed show will not only be about teens but also have teens as the main target audience. It may be a good thing to get young people hooked, also and especially if it is about more than only pew-pew and fist fights. As I already mentioned regarding Lower Decks, Star Trek and comedy are not mutually exclusive, and a "casual" Star Trek for a young audience is just as well imaginable.
Three More Cast Members Join Picard Series
Alison Pill, Harry Treadaway and Isa Briones were announced as three more cast members of the new Picard series. Further details about their roles are still unknown.
Anson Mount and Rebecca Romijn to Leave Discovery After Season 2
As could be expected, Captain Pike's tenure on the Discovery is not permanent. Anson Mount will not return for season 3, nor will Rebecca Romijn as Number One.
First Cast Members and More News About Picard Series
Michelle Hurd and Santiago Cabrera are the first known cast members besides Patrick Stewart to appear in the new Picard series. It was also announced that Hanelle Culpepper will direct the pilot episodes of the series. She was previously responsible for DIS: "Vaulting Ambition". The filming will start shortly.
Update 13 Mar 2019: Evan Evagora, an Australian newcomer, will play another regular character on the show.
Star Trek Discovery Renewed for Season 3
As announced by CBS, Star Trek Discovery has been renewed for a third season. Michelle Paradise, who joined the staff mid-way through season 2, will support Alex Kurtzman as co-showrunner.
More Season 2 Episode Titles
The next five episode titles of Discovery's season 2 are:
Episode 207: "Light and Shadows" (February 28)
Episode 208: "If Memory Serves" (March 7)
Episode 209: "Project Daedalus" (March 14)
Episode 210: "The Red Angel" (March 21)
Episode 211: "Perpetual Infinity" (March 28)
Season 2 Episode Titles
The titles of the first six episodes of Discovery's season 2 are:
Episode 201: "Brother" (January 17)
Episode 202: "New Eden" (January 24)
Episode 203: "Point of Light" (January 31)
Episode 204: "An Obol for Charon" (February 7)
Episode 205: "Saints of Imperfection" (February 14)
Episode 206: "The Sounds of Thunder" (February 21)
Episode Reviews
Beginning with the availability of the season 2 premiere, I will post news about Discovery only occasionally. Please refer to the Discovery reviews (with full spoilers) for my comments.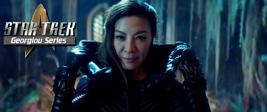 Georgiou & Section 31 Series Announced
As reported by Trekmovie.com and TrekCore earlier today, CBS, Secret Hideout and Roddenberry Entertainment will produce a Discovery spin-off series about the adventures of former Emperor Georgiou and Section 31. Alex Kurtzman will be an executive producer on the still unnamed show, which will be led by Bo Yeun 'Boey' Kim and Erika Lippoldt. The two already served as executive story editors and producers on Star Trek Discovery.
Mirror Georgiou's recruitment for Section 31 was cut from the Discovery season 1 finale "Will You Take My Hand?". It has been rumored for quite a while that a spin-off with this theme was being planned, also fueled by scenes in the Discovery promo videos and publicity photos showing Georgiou (Michelle Yeoh) in black Section 31 attire.

This is like a nightmare coming true. As if Discovery hadn't been villainous, violent and warlike enough, the new project focuses on these aspects. Even without knowing anything about the storyline, it is obvious that it will celebrate a genocidal dictator and a shadow organization that is not bound by the laws. Is that what we used to love Star Trek for? Is that the reaction to the criticism of the too dark first season of Discovery that didn't do more than pay lip service to Starfleet's principles? After easing Discovery a bit in its second season (such as with Pike as a model captain), is it justified to continue the disposal of Star Trek's assets in a Black Ops show? A show whose makers will probably pretend that the cookie-cutter villain Georgiou from the dumb Mirror Universe and the equally overused Section 31 are fan favorites.
Polemics aside, I can see Kurtzman's intention to create a number of new series that are as different as possible. It is easy to understand that the new animated Star Trek is made for a young audience and that the Picard show will be aimed at old-school fans like me. Georgiou may appeal to millennials and their assumed affinity to action, whereas Discovery, ironically the only show already on air, still needs to find its place somewhere in this increasingly confusing constellation. But what happened to the thread that was running through all Star Trek series from TOS to ENT? To common themes such as exploration (of the galaxy as well as of the human nature)? To the common tone of being set in a world that is better than the one we live in today (or, at least strives to be)? To a Star Trek that united the fans with a common idea, rather than pleasing one group at the expense of another one? To Star Trek as a franchise that set itself apart from television trends instead of setting itself apart from its own past?
Maybe the damage this planned "multiverse" will inflict on Star Trek's continuity isn't even the biggest one, considering that there is no clear picture any more what Star Trek is about, no common message, no common vision (except in the producers' affirmations). Beginning in 2019, Star Trek on TV may be bigger than ever as the number of current and upcoming projects is concerned. But it looks like it is being reduced to a mere franchise platform to sell all kinds of special-interest TV products that have very little still in common. The only positive aspect is that there is a good chance that the Picard series will be just what Kurtzman promises, a contemplative show that cherishes the legacy of Picard and TNG.
I thought that after Discovery's first season, which failed in most regards that matter to me, it couldn't become still worse. Yet, this honor will likely go to the new Georgiou/Section 31 series, a show that appeals to the lower instincts of the audience and that should not be made in the name of Star Trek. Everyone who has been following this blog knows I kept an open mind about Discovery for a long time. But that credit of trust is used up by now. I know that I will be called a basement dweller, a hater, a gatekeeper and a toxic fan (just as it happens every time when I disagree with the mainstream). Maybe this time I deserve it as I preemptively say that I don't need and I don't want this series. It will be covered at EAS only for the sake of completeness, just like everything canon, but not without the usual caveats to preserve the legacy of the old Star Trek. Well, I think the more often I am called a gatekeeper, the prouder I am of this role.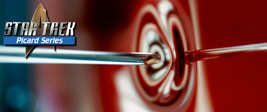 Picard Series Based on Abramsverse Event
In an interview with The Hollywood Reporter, Alex Kurtzman revealed more about the setting of the upcoming Picard Series. He said that "Picard's life was radically altered by the dissolution of the Romulan Empire". Kurtzman obviously refers to the destruction of the planet Romulus by the Hobus supernova in "Star Trek (2009)", a cataclysm that Spock tried to prevent in vain. The new series is set several years later.
Regarding the theme of the show, Kurtzman remembers that going for something unexpected and new was an explicit demand by Patrick Stewart: "He threw down an amazing gauntlet and said, 'If we do this, I want it to be so different, I want it to be both what people remember but also not what they're expecting at all, otherwise why do it?'"
In other news, Kurtzman also announced that animated Short Treks will air after Discovery's season 2, and that a second full animates series besides Lower Decks is being planned.

Considering that the destruction of Romulus in "Star Trek (2009)" is regarded as Prime Universe canon (and not as part of the Kelvin Timeline), it is only logical that it would not be ignored in a new series set after the catastrophe. Moreover, it stands to reason that the fall of the Romulan Empire may open new story opportunities, not only personally for Picard.
Kurtzman is probably aware that the new Picard show is considered by many fans, including myself, as the last chance to bring back the old spirit to the franchise. He should know that he walks a fine line with any attempt to "update" this show "for a modern audience". However, to put it bluntly, contaminating the series with Abramsverse concepts is the lesser evil, if it can be kept free of sluggish Discovery-style Klingons, of the silly spore drive and of one-dimensional Mirror Universe infiltrators lurking behind every corner. Still, there is a negative connotation that the Picard show is based on the premise that a supernova traveled at warp speed, completely obliterated a planet many light years away, was supposed to be stopped by a lonely old man, and was eventually swallowed by a substance whose properties are ridiculously over the the top. Brannon Braga, who wrote "Threshold" and later regretted it, would gladly give Kurtzman the advice that bad science in Star Trek doesn't become more plausible by referring to it again.
Whether or not the reference to the Abramsverse will harm the Picard series still remains to be seen. As already mentioned, it may be forgivable if otherwise the new show gives us authentic Star Trek.
2018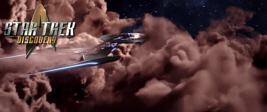 "Bold, Brave, Courageous" New Discovery S2 Trailer
A new trailer for Discovery's season 2 was released on December 13. The link below should work in most countries, but as usual, I can't do anything about geoblocking.

The new trailer comes with a lot more action than the previous ones. On the bright side, I really like Anson Mount's portrayal of Captain Pike. I am willing to give Ethan Peck as Spock a chance, as much as I hate the idea of reviving the character. We see Klingons who fight like Klingons and real beauty shots of the Discovery for the first time in the series. The spectacular effects (rather than the silly ultrawide screen ratio) make the second season feel like a movie.
But speaking of movies, why is it that Discovery has to resort to the most overused over-the-top cliché in Star Trek movies, that some supervillain is going to kill entire civilizations and has to be stopped by all means? Is that what Star Trek on TV used to be about? And while not a surprise, the appearance of genocidal Emperor Georgiou as a shady Section 31 agent adds to the sentiment that in the second season Discovery will still not be anything like the Star Trek we love. It is depressing how this series focuses on war instead of peaceful exploration, how it always favors recklessness over considerate actions and how it celebrates mean-spirited characters, rather than virtuous ones.
It is just a trailer at this time. There is still hope that Georgiou and Section 31 will not set the tone of the show and that the "Red Angel" conflict will not last long. The people around Alex Kurtzman have fixed one or two of the most blatant visual mistakes of the show. But they may not be willing to tell stories about boldly exploring space without blazing weapons, and with friendship and trust among the crew, rather than with characters who pose as someone else, thinking of Georgiou and Voq-Tyler, who reappears as well.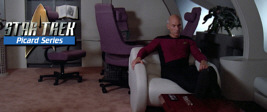 Picard Series to be "Contemplative"
In an interview with Entertainment Weekly, Alex Kurtzman gives his view on the tone of the still unnamed Picard series, which is currently in early pre-production: "It's an extremely different rhythm than Discovery. Discovery is a bullet. Picard is a very contemplative show. It will find a balance between the speed of Discovery and the nature of what Next Gen was, but I believe it will have its own rhythm... Without revealing too much about it, people have so many questions about Picard and what happened to him, and the idea we get to take time to answer those questions in the wake of the many, many things he's had to deal with in Next Gen is really exciting. 'More grounded' is not the right way to put it, because season 2 of Discovery is also grounded. It will feel more... real-world? If that's the right way to put it."
According to David Nevins, chief creative officer of CBS, the series aims for a debut at the end of 2019. Unlike the Toronto-based Discovery production, it will be filmed in California, taking advantage of a $15.6 Million tax credit granted in the state, as reported by Variety.

Alex Kurtzman was involved in the creation of two radical reboots (Abramsverse and Discovery) of the TOS era, none of which fits with the pre-existing Star Trek, neither in their tone nor in their look. It may be worrying that Kurtzman now turns his attention to TNG and the 24th century, the undisputed core of Star Trek (at least in the eyes of most fans). However, as already in his previous statements on the topic, we can notice how anxious he is to get this one series right and not to turn it into another mushroom trip.
Whether it is the intention or not, the Picard series is on the way to become the flagship show of the franchise. Even if the revised concept of Discovery should be a success, most fans would rather identify themselves with the "contemplative" nature of the Picard show and the yet unspoiled era it is set in - if done the right way. I hope that Kurtzman is aware that it also needs the right look and feel to that end. So in addition to the writers coming up with thoughtful stories (preferably episodic), the production designers will hopefully avoid the two gross design mistakes of Discovery: the "one look fits all eras" Starfleet design on one hand, and the total reboot of Klingon biology and technology on the other hand. There is some evidence in the Discovery season 2 previews that the staff working on that show are going to fix some of their mistakes, so why shouldn't the people on the new show go all the way back to a pre-rebooted and authentic looking Star Trek?
I don't know what exactly Kurtzman means when he describes the Picard series as more "real-world" as opposed to Discovery, although the latter too is said to be "more grounded" in its second season. It almost sounds like an unwitting confirmation that he considers the new series to be the "real" Star Trek, the one that will persist. But I may be reading too much into his words. In any case, it is good to know that the series will continue the legacy, by deliberately picking up plot threads from TNG, thereby creating real continuity as opposed to the token references in Discovery.
It will be appropriate for Jean-Luc Picard (94) and for Patrick Stewart (78) to take a back seat when it comes to action. This is not a problem. However, I am worried that the writing may give us the impression of a man looking back at his life, like a swan song for Picard and TNG. The inclusion of the otherwise much-needed continuity may further fuel a possible intent to bring this chapter to an end. While I appreciate if the show is "contemplative", I just don't want this to happen in the form of an ailing or even dying Picard. Let us hope that the writers handle their character with care and resist the temptation to deconstruct him.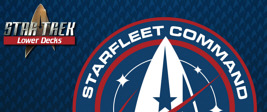 New Animated Series Announced
CBS has announced a new animated series called Star Trek: Lower Decks, created by Emmy Award-winner Mike McMahan. The show will be produced by CBS Eye Animation Productions, Secret Hideout and Roddenberry Entertainment. A bit unlike the obvious namesake, the much-acclaimed TNG episode of the same name, the series will follow the adventures of "the support crew serving on one of Starfleet's least-important ships". No storylines, casting information, production artwork or air dates have been published yet.
Mike McMahan said about the new series: "While Star Trek: Lower Decks is a half-hour, animated show at its core, it's undeniably Trek - and I promise not to add an episode at the very end that reveals the whole thing took place in a training program."
Lower Decks has been confirmed for two seasons. It is the first animated Star Trek series since the last TAS episode aired, as long as 44 years ago.

Many fans believe that Star Trek and comedy don't go together. And since the overall disappointing first animated series and its retroactive decanonization on Gene Roddenberry's behest, many think that Star Trek and animation don't mix well either. However, my impression is that the combination of animation and comedy may work in the Star Trek Universe, especially if the new series takes its own setting seriously, in which case it may also be a welcome addition to canon. Perhaps Alex Kurtzman has learned something from the success of Seth McFarlane's The Orville that follows the principle of being funny while still telling good science fiction stories. But I am relieved that, rather than trying to do something similar in a live-action series, Kurtzman uses a format that is not so much in a danger of looking like a parody of Star Trek (well, and that may more easily be declared non-canon if it should get too silly). I am also glad that the new animated show that we already knew would come sooner or later does not have a topic that would enter a direct competition with the dramatic Star Trek series, namely Discovery and the unnamed Picard series. So let's just hope that Mike McMahan will get the right feel into the new series (meaning, not the one of Discovery), and let's wait what the people in charge tell us about its canon status (although my clear expectation is that they will say "of course it's canon").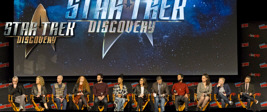 Production News Round-up
Several more details about Discovery's season 2 were revealed during the panels and interviews at New York Comic Con. Mary Chieffo gave an explanation of why the Klingons suddenly have hair: "In a time of war the Klingons would shave their heads, and in a time of peace, we start to grow it back out." She later wrote a tweet how this is supposed to fit with the depiction of Klingons of the future: "The Dominion War takes place more than 100 years after the events of Discovery. Traditions change and are lost in time. Much of what T'Kuvma predicted about homogenization and assimilation of the Klingon race occurs after the explosion of Praxis & subsequent political shift."
Anson Mount promised that, despite the serialized nature of the show, the classic episodic feel will return: "So, each show does have its own character, its own question, while maintaining this really strong through line." Doug Jones said that we will meet Saru's sister, played by Hannah Spear. Wilson Cruz teased the return of Hugh Culber: "We find him where we left him." Sonequa Martin-Green spoke about Michael Burnham's difficult relationship with Spock, and that her journey in season 2 will be "deeply emotional". She also promised that it would be explained why Spock never talks about his foster sister.
On a more technical note, Alex Kurtzman and Heather Kadin spoke to TrekCore about the new aspect ratio of the show (2.39:1). Kurtzman said: "I pushed that decision. I'm in love with the anamorphic frame. I just think it's glorious and beautiful and every great film experience I've had has been shot anamorphically."
Regarding the still unnamed Picard show, Kurtzman announced that the plan is to produce an ongoing series that could run multiple seasons. He also stated that the series "will not mesh into this season [of Discovery], that will be its own thing."

I think it is a good decision for Discovery to ease the serialized format. Too many plot threads were going on for too long in the first season, and they were overextended such as in the case of Tyler's true nature. I think the people in charge themselves were not really content with season 1 in this regard.
Mary Chieffo's explanation for the sudden appearance of Klingon hair does not make sense. Even if we pretend for a moment that the hair were the only discrepancy between classic Klingons and the drastic DIS redesign, we could see Klingons who were more or less at war not just in the 24th century, but also in ENT, in TOS and in the TOS movies. And always with hair. Moreover, the Klingons of the 22nd century were much the same culture they would still be 120 and 200 years later, with the caveat that the Augments (that Discovery totally disregards anyway) may have somewhat different traditions. This uninterrupted continuity invalidates the claim that traditions could have changed a lot from the time of DIS to DS9. The producers of DIS may have chosen to continue to ignore ENT and TOS, to win a few points with regard to continuity with 24th century Trek, also because of the upcoming Picard series. But no matter how hard we twist the facts, there is no place in canon Trek for a tradition of Klingons to shave their heads, except perhaps among a small secluded sect. So is it just something the Klingons do to honor T'Kuvma? Hardly. The Klingons in "The Vulcan Hello" were all bald without exception, even before T'Kuvma summoned them and came up with the surprising proposal to attack the Federation. Some argue that the baldness of the Klingons at this time could be meant as a sign of their inner conflict, rather than of a war against a common enemy. But then there would be even less reason for a tradition that symbolizes a homogeneous culture, and even less reason that (with the exception of General Chang) not a single Klingon of any other era would still cherish the tradition.
The 2.39:1 "cinematic" aspect ratio is a major annoyance. Every normal TV series is shot in 16:9 so the whole screen is used. Discovery's first season was 2:1, which wasted 11% of the screen. Now it's 2.39:1, which means as much as 26% loss! Kurtzman's justification for the aspect ratio that he wants the series to feel like a movie is not just lame, it's plain wrong. If you produce a TV series for a screen whose worldwide standard is 16:9, you have to stick to that ratio. There's absolutely no excuse for giving the viewers less resolution than they pay for and for making them squint to recognize details on the screen!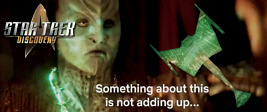 Trailer Teases Number One, Spock, "New" Klingons, "New" Ship
A new trailer for Discovery's season 2 shows Rebecca Romijn as Pike's "Number One" and Ethan Peck as Spock for the first time. The biggest surprise on the hairy side, however, is not Romijn's dark wig or Peck's beard but the glimpse of Klingon hair that we can get in the trailer. It looks like even L'Rell has grown hair, while all the other neo-Klingon features are still the same as in the first season. We also see a depiction of a familiar Klingon D7 or K't'inga cruiser, which is in stark contrast to the anti-canon designs seen in the series so far.
The strange winged entity that appears to Spock as well as to Burnham is aptly named the "Red Angel" and somehow seems to determine the destiny of the galaxy.

Glenn Hetrick already teased the new Klingons with hair, but so far it seemed unlikely that even established Discovery characters like L'Rell would undergo the metamorphosis. My quick Photoshop job of L'Rell with hair was meant more like a joke. We will probably have to wait until January for a possible in-universe explanation. Is it yet another genetic mutation? And is the "Red Angel" responsible in some way? Or can Discovery Klingons generally grow hair when they feel like that? Is having hair or no hair just a temporary fashion among them? Perhaps there will be no rationale at all on screen because otherwise the Klingon make-up is still essentially the same as in the first season (although L'Rell's forehead wrinkles seem to have changed)? It also remains to be seen whether the familiar battlecruiser is more than a one-off reference and whether its appearance is somehow related to the hair.
The new style of Discovery is most likely not a reboot of the reboot. I doubt that the revision of the Klingon style can be more than a cue that Discovery is supposed to be Star Trek in spite of everything. Overall, the visual alterations are still too extreme. But we can take for granted that constant fan feedback (like my own complaints) was the incentive to do something about the most criticized visual issues of the series. Discovery started off as a total reboot on the visual side, and especially its Klingon designs defiantly disregarded the canon looks. The makers of the series, and in particular Bryan Fuller, apparently didn't want their creation to look like Star Trek. If the original intention had been to respect canon, Discovery wouldn't have introduced the bizarrely different biology and ships in the first place, only to replace or supplement them with more canon visuals in the later course of the series. They would not have created the impression that the new Klingon look is the only one that exists in their universe, and justified the baldness with sensory organs running down the back of their heads. They would not have used familiar names from canon (Bird-of-Prey and D7) for their totally different Klingon ships. So the revision of the revision of the Klingons is a victory of reason over the obsession to change everything for change's sake, albeit just a small one.
Discovery still has numerous issues, on the visual side as well as with regard to the scripts (that some have begun to focus on as the "real canon"). With every new episode the series did introduce and will probably continue to introduce elements that hardly fit with canon. As exciting as the idea of the red lights across the galaxy and Spock's encounter with the "Red Angel" is, this life-changing story likely leads Discovery further away from canon.
Regarding the characters introduced in the trailer, I really like the look of Rebecca Romijn as Number One. I'm not yet sold on Ethan Peck as Spock. He doesn't give me a Spock vibe. The beard may be a visual aid to underline that this Spock is another new interpretation of the character, possibly a rather emotional one. It may be hard to reconcile this new Spock with the person he was in "The Cage" and will be in TOS.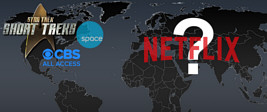 No Short Treks Outside North America!
Worldwide fans looking forward to the release of the first Short Treks mini episode on October 4th will likely wait in vain. As announced on the CBS Twitter account, "Star Trek: Short Treks are only available on CBS All Access in the U.S." This is explained with streaming rights that would apparently include the full episodes (well, and After Trek) but nothing else. According to TVWise, Netflix UK has opted not to show Short Treks, although so far the impression was that the license included at least direct Discovery spin-offs, as opposed to the stand-alone Picard series.
Update 01 Oct 2018: Short Treks will air on Space in Canada on October 4. No word from Netflix yet.
Update 17 Jan 2019: Better late than never. Just as the second season is about to start, Netflix has added the four Short Treks episodes.

This is not just a huge disappointment for worldwide fans, it is a slap in the face. CBS set up the Short Treks format to bridge the time until the new season but apparently only for their own subscribers. And since outside the USA there is no CBS All Access that we could subscribe to, it has a totally inappropriate national bias as well. I will personally have to find illegal ways to view and review Short Treks.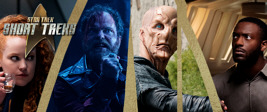 Short Treks Schedule Announced
The official Star Trek site lists the air dates and the synopses of the four Short Treks mini episodes:
"Runaway" - Thursday, Oct. 4
Onboard the U.S.S. Discovery, Ensign Tilly (Mary Wiseman) encounters an unexpected visitor in need of help. However, this unlikely pair may have more in common than meets the eye.
"Calypso" - Thursday, Nov. 8
After waking up in an unfamiliar sickbay, Craft (Aldis Hodge) finds himself on board a deserted ship, and his only companion and hope for survival is an A.I. computer interface.
"The Brightest Star" - Thursday, Dec. 6
Before he was the first Kelpien to join Starfleet, Saru (Doug Jones) lived a simple life on his home planet of Kaminar with his father and sister. Young Saru, full of ingenuity and a level of curiosity uncommon among his people, yearns to find out what lies beyond his village, leading him on an unexpected path.
"The Escape Artist" - Thursday, Jan. 3
Harry Mudd (Rainn Wilson), back to his old tricks of stealing and double-dealing, finds himself in a precarious position aboard a hostile ship - just in time to try out his latest con.
These stories are said to "fit into Discovery and the expanding Star Trek universe."

So far we know mini stories set in the Star Trek Universe only from fandom. In traditional TV schedules there were no slots for anything shorter than a regular episode, at least none that were attractive enough to justify the effort. This has changed with the move to the streaming service. Here, Short Treks is clearly intended to be more than only an appetizer for the upcoming full episodes, its principal purpose may be to keep viewers from unsubscribing or to get them to resubscribe sooner.
But we also have to consider the backlash Discovery received from many fans, not only for its lousy continuity but also for its serialized story that didn't feel like Star Trek because it was reluctant to come to the point. Short Treks seems like the other extreme because each story has at most 15 minutes to relay its message. I have little hope that the continuity of these stories will be any better than the one of Discovery (also because the sets and other visuals will likely be the same). But the descriptions of the Short Treks stories sound more interesting than those of most Discovery episodes. So Short Treks is a chance to redeem some of the lost Trek spirit.
I only wonder what the conspicuous note that it will "fit into Discovery and the expanding Star Trek universe" is supposed to mean. More canon connections? Some storyline that will continue in the Picard series? Or just the implicit reaffirmation that, in spite of everything, Discovery is just as canon as everything that came before and will follow?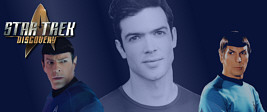 Habemus Spockum!
CBS announced that Ethan Peck has been cast in the role of Spock for Star Trek Discovery. The grandson of Hollywood legend Gregory Peck is the third actor to play the role, after the late Leonard Nimoy and Zachary Quinto (not taking into account the stand-ins from "Star Trek III").

This is the casting news that I knew in advance I wouldn't care for. We don't need a Spock 3.0. The idea of getting the Enterprise, Spock and Pike into their show is something the Discovery producers only imagine the fans long for. We already have one active Spock in the Abrams films, played by Zachary Quinto. Yet, the character was simply doubled (just like Pike and Sarek too) for Discovery. The makers of the Abramsverse will abstain from recasting Chekov, so why don't the CBS people follow the example? Why do we have to get yet another Spock? The universe is big. Isn't it possible to create a Star Trek series without all the usual names? Or is Discovery so desperate to "prove" that it is Prime Universe canon and to demonstrate that it can have likable characters that it needs to include these assumed crowd-pullers?
While the very idea of recasting of Spock doesn't meet my approval, I think Ethan Peck is a fine choice, perhaps just because of his resemblance to Zachary Quinto. Let's just hope the character won't be butchered the way it happened to his father Sarek in the first season. Since Ethan Peck's grandfather was one of my all-time favorite actors, I have high hopes that he can make "his" Spock someone special. Still, I doubt that it can be done without harming the uniqueness of Leonard Nimoy's legacy.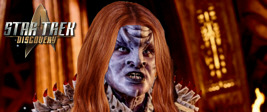 Klingons to Change - Again!
In surprising news from Star Trek Las Vegas, make-up designer Glenn Hetrick promised a new Klingon look for Discovery's season 2. He explained that "everything keeps evolving. The story has evolved. And I can guarantee you this, you are going to be blown away that they have a completely new look, yet again, going into season two." According to Hetrick, the rationale for the different looks lies in different genetics of the Klingon houses. As an example of an already existing variation, he mentioned one first-season Klingon from the House Antaak, who had a "cranial ridge extension that goes down on to his chin." Hetrick also addressed "this whole thing with hair", thereby clearly hinting at Klingons with hair in season 2.

Although Hetrick leaves no doubt that the Klingons will be different yet again and that at least some of them will have hair, there are a lot of open questions right now. Hetrick makes it sound like even established characters will change, saying "it has been [a] while since we have been with our characters." On the other hand, he refers to the genetic differences between the houses as the reason for just some of them (that we arguably haven't seen yet on Discovery) being different and perhaps more familiar. I think rather the latter is true.
I'll have to reserve my judgment whether Discovery tries to reconcile a few of its visuals with classic Star Trek until we actually see one of the "new" Klingons and ultimately until the second season airs. In the best case, Discovery will build a visual bridge to the established canon that is deemed to free the series of the so far well-deserved "total reboot" stigma and that may permit to engage in speculation why we have never seen any first-season DIS Klingons before. Speculation that was impossible until now. In the worst case, Discovery will just show some more variations of the first-season Klingons that don't look like the iconic species at all and thereby only deepen the rift, because besides looking completely different anyway, Klingons were never such a diverse species.
The announcement that the Klingons will change yet again comes as a surprise, but it fits with the current image campaign for season 2, after the lay-off of Gretchen Berg and Aaron Harberts. It fits with Kurtzman's promise that he is going to reconcile the series with canon. Perhaps this includes the visual side from now? Is it a paradigm shift? Backpedaling? Or just damage control? In any case it is pleasant how the people in charge seem to listen to and to talk to the fans again. This is quite a contrast to the first season, whose media campaign aimed to offend and marginalize old-school fans like me. And don't get me even started on the whole "toxic white male fans" debate that additionally gave us a bad name. But as I already wrote, we will have to wait and see whether the people in charge really listened to us.
One key problem of the Discovery production since the beginning seems to be that (higher-ranking) people meddle with things that they shouldn't have much business with. The CBS execs (who arguably have no idea what Star Trek is about) told Fuller to create yet another prequel, although Fuller wanted to do an anthology. Fuller, in turn, went to the designers and told them to flatten the ships and totally redesign the Klingons, instead of relying on their talents to come up with *reasonable* updates. I suspect that the whole idea of the "visual reboot" was a dictate by the producers, who wanted to leave their mark on the show, rather than the result of a real creative process. I know I have been harsh on John Eaves, who created the "new" Starfleet ships, and on Glenn Hetrick. Five months ago, I still complained about how Hetrick defended the new Klingon look with the non-arguments that the complete redesign was an "evolutionary imperative" and that they were meant to be a "cross between reptilian and avian". Perhaps he has a bit more creative freedom now that Fuller, Berg and Harberts are gone, and he should use it. Here's hoping that despite its desolate first season, Discovery may become an acceptable Star Trek series, both in terms of the stories and of the look.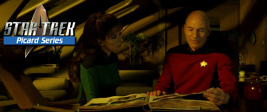 Patrick Stewart to Return as Jean-Luc Picard
At Star Trek Las Vegas, Alex Kurtzman appeared on the stage together with Patrick Stewart, where the actor announced that he will return in his famous role as Jean-Luc Picard. It will be in a new series that is in the early stages of pre-production. Like Discovery, the series will air on CBS All Access.

I don't know whether I should rejoice now. It is true that the return of Captain Picard and the return to the 24th (and maybe early 25th) century is what old-school fans have been hoping for since Nemesis sadly failed at the box office and with the critics in 2002. But Star Trek has changed radically in all those years that have passed since Patrick Stewart left the franchise. The people in charge didn't bother to move on any longer in the past 16 years. After the prequel Star Trek Enterprise and its only moderate success the franchise was rebooted twice. While Enterprise tried to preserve the legacy of the golden years of Star Trek that started with TNG, the Abrams films and Discovery got away with the positive vision, with the profound ethical debates and ultimately even with the established look of the franchise. The reboots were rated as very successful and their recipes are not likely to change easily. And so Patrick Stewart will return to a Star Trek that only cites from the franchise's legacy, without feeling bound by it. He will return to an action-driven franchise that strives to be as different as possible than the old Star Trek and more like "modern" TV series.
I hope that the new series will be better than Discovery, but I doubt it can ignore or even undo many of the harmful changes that were brought about by Discovery, not only on the visual side, purportedly to appeal to a "modern audience". If Michael Dorn were to appear as Worf in the series, he would have to look like a Fuller-Klingon-lizard. No familiar starships would show up in the series because everything has to be much bigger and cooler now. And whether Starfleet would be depicted as the benevolent organization we know from TNG is doubtful as well. There are not many reasons to assume that the new series could carry on in the spirit of TNG, which may not be Kurtzman's intention anyway. Stewart himself hinted at Picard being "a very different individual" now. I admire his work and I trust in the actor that he will not allow his character to be vandalized the way it happened with Sarek in Discovery. Anyway, irrespective of the direction it is going to take, Sir Patrick Stewart will be the main draw and the quality mark of the show. His presence in the series gives Kurtzman's new Trek a stamp of approval (and creates huge media attention) just like when Leonard Nimoy appeared in the first Abrams movie.
We don't know anything else about the new show. It may be just a mini-series that will never have the potential to change anything about the state of Star Trek. I keep my fingers crossed that Kurtzman and his team are able and willing to create something like a TNG 2.0, rather than a 24th century Discovery. But there are currently few reasons to believe that.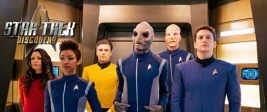 Production News from SDCC
Star Trek Discovery won't return to the screen until January 2019. But Alex Kurtzman revealed at San Diego Comic-Con that while we wait for the season 2 premiere, there will be four mini-episodes of 10-15 minutes length, a format called "Short Treks".
Kurtzman also addressed the issue about how Discovery may fit with canon: "We know we owe you a lot of answers how Discovery connects to canon, and you will get a lot of those answers this season. Guaranteed."
The arguably most interesting casting news is that Rebecca Romijn, best known as Mystique from the X-Men movies, is going to play "Number One", Captain Pike's first officer on the USS Enterprise. It is also likely that Spock will appear in person.
As already hinted at a couple of months ago, Wilson Cruz will reappear as Hugh Culber, although it is not yet known how this is going to be accomplished story-wise.
Finally, there is an unusually informative trailer, and six publicity pictures of the second season were released.

It somehow was to be expected that the production of the first season 2 episodes would take longer than just six months. The announcement of the "Short Treks", however, comes as a surprise. I will keep an open mind about this format although I doubt that 10-15 minutes is enough time to tell a story. Considering that Discovery had enormous trouble to deliver the spirit of Star Trek in its long convoluted character arcs, it may be a chance to get a few things back on track though.
Speaking of getting things right again, I could take Kurtzman at his word, that he "guarantees" to answer how Discovery connects to canon. But since visuals are excluded from canon in this reboot series that pretends to be none, the worst canon violations will not be fixed or explained in any fashion anyway. And even regarding the many other continuity problems of Discovery, it is safe to predict that Kurtzman and his staff will only care for minor things (such as why Michael Burnham has never been mentioned in canon Trek), the ones that are character-related and that they personally feel are fun to work with. They will probably skip any tough issues such as why the spore network, holodecks, Klingon cloaking devices and fleets of oversized ships do not exist in the 23rd century we know.
Yet, I appreciate that Kurtzman addresses fan concerns at all. So far the promotion campaign for season 2 is pleasant. It is marked by relatively little self-adulation and refrains from complaints about critical fans. Discovery presents itself as more "inclusive" now, in a sense that it doesn't want to repel the fanbase any longer with a dark and depressive atmosphere. This new trend is visible in the teaser trailer. Although the crooked nostalgia with Pike and colorful shirts in an otherwise radically different universe doesn't work for me, the trailer promises a more spirited and more humorous second season. It almost seems that Discovery has learned a lesson from The Orville. So far I successfully avoided to use "the other Star Trek series" as a yardstick, but it is just too obvious that The Orville has many things that Trek fans love and didn't find in Fuller's creation, so obvious that the people now in charge of Discovery can't ignore it either.
Regarding the return of Wilson Cruz as Hugh Culber, I am looking forward to seeing him again because I liked the character and I was dissatisfied with how needlessly he was killed off. But although it is a tradition in Star Trek that characters may return from the dead in some fashion, I don't think it bodes well that in a series that desperately strives to be taken seriously everyone is always resurrected. My apprehension is that we will even see Lorca again. Discovery may not only jeopardize its credibility as a TV drama with its lack of consequentiality but could ultimately come across as a parody of Star Trek (or worse, could let appear Star Trek itself like a parody of science fiction).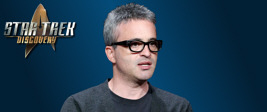 Kurtzman Signs Deal to Further Develop Star Trek on TV
Only four days after the statement that Discovery executive producers Gretchen Berg and Aaron Harberts were fired, CBS announces that series co-creator Alex Kurtzman has signed a five-year extension of his production agreement with CBS. Kurtzman is to "extend the Star Trek franchise for television, developing new series, mini-series and other content opportunities, including animation". It is part of the deal that CBS Television Studios will get "exclusive rights to produce all television content created and developed by Kurtzman and his Secret Hideout production banner".
Fellow Discovery producers Heather Kadin and Aaron Baiers are going to join Kurtzman in this effort.
Kurtzman said, "...CBS has also allowed us the great pleasure of reintroducing the world of Star Trek [to?] audiences new and old, and we are very excited to keep working alongside them to expand that world."

Just four days ago, I wrote that we shouldn't judge people based on merits we don't know enough about and that we just have to wait and see if the team around Kurtzman has learned a lesson from Discovery's many errors. I was mistaken. I'm not saying that Kurtzman and his staff aren't willing to improve a few things that didn't work in the first season of the series. But the deal with CBS to develop even more TV content based on Star Trek indicates that the network gives him carte blanche to carry on regardless, to complete a mission that many perceive as being focused on "reintroducing the world of Star Trek to new audiences" while putting off old-school fans like me. The movies he produced together with J.J. Abrams, as well as Discovery, were successful on the financial side. But the new Trek is marked by mindless action, by unlikable characters, by a lack of moral and philosophical issues, by overall little respect for the tone and the look & feel of the pre-existing franchise, and by a continuity with the former Star Trek that ranges between non-existent and mere lip service.
If Star Trek doesn't need something right now, it is the Marvelization of the franchise, the urge to squeeze more dollars out of short-sighted and unrelated concepts that may appear fashionable right now but that just beg to be re-rebooted another ten years in the future because no one still cares for them. However, it is too late anyway to prevent that from happening. The damage was done when the old Star Trek from TOS to ENT was decried as "nerdy" and replaced with (or supplemented by) two action-driven prequel/reboot universes, the one of the Abrams films and the one of Discovery, that both neither respect the old Trek, nor even each other. Given that Kurtzman doesn't seem to mind the fragmentation of the once strong creative base and canon of the franchise, my apprehension is that the Star Trek "multiverse" (as a somewhat euphemistic moniker) will grow under the new contract. Star Trek would have deserved to be handled with care, to be further fleshed out in a genuine way, with sequels, rather than with still more prequels or reboots. Just as I am writing this, fans are excited about it nonetheless and are already speculating which era of the existing Star Trek history will be rewritten next.
Another rumor is that Patrick Stewart may return. Well, that might be a chance, but only a small one because Patrick Stewart may be the only familiar remnant of the old Star Trek, a sad figurehead like Leonard Nimoy was one in the Abrams movies. Kurtzman may still surprise me and create a new series that is not only recognizable as Star Trek but also brings back meaningful stories and a respectful treatment of the history of the franchise. But right now, with the prospect of still more series that are not sustainable and are not made for people like me, I'm going to embrace the old Star Trek more than ever.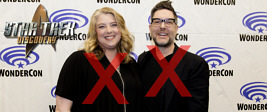 Berg and Harberts Out, Kurtzman to Take Over
Gretchen Berg and Aaron Harberts are out as showrunners of Star Trek Discovery, as has been confirmed by CBS in a statement to Deadline. Executive producer Alex Kurtzman will take over as the sole showrunner for the show's second season.
The Hollywood Reporter had previously stated that, according to their sources, the reasons for the change were twofold: the ballooning budget of the season 2 premiere, as well as members of the writing staff complaining about Berg and Harberts. According to The Hollywood Reporter, Akiva Goldsman will leave Discovery as well.
In October 2016, series creator Bryan Fuller already left the show, and he too was fired as it turned out.

It is unlikely that CBS will issue an official statement about the reasons why Berg and Harberts had to go, and whether such a statement would tell us the whole truth anyway. So unless this affair has legal repercussions, we will never know what happened in Discovery's writers' room. It isn't the first time in the series that the producer staff changes, and Discovery is no first time in Star Trek, thinking of Chaos on the Bridge. So I will not join the speculation game, neither on the reasons, nor on what happens now. Some fans have very definite opinions about the beneficial or detrimental influences that certain people behind the scenes have on Discovery (or on any previous Star Trek series), although they know very little about those people and on the inner mechanisms of the show.
I dislike most aspects about Discovery, but Berg's and Harberts's departure is neither a reason to look back at the first season in anger, nor to expect considerable improvements in the upcoming season. Let's just hope the people who were, are and will be in charge have learned a lesson and bring us more relatable characters, more intelligent story arcs, more respect for the legacy and a more optimistic vision of the future.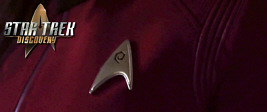 Season 2 Teaser Shows TOS-Style Uniforms
CBS has released a short teaser video for Discovery's season 2 that shows, among some other production work, a golden uniform shirt in the works, and a red one with a TOS-like Starfleet engineering symbol (the delta being solid and not split as in Discovery so far). These are quite obviously the uniforms of the Enterprise crew. As Aaron Harberts already hinted at, "We know what kind of uniforms they wear. So, we will leave it at that."

We don't know yet whether in Discovery's version of history Starfleet will adopt the style of the colorful uniforms and the solid badges for all ships and crews, or whether it is rather a one-off exception for the Enterprise that creates a small visual link to TOS (because we can take for granted the interior of the now larger ship will be very different than we know it). In the first case, it would be backpedaling, because so far Discovery did everything to be as visually different as possible from the rest of Star Trek. The costume designers certainly wouldn't be required to come up with strange looking uniforms and badges in the first place, if the plan was to later discard them in favor of more familiar ones. In the second case, it would be another mindless homage (or another "olive branch") that evokes Trek nostalgia without an obligation to honor its history.
That said, even if we ignore the differences between the Discovery-style Enterprise uniforms and the original costumes of TOS, they shouldn't be around as of 2257. Captain Pike never wore a golden shirt as the captain of the Enterprise, at least not in the Prime Timeline. If the intention was to let the series appear "more canon", we should rather be shown a new interpretation of the style with the pale colors from "The Cage" and "Where No Man Has Gone Before". The uniforms are not a big deal in light of the more drastic canon violations of the series, but they fail to be more than just tips of the hat.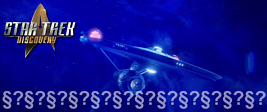 Season 2 News Round-up and the "25% Rule" Affair
Filming for Discovery's season 2 has started on April 16, as actor Doug Jones revealed in a Twitter post that shows him shaving his head for the role as Saru.
In some older news, comedian Tig Notaro joins the cast as Denise Reno, the chief engineer of the yet unseen vessel USS Hiawatha.
On April 15, a Facebook post by production designer John Eaves of Star Trek Discovery and a reply by a colleague caused quite some confusion in the fandom and set a rumor mill in motion. The impression was created that CBS lawyers required the designers working on the show to make everything look "25% different" for reasons of copyright, a rule which was said to be exemplified by the Enterprise redesign for "Will You Take My Hand?". The Facebook post was deleted later on the same day, together with John Eaves's entire Facebook account. Two days later, TrekCore and Trekmovie.com, two of CBS's preferred fan-owned news outlets, published an official statement that CBS was "not legally required to make changes." The modifications of the USS Enterprise were explained as "creative ones, made to utilize 2018's VFX technology."

Notwithstanding the fact that the redefinition of the ship's proportions and dimensions has evidently nothing to do with the progress in VFX technology, the "25% rule" affair leaves a bad taste. Let me start my comment with a disclaimer. For me, it always was and still is plausible that CBS does own and makes use of its rights, including all visual designs, to produce Star Trek for television. There is no real evidence to the contrary, although rumors about CBS not being the actual production company are still floating around. I don't subscribe to theories that Discovery is made under some sort of "alternate license" or that it is a part of the Abramsverse, technically speaking. But - I have a suspicion that once Discovery is sufficiently different from the rest (don't ask me whether it has to be 25%, I'm not a lawyer), it may be sold as a separate entity in case the ownership of Star Trek were to change. Again, for me as a layman this is a theoretical possibility at this point. I'm not saying that CBS plans to abandon either Discovery or the rest of Trek, but the questionable creative decisions have laid the foundation for such a move.
It is only fair that CBS hurries to rectify untrue claims and that they ask their employees and contractors to stop publishing anything that may harm their business. As sad as it may be, non-disclosure overrules the freedom of speech in a case like this. I can understand the company very well in this regard. But - there is still a shade of doubt. Would production people posting at Facebook lie about something they heard about in the company? Isn't it a perfectly plausible assumption that the "25% rule" was indeed cited by some superior at CBS at some point, as some sort of justification for the design changes in Discovery? I don't think anyone is consciously lying to the fans. But the whole truth may be more complicated, and not meant to become public.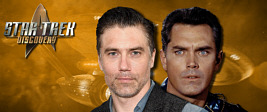 Anson Mount Cast as Captain Pike, Section 31 to Return
The official Star Trek site reports that Anson Mount will play Captain Christopher Pike on Star Trek Discovery. The appearance of this character in the second season is obvious, because the Discovery picked up a distress call from his ship, the Enterprise, at the end of "Will You Take My Hand?".
On other (and not quite as recent) news about the second season, Alan Van Sprang teased his appearance as the Section 31 agent Leland: "I really have no idea. But I'm definitely a big part of Season 2." So far he appeared in a "bonus scene" from the season 1 finale where he approaches ex-Emperor Georgiou to recruit her for Section 31.

It is noteworthy that Anson Mount bears a resemblance to Jeffrey Hunter, who played Captain Pike in "The Cage", rather than to Bruce Greenwood, who appeared in this role in the Abrams movies. This casting choice reclaims a little bit of the otherwise discarded visual continuity with the old Star Trek. On the other hand, it sort of invalidates the visuals of "Star Trek Into Darkness", a movie that is barely five years old. Just like Mudd or Sarek too (not to mention the Klingons or the USS Enterprise), the character is apparently deemed "flexible" so he can be re-interpreted by a new actor any time the producers feel like throwing in a familiar name from the legacy.
The "big part" of Alan Van Sprang as a Section 31 agent is more evidence that Discovery is fond of recycling concepts of the old Star Trek, especially if they are alleged fan favorites. But rather than creating genuine continuity, frequent appearances of "top secret" people or organizations further undermine the credibility of the series. So are we up for a Section 31 arc in season 2 that will have to be erased from the history books just like the spore drive and the Mirror Universe of season 1? And what's next? The Borg (heavily reimagined, of course)? Romulans? Or even Khan?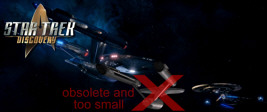 More News About Season 2, Klingons, Big Enterprise and Uniforms
As reported by Trekmovie.com from WonderCon, the showrunners of Discovery revealed that season 2 will consist of 13 episodes, split into two chapters with a break of two months between episodes #9 and #10. The production will start in mid-April, according to Aaron Harberts. The release date is yet unknown.
Also at WonderCon, make-up FX designer Glenn Hetrick defended the new Klingons, calling the redesign an "evolutionary imperative", based on the assumption that the species is a "cross between reptilian and avian". He said that "we knew that it cannot be something completely different. You need to honor and maintain as much of the integrity of the concept of the Klingons".
There is also a confirmation from the VFX department that the Enterprise was not only redesigned but also enlarged for its appearance in the Discovery universe. Production designer Tamara Deverell told the audience: "Overall, I think we expanded the length of it to be within the world of our Discovery, which is bigger, so we did cheat it as a larger ship."
Aaron Harberts, on the other hand, once again affirmed the fans that the series is indeed set in the Prime Universe: "Season two is really exciting for us. This is our opportunity to really show how Discovery fits into this Prime Timeline. We are firmly committed to that." Regarding the Enterprise uniforms as they should look at the time of "The Cage", he said: "We know what kind of uniforms they wear. So, we will leave it at that."

I could go into a long rant about how hypocritical it is to call the new Klingons an "evolutionary imperative" that "honors the integrity" instead of admitting they were changed for change's sake, and about how telling it is to speak of "the world of our Discovery" as a new universe. It is clear that the makers of Discovery didn't care for visual canon at all, and only selectively for story canon or for the preservation of the optimistic spirit that pervades all old series. The latter may still change in season 2. It is the last chance for Discovery to become a worthy part of the franchise. It is too late to do anything of note about the former now that the damage is done and no one seems to feel bad about it. I find it grotesque that Aaron Harberts would place importance on the Enterprise uniforms in light of the otherwise extreme deviations from canon in Discovery.
Wilson Cruz to Return in Season 2
In an interview for the Emmys, Wilson Cruz revealed that he will come back for Discovery's season 2. "Aaron and Gretchen explained what was gonna happen and told me I was part of the story for next season," said Cruz. "This is a longer, epic love story and this is just a part of that that we have to do in order to tell it. I know what that story is and as an actor, I'm really excited about it. But even as a viewer, I think that's gonna be fun to watch!"
First Hints About Season 2
After the conclusion of a first season that focused on the war with the Klingons (well, and on an excursion to the cruel Mirror Universe), Aaron Harberts told the New York Post that season 2 of Discovery will be brighter: "This was a show about war and has been a dark, dark tunnel and you have to go through the darkness to get to the light. 'Star Trek' ultimately is a show about hope, optimism, peace... It's that spirit that we will be taking into Season 2."
In an interview with EW, Alex Kurtzman talked about whom fans may expect to see aboard the USS Enterprise in the season 2 opener: "Obviously, they're going to be wondering who's on board the Enterprise. I think there will be some surprises there. We will maintain consistency with canon, but there will be surprises... If we bring in characters from The Original Series, they have to adhere to canon. So anything that's been mentioned in TOS, either storyline or character-wise, we have to stay consistent with."
Kurtzman also spoke about possible visual changes regarding the interior of the Enterprise: "Our goal is to be interpretive in a way that feels it's protective of what the Enterprise would look like if, in theory, if we were to build any Enterprise sets. But if we built it like it looked in The Original Series, there would be a massive visual disconnect."
Regarding Voq-Tyler, he revealed the following: "Tyler/Voq has had a major evolution over the course of the season, and we love Shazad. He's capable of absolutely everything we throw at him, and we have great plans for his character in season 2."
Shooting of season 2 is scheduled to start in April.
See Also
Star Trek Discovery episode guide and reviews


Go to Star Trek TV Blog Archive