Acknowledgements
There are many people who helped me set up this website, who made suggestions or encouraged me to carry on with it. I would like to thank the following individuals and groups:
My parents for hosting "Starfleet Headquarters" for several years.
Thorsten for helping me with many ideas and mostly too enthusiastic comments, but I liked to hear them. ;-)
Jörg Hillebrand for compiling numerous articles, complete with pictures.
Crissy for her patience with my hobby.
Steffi for enduring my frequent talking about Star Trek at work. ;-)
Utz and Martin for borrowing me countless Star Trek video tapes.
Masao Okazaki for his fabulous idea to create the Starfleet Museum, for countless useful discussions and for sending Trek stuff to a poor European fan.
Alice Orbán for sketching up many starships.
Jak Crow of Werewolves.org for hosting this site after the Strato-strophe.
Tony Taylor for hosting the site now.
Charles Capps and Groupee (formerly Infopop) for hosting the Subspace Comms Network for over three years.
Makaveli for hosting the Subspace Comms Network for many more years.
Thomas Pemberton for helping me out with webspace for my galleries at concept40.com and for his great 3D starship artwork.
The members of the ASDB for their fruitful cooperation and their creativity.
Hobbes for many discussions and for not getting tired of sending me Star Trek Magazine issues.
J. Grey and Travis Anderson, as the most prolific Fan Fiction authors.
Christian Rühl, Colin Lindsly, Daniel Carlson, Jason Colbert and Michael Chandler, who are or were frequently visitors to my site, made suggestions, pointed out errors and also encouraged me.
Alexander Hartmann, Balapoel, Boris S., C. HellenBrandt, Chris Martin, Chris Spinnler, Frank Gerratana, Gary Perry, Harry Doddema, Jack Bohn, Jonah Rapp, Kristian Trigwell, Kristofer Olinger, Mark Delgado, Mark R, Masaki Taniko, Mike Swantak, Peter Savin, Stephen L., Steve Pugh, Thomas Småberg and Timo Saloniemi for special support without which my starships section would be much less profound.
Adam Walker, AJ Halliwell, Alex Köhnen, Alex Müller, Alex Rosenzweig, Alexander DeLarge, Alexander Hoffmann, Alexander Müller, Ambassador, Andreas Gruber, Andrew Friden, Andy Kinnear, Anthony Misztal, Anthony Pascale, Benjamin Niermann, Bas Gorris, Belz..., Black Knight, BobyE, Brad Wilder, Brian Minosh, Cameron Dicksen, Cardinal Biggles, Carola, Carsten Wilde, Chad Wilson, Chris Boucher, Chris Edmonds, Chris G, Chris St. John, Chris Sumner, Christopher Havel, Christopher Mace, CJ Sitter, Colin, Curt Danhauser, Daniel Ellis, Daniel Gerson, Daniel Tessier, Danny Evenwel, DAS, David Matteson, Dávid Metlesits, David Smith, David Winfrey, Davok, Derek Glazener, Dhunter, Donny Versiga, Doug Wilson, Drew Stewart, Edward Shipp, Eno Farley, Erich Mohr, Erick Muñoz, Ernest van der Waal, Eugene Chan, Evan Connolly, Evan Olsen, Fabio Passaro, Falke, Finntrekkie, FleetCaptain, Florian Haag, Francis Murphy, Frank Bitterhof, Frederick Keith, G2k, Gabriel Velez, Gadrin, Garry aka Phoenix, Gary Jordan, Gary Neumann, Geir Ove Klefsåsvold, George Coliber, George Nicolaides, Gerard aka Gilso, Gerrit Horak, Graham Kennedy, Gregory Price, Gregory Tyler, Gus, Hielke de Haan, Highway Hoss, Holger Leuz, Holland Rhodes, Ian Christian Müller Nef, Igor Maric, inexpl, Ivan Bozic, James T Fazar, James Terry Jr., James Y. Yeh, Jan Hendrik Kobarg, Jan Herfort, Jan Kockrow, Jan Seebald, Jason Sharp, Jay Hagen, Jay Stobie, Jeff Chin, Jeff W, Jeffrey Griffin, Jernej L., Jim Morvay, Jimmie R. Giboney, Joachim Peiper, Jochen Gnida, Joe Blogs, Joel Hruska, John Hamer, John Mesiavech, John Ritter, Jonah Kuttner, Jorge Garcia, Joseph Glodich, Joshua Bell, Joshua Wright, Johannes Ruthenberg, Julian Schecter, Kail Tescar, Katja, Keith Ichinaga, Kenny Mitchell, Kilian T., Lee, Lee Canaday, Lee Kelly, Lennart, Lim Hui Yin, Lin Jingqiu, Lin Xiang, Lt. Shark, Lukas D'Anvil, Luther Root, Maciej Zinczuk, Maik Leon Ehnert, Malte Werning, Marc Xavier, Mark Beatty, Mark Dezaire, Mark Gill, Mark Mendel, Mark Thomson, Markus Nee, Marten van Wier, Matt Davidson, Matthew Townsend, Micah Haber, Michael Dax, Michael Minnick, Michael Paquette, Michael Sweeney, Mikaa, Captain Mike, Mike Allen, Mike Bremer, Mike Brown, Mike Wong (yes, really!), Nathan Fortner, NeghVar, Nick Martinelli, Nick Ottens, Nick Porcino, P.O. Holland, Patrick Carroll, Patrick Kovacs, Paul Cargile, Paul Frenczli, Paul Thresher, Paul van Garderen, Peiper, Peter Rakousky, Philip Kientz, Rachelle Lerner, Raja Ramalingam, Ralph Spitzner, Red Byrd, Regent, Rick, Rickert Vlaanderen, Richard Martin, Rob Cavanagh, Rob Mercer, Rob Minnes, Robert Crosswell, Robert Heckadon, Robert Jackson, Robert P., Robert Sharpe, Ron Valencia, Ruben Hilbers, Ryan Dietz, Ryan McReynolds, Sanfam, satre, Sean Motto, Sean Stephenson, Sebastian Prooth, Sebastian Quevedo-Busch, Shawn Havery, Simon Matthe, skyhawk223, Spyros Spyrou, Stacy Smith, Stefan Posner, Stephen, Steven Ryckebosch, Sven Lindemann, Tachy, Tadeo D'Oria, The Chief, The-Didact, Thomas Owens, Thomas Schmid, Thorsten Junk, Thorsten Wieking, Tim Davies, Tobias Heintz, Tobias Weimann, Tom Mendel, Tony Bailey, Tony Midyett, Udo Meeßen, Urs Schaefer-Rolffs, Verania and Will for valuable cooperation, discussion and contributions - and probably several hundred more to whom I must apologize because I forgot to mention them.
Thousands of visitors, who have provided information or encouraged me and who are just too countless to list by name.
Millions of visitors, who keep the counter running.
The people at Facebook, Twitter, the Flare Forums, the Subspace Comms Network, the Subspace Relay, the 3D Gladiators Premier Forums, the SciFi Meshes (formerly SciFi Art) forum, the TNO Forums, at the old newsgroups startrek.expertforum.ricksternbach and rec.arts.startrek.tech for many useful discussions.
TrekCore, Trek Caps, Cygnus-X1, Alidar Jarok, Mr. Video Productions, Sector 0-0-1, Star Trek in Sound and Vision, Star Trek Photo Gallery, Janet's Star Trek Voyager Site, The Guardian of Forever, Neutral Zone Starship Database, Trekpulse and Thorsten Heim's World of Star Trek for numerous images, Memory Alpha for many facts, Trekmovie.com for info on new series and movies, TrekToday for episode news, D. Joseph Creighton's and Joshua Bell's Star Trek Archive for ship information, Chrissie's Transcript Website for the immensely useful transcripts of all episodes and Jim Wright of Delta Blues for his Voyager reviews.
Several more webmasters, who have allowed me to use their pics and information.
Other webmasters or bloggers, who have a link to my site or have granted me an award.
Other webmasters, bloggers and YouTubers, who have no link to my site, but keep the idea of Star Trek alive.
My former employer, the University of Siegen, for providing me with free and incredibly fast internet access as soon as 1996 and for webspace until 2000, which was hopefully not regarded as misuse.
GMX for a free POP3 e-mail account.
The authors of the following scripts running on my server: Megabook, Castle Links, SimplePoll, Fluid Dynamics Search.
The manufacturers of the software I am or was using to create and maintain this website, although I'm far from happy with many of them, namely Microsoft Windows, Microsoft Frontpage, Microsoft Word, Microsoft Excel, iGrafx Designer, iGrafx Image, Corel Draw, Corel Photopaint, Adobe Illustrator, Adobe Photoshop, Adobe Acrobat Exchange, Adobe Acrobat Reader, Netscape Navigator, Mozilla Firefox & Thunderbird, Microsoft Internet Explorer, Google Chrome, FastStone Photo Resizer, HP Desk Scan, WinOnCD, Easy CD Creator, SmartFTP, WS_FTP95LE, FileZilla, Rname-it, FileMenu Tools, WinHTTrack, Srhtml 98, EasyPHP, PHP Designer and (most importantly!!) Notepad++.
The manufacturers of my hardware. In particular Hewlett-Packard for fabricating ultra-fast professional scanners. With the usual home scanner I have now I spend many hours just waiting.
Several Star Trek publications that have provided lots of useful information and images to scan, most notably the Star Trek Encyclopedias, the STTNG Technical Manual, the Star Trek Fact Files, Star Trek: The Magazine, Star Trek Mechanics, The Art of Star Trek, STTNG: The Continuing Mission and the DS9 Technical Manual. For more on these publications, please refer to the book reviews.
The people who make Star Trek possible, all the production crew on stage and behind the scenes. In particular I am grateful to Rick Sternbach for not getting tired to answer fan questions, to Michael Okuda for his generous help with the Wolf 359 ships, TOS Remastered and other projects, to Max Gabl for TOS Remastered information, to Doug Drexler for providing valuable pictures and information from the Art Department, to John Eaves for discussing design issues, to Andrew Probert for annotations, to Adam Buckner for model information, to Larry Nemecek for pictures and behind-the-scenes facts, to Brian Alan Lane and Mike Sussman for episode information and to Dave Blass for talking about the production design of Picard.
Unfortunately I can't express my gratitude personally to the most important contributor, the man who created the Star Trek Universe and took good care of it for 25 years: Gene Roddenberry.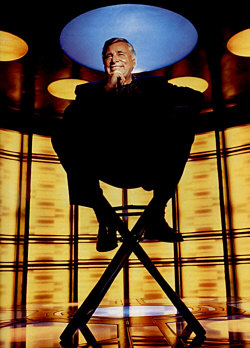 Gene Roddenberry 1921-1991
"There is an intelligent lifeform out on the other side of that television too."
See Also
Sources - printed publications used in the creation of this site