About This Site
Welcome to EAS! I hope that you could find or will find the Trek stuff that you are looking for. If you would like to know more about this website, here are several links that will probably answer all your questions.
Site Information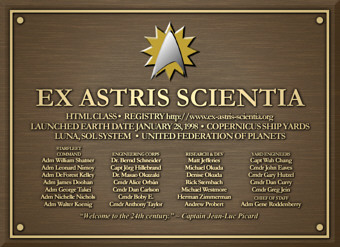 Introduction to EAS - site info in a nutshell, my motivation and viewing requirements
EAS Site History - milestones of EAS and former layouts, reconstruction of original site (1998)
Site Projects - information about planned or ongoing projects (new content or technical improvements)
Site Statistics - about the EAS network and how many people come to this site
Legal Terms - some necessary legalese and netiquette
Disqus Commenting Rules - rules for the embedded commenting system
Sources - printed publications used in the creation of this site
Acknowledgements - people to whom I owe my gratitude
Support
FAQ - 99% of all questions about EAS are answered here. Really.
Abramsverse FAQ - special FAQ for all questions on the reboot movies and the new continuity
Discoverse FAQ - special FAQ for all questions about the EAS policy on DIS and SNW
Contact - Use the contact form or go to my Guestbook to drop me a few lines.
EAS News Feed - how to receive regular EAS site updates and let other fans know about it
Credits
The dedication plaque was originally drawn by FuryofaSeraph.