Disqus Commenting Rules
These rules apply specifically to the embedded Disqus commenting system at EAS. For general terms and conditions of EAS, please refer to the Legal Terms.
Disclaimers
Any visitor to EAS may leave comments on a page, by going to the bottom of that page and enabling Disqus with the button "Open comments". Once enabled, the Disqus script may perform user or IP tracking, which is not under the control of EAS.
EAS requires no registration or authentication from visitors to comment. It is possible that Disqus asks for e-mail verification.
It is possible that first-time commenters need to be manually approved of.
Commenters are required to acknowledge that EAS is a strictly non-commercial personal website that is a labor of love and that will defended against trolls and other offenders. Users may be banned at the sole discretion of the EAS webmaster.
Rules
Zero tolerance for Spam. Spam is deleted and offenders are banned without further notice.
Zero tolerance for hate speech, defamation and trolling. Offenders are banned at the discretion of the webmaster.
Posts with political and/or satirical messages are only allowed if directly related to the topic of the page.
Porn or graphic violence is not allowed and will be deleted.
Moderate swearing is acceptable.
Respect other people. Criticizing their views is okay, ad-hominem arguments are not.
Please stay on topic. You may want to move to another page if the focus of a discussion shifts.
Further Resources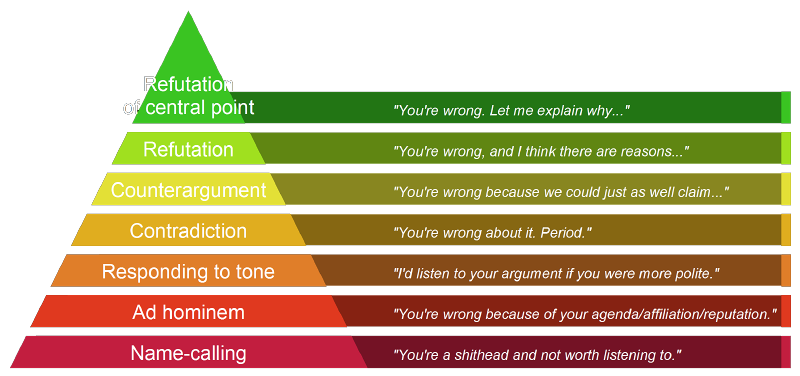 The hierarchy of disagreement, according to Paul Graham
| | | |
| --- | --- | --- |
| 1 | Thou shalt not attack thy opponent's character, but the argument. (Ad hominem) | "You rant about this show because you're a gatekeeper and don't want others to enjoy it." |
| 2 | Thou shalt not misrepresent or exaggerate a person's argument to make it easier to attack. (Strawman) | "You want TV to look like in the 1960's, with cardboard sets and mustached Klingons." |
| 3 | Thou shalt not use small numbers to represent the all. (Hasty generalization) | "I watched the pilot episode, and it was awful. I won't need to see the rest. It's a bad show." |
| 4 | Thou shalt not claim that because of previous errors, new ones are acceptable. (Two wrongs make a right) | "Canon is irrelevant because it has been violated before in the franchise." |
| 5 | Thou shalt not appeal to purity to dismiss thy opponent's argument. (True Scotsman) | "No true fan is happy with the latest developments in the franchise." |
| 6 | Thou shalt not reduce the argument down to two possibilities. (False dichotomy) | "You're either 100% positive about everything in the franchise, or you're a hater." |
| 7 | Thou shalt not argue that because of our ignorance, a claim must be true or false. (Ad ignorantum) | "You have never worked in a TV production, so your opinion on TV shows is irrelevant." |
| 8 | Thou shalt not lay the burden of proof onto him that is questioning the claim. (Burden of proof reversal) | "Redesigns were made for legal reasons. Prove that it's just a creative decision." |
| 9 | Thou shalt not assume "this" follows "that" when there is no logical connection. (Non sequitur) | "The show ignores canon facts, therefore it isn't a canon show." |
| 10 | Thou shalt not argue that because a premise is popular, therefore it is true. (Bandwagon fallacy) | "Your statement that the show sucks is wrong. Everyone else gives it rave reviews." |
The "Ten Commandments of Logic"
See Also