Discovery Future Alien Ship Classes

This part of the database contains alien starships of the 32nd century, unless these have a past or likely future affiliation with the Federation.
Emerald Chain

Mercantile

General description

The Mercantile is a trade outpost operated by the Emerald Chain, hovering above the settlement Requiem on Hima.

Known stations

"The Mercantile"

Annotations

The Mercantile can be seen in DIS: "That Hope Is You, Part 1".

Class specifications

None available
Various shuttles We can see many shuttles above Requiem in DIS: "That Hope Is You, Part 1".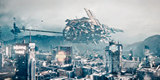 Hunhau transport ship

General description

This small yellow ship appears to be a personnel tranport.

Known ships

No name given

Annotations

In DIS: "Scavengers", the ship is used by slaves to escape from the Emerald Chain scrapyard on the planet Hunhau.

Class specifications

None available

Viridian type

General description

The Viridian is a huge irregularly shaped combat vessel with numerous weapons, including torpedoes and antiproton cannons. It is equipped with a cloaking device and with tentacles that can be used to tractor in other ships. The shuttlebay is large enough to hold a Federation Crossfield class.

Known ships

Viridian

Annotations

The Viridian shows up in DIS: "The Sanctuary" and in the final arc of season 3, beginning in "Su'Kal".

Class specifications

Heavy cruiser
Couriers

Book's ship

General description

Book's courier ship is asymmetrical and shaped roughly like a boomerang. It has one deck and is small enough to fit into the shuttlebay of the USS Discovery. Additionally, it can morph into different shapes, also during flight. It also features a slipstream drive and a cloaking device.

Known ships

No name given

Annotations

Book's ship first appears in DIS: "That Hope Is You, Part 1". We don't learn the name of the ship in season 3.

Class specifications

None available

Burnham's ship

General description

Burnham's courier ship is shuttle-sized, with an aft hatch and with wing-like structures.

Known ships

No name given

Annotations

We briefly see Burnham's ship, which she used in the years 3188 and 3189, in a flashback in DIS: "People of Earth".

Class specifications

None available

Traitt's ship

General description

Traitt's courier ship consists of five articulated pods that are connected in a central section that also holds the engine.

Known ships

No name given

Annotations

In DIS: "That Hope Is You, Part 1", the Betelgeusian courier Traitt chases Book through a debris field after Book has stolen the trance worm.

Class specifications

None available

Zareh's ship

General description

Zareh's courier ship is capable of landing on a planet and consists of detached parts.

Known ships

No name given

Annotations

Zareh's ship can be seen parked in front of the "Western saloon" in DIS: "Far From Home". It is not certain in the episode itself that this is Zareh's ship and that it consists of multiple parts, but the VFX reel by Pixomondo reveals the structure of the ship.

Class specifications

None available


Back to Starship Database index