Technical Support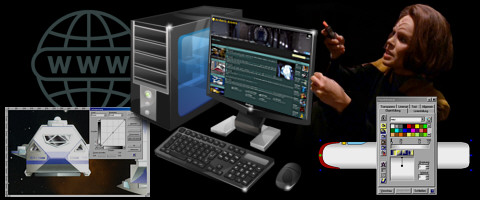 Here are some thoughts about and experiences with software and the internet, not all of which are necessarily related to Star Trek. Maybe I can save other 2D designers and webmasters from repeating my mistakes.
2D Artwork
Starship 2D Design Tutorial - typical steps from simple outlines to a fully-fledged image with shading
Miscellaneous 2D Design Tricks - some more useful techniques for 2D (starship) design
Scan Retouching Tutorial - typical steps of cleaning up an image from the scanner
Drawing Software Test - reviews of Micrografx Designer, Corel Draw and Adobe Illustrator

Fan Works and Copyright - Is it legal to reproduce and sell fan artwork?
Website Design and Management
Internet Annoyances - things that bother me, from spam over bad web design to social network habits

Making of the "Observations" Articles - from the collection of screen caps to the finished "Observations" article

Windows File Management - some tips for efficient file management for webmasters

EAS on the Downturn - my thoughts on why EAS has lost half of its visitors and how to preserve what's left

Where Have All the Trek Sites Gone? - essay about the shrinking number of Trek websites

Making a Successful Website - strategies to draw more traffic to a site

Review of Mozilla 1.1 - a new-generation browser, its advantages and flaws, update: Mozilla 1.4

The Frontpage 2000 Bug Collection - review of an overall good web design software with some evil bugs

Free Web Host Review - a detailed list of features and pitfalls

Strato and the "Unlimited Traffic" Lie - how Europe's biggest web host cheated me and kept lying to other customers

Archived pages Items marked with

will not be updated any longer.