Wolf 359 - Interview with Michael Okuda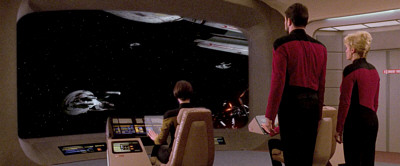 Overview - Interview with M. Okuda - Cheyenne - New Orleans - Niagara - Proto-Nebula - Springfield - Challenger - Freedom - Other
Timo was lucky to ask Michael Okuda some questions about the ship wrecks at Wolf 359, and he got detailed answers. Here are some excerpts from their e-mail communication (as of February 2000).
The following is an additional reply Mike Okuda gave to Chris.
Credits
Thank you very much to Mike Okuda for taking the time to answer our questions and giving us some insight into the production process. Not everyone would still be so dedicated to a show that was aired years ago. Thanks to Timo for bugging him with our questions and to TSN for the transcript.