The Next Generation (TNG) Season 6 Guest Reviews
Season 1 - Season 2 - Season 3 - Season 4 - Season 5 - Season 6 - Season 7
Relics Stardate 46125.3: After stumbling upon a supposed Dyson Sphere, a superstructure encompassing a star, the Enterprise discovers a crashed Starfleet vessel lost 75 years before. After beaming aboard, Geordi activates the still-functioning transporter, materialising Captain Montgomery Scott into the 24th century. Further investigations lead the Enterprise to become trapped inside the sphere, forcing Geordi and 'Scotty' to work together to assist the Enterprise in escaping. Picard bookmarks the Sphere for Starfleet to study, and allows Scotty the use of a shuttle to leave the Enterprise.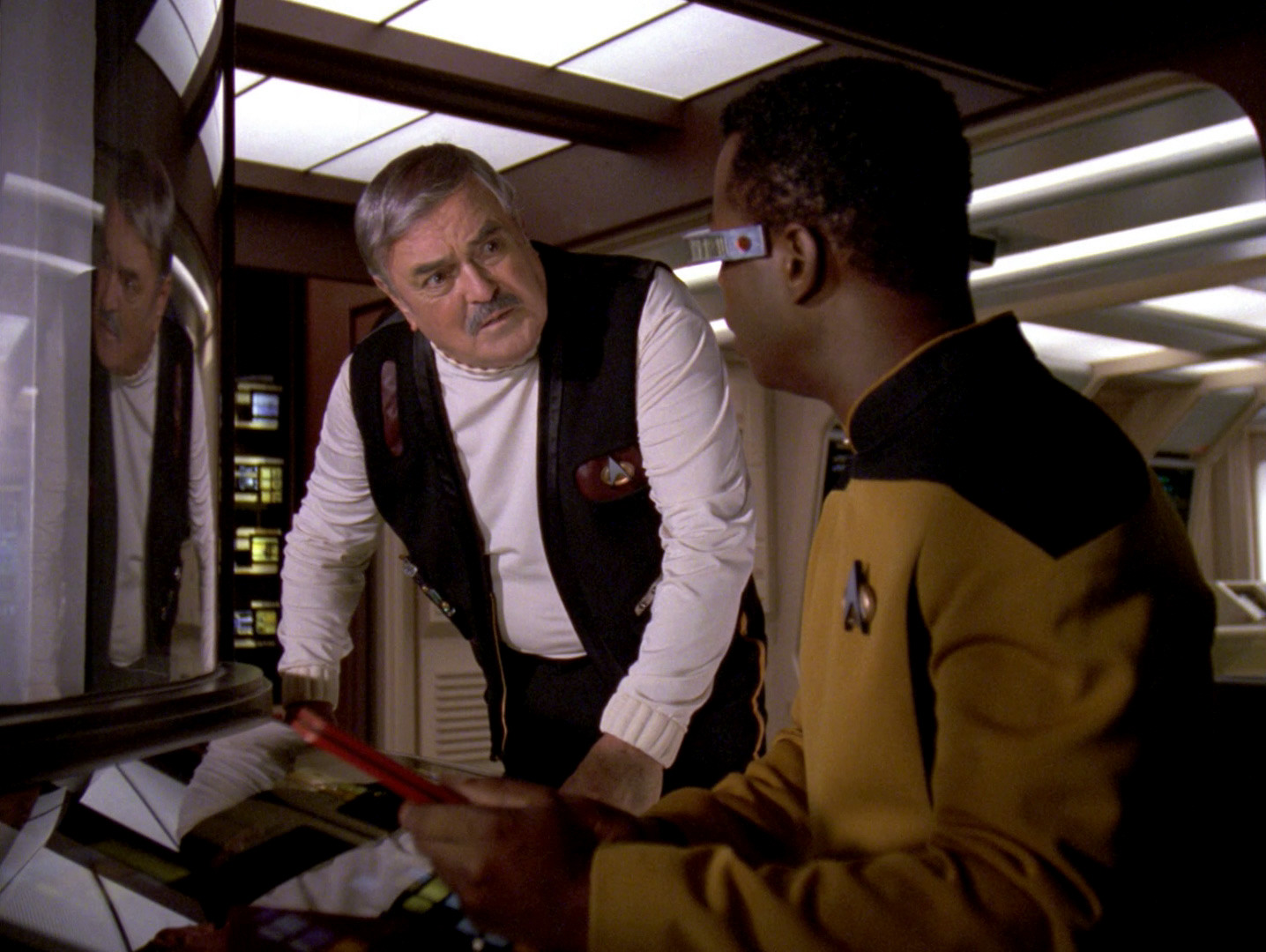 A very bittersweet episode of sorts, of course, the star power of having Scotty appear already lends weight to this episode, and his appearance is done in a clever way using familiar technobabble incorporating an even more familiar device in the transporter. Doohan is cheery as you'd expect, but he shines with the more depressing material, sitting on an empty bridge of 'his' old Enterprise, toasting his long gone comrades, being treated with contempt and ignorance by Geordi, coddled by Crusher. It's kind of depressing to see the crew treat him so, but it's a good commentary on how some elderly people are largely disposed of by society once they're no longer seen as useful, which Picard mentions to Geordi. The secondary plot of the sphere feels a bit underwhelming, a structure of this magnitude discovered, the Enterprise accosted inside, only for the station to be abandoned? A bit of a let down, but the final moments are quite exciting, seeing the two Enterprise engineers spare technobabble jargon, and in the end help in the Enterprises escape from the sphere.
Remarkable error: After hearing which ship Riker serves on, Scotty remarks that Jim Kirk pulled the Enterprise out of mothballs to rescue him, of course, Scotty would witness the apparent 'death' of Kirk in "Star Trek: Generations", 76 years before the events of this episode.
Remarkable quotes: "Ah, it's like the first time you fall in love. You never love a woman quite like that again. To the Enterprise and the Stargazer – old girlfriends we'll never meet again." -Scotty, to Picard, "... It is green." -Data, attempting to describe Aldebaran whiskey
Remarkable dialogue: "Take the bridge, commander." - "Oh no... You're the senior officer here." - "Oh, I may be captain by rank... but I never wanted to be anything else but an engineer." -Scotty and La Forge
Remarkable scene: Picard standing on the (albeit holographic) bridge of James T. Kirk's first Enterprise. Who said Picard was a soft, tea-sipping, flute playing Frenchie? He downs a glass of non-syntheholic whiskey and names it without flinching.
Remarkable set/structure: Although a blue screen effect, the empty set of the NCC-1701. The Dyson Sphere.
Remarkable fact: Picard mentions a Constitution class ship is present in the fleet museum, this may very well be the final Enterprise Kirk commanded.
Rating: 7 (Cameron)
Chain of Command I/II Stardate 46357.4: Starfleet orders Picard, Crusher and Worf on a mission to a thought-uninhabited planet in Cardassian space to recover what Starfleet Intel believes to be a biological weapon. Meanwhile, the new captain of the Enterprise, Edward Jellico, an expert on Cardassian relations, is enlisted to negotiate with Cardassian representatives over movements along the border. Upon discovering an empty 'research centre', Picard, Crusher and Worf discover they have been lured into a Cardassian trap. As Beverly and Worf make their escape, Picard is captured, taken to an interrogation chamber, he's threatened with death by a Cardassian officer; Gul Madred. Madred interrogates Picard into revealing the defensive capabilities of Minos Korva, a Federation planet in disputed territory. Picard resists torture long enough to be released by the Cardassian Government, whose invasion of the planet was thwarted by the Enterprise.


The first act of this fantastic 2-parter feels a bit hampered by the enormous amount of story that's incorporated into it, Nechayev arriving to inform Picard of his mission, Jellico taking command, Picard, Bev and Worf training for their mission, Riker not liking Jellico, Jellico's changes to the ship causing havoc, his treating Deanna and Picard's advice on how to deal with the crew with contempt due to his own command. Then you've got the Cardassians who arrive (and the actor who plays Evek is fantastic), and Picard's mission taking place.
But the second act is where this becomes one of the best episodes of Star Trek, Patrick Stewart and David carry this episode amazingly. The chilling Madred is portrayed so well that it's a shame he was made use of again, but I don't think it would've had the same impact. And Patrick Stewart's performance is nothing short of incredible, the remarkable fact I'll list reveals why. But the descent both characters take is just a thrill to watch, Picard stripped of his clothes and his rights, but never yielding his dignity, refusing to give into Madred.
I'm almost sorry I can't elaborate more, but the episode focuses so much on the dialogue and experiences shared between the two men that words just don't do the second part justice. I only wish the scenes weren't interrupted by cuts back to the Enterprise every now and then, due to the riveting nature of the 'interrogation' scenes and what a magnificent performance is given by both men.
In that, it almost seems a shame I've decided to rate this in the one review, because the slow burning first half almost feels like a chore in order to proceed to 10 star-deserving Part II, shame I don't have the DVD then ;)
Remarkable quote: "There... are... FOUR... lights!" -Jean-Luc Picard.
Remarkable prop: Gul Madred's four lights ;)
Remarkable fact: Patrick Stewart prepared for his torture scene, at the hands of the Cardassians, by reviewing tapes provided by Amnesty International.
Rating: 9 (Cameron)
Ship in a Bottle Stardate not given: Synopsis in main TNG listing


This is a very, very, clever episode, and is a sequel to the rather unimpressive "Elementary, Dear Data".
Right from the start, from walking off the Holodeck, Moriarty plays the crew for fools in an array of brilliant deceptions and manipulations of Federation morality. He preys on their compassion and tolerance to gain their trust and support with brilliance - even I was fooled. Its only a simple deduction by Data that the ruse is learned. Alas, too late as Picard gives away the access codes to the Enterprise and Moriarty utilises them with force.
Ironically, Picard and Data play Moriarty at his own game, but in the end all is for each other's mutual benefit: Moriarty spends his life with his love in "his own world" and never aware of the difference, the ship is released, and no real harm is done.
I praise the intelligent handling of the way the deception was done, it was not once seen coming like with oh so many other episodes and nor did it urinate on the audience. I felt that the writers respected the intelligence of the people watching.
Also there is no real malice - it was not an alien wanting to take over the ship and kill the crew, but a "conscience" who wanted his love. The end was peaceful.
Well done!
Rating: 8 (Chris S)
Face of the Enemy Stardate 46519.1: Synopsis in main TNG listing


I recently saw this episode for the first time and I found it far more enjoyable than what the description makes it out to be. This episode gives Troi a very unique role that she normally does not have. I found this to be a great follow up story from TNG: "Unification" with mention to Spock's underground movement and "cowboy diplomacy".
N'Vek is a interesting character. He has many of the characteristics of a Romulan, yet is genuinely sympathetic to Spock's underground movement. I find it pleasing that we get to hear about many Romulans who have joined in the unification movement.
Toreth is another interesting Romulan character. She appears like a typical Romulan at first, but is later revealed to have some positive qualities. For one thing, she makes it clear that the safety of her ship is a top concern. She also tries to avoid a conflict with the Enterprise unless there are no other reasonable options. Her distrust of the Tal Shiar is also striking since it is usually assumed that all Romulans are distrusting. This episodes shows a dimension to Romulans that is pretty much absent in other episodes they make an appearance in. I often get annoyed at the countless Trek episodes that depict other races and cultures as being so one dimensional, short-sighted, and uncivilized (i.e. Klingons, Cardassians, Romulans, etc.). This episode pleasantly breaks that tradition.
The plot of this episode also had some pleasant twists that were not too predictable. I also liked how 90% of the episode was shown from the viewpoint of the Warbird rather than the Enterprise.
This episode was a pleasant surprise and I would consider it one of my top 10 favorites of TNG.
Nitpicking: I had wondered at the moment when Troi appeared on the Enterprise view screen as a Romulan, what if Riker shouted out "Deanna!?" Of course, he doesn't say anything.
Rating: 9 (Chris)
Frame of Mind Stardate 46778.1: The story starts out with Riker rehearsing for another one of Doctor Crusher's plays. It is about a man who is in a mental hospital. But then things start going awry. Riker keeps going back and forth between Beverly's play and a real mental hospital. After struggling to figure out what is real and what is a figure of his imagination, Will finally gets back to normal and it is revealed that Riker was on a secret mission and was being brainwashed by aliens. Riker then resumes his duties on board the Enterprise.


This episode is very confusing and you need to watch it a few times until you truly understand it, but I felt that it was time well spent. It is also somewhat creepy. The story was one of TNG's finest and it truly gave Jonathan Frakes an excellent chance to do his best work as Will Riker. The acting was excellent and at times it was hard to tell what was reality and what was in Riker's mind. A definite must see for every hard-core Trek fan!
Memorable quote: "What I need is to get out of this cell, I've been locked in here for days. You've controlled my every move. You've told me what to eat and what to think and what to say, and then when I show a glimmer of independent thought, you strap me down, you inject me with drugs. You call it a treatment!" -Riker
Remarkable set: The set for Beverly's play was the same as the "real" mental hospital in which Riker was being held.
Rating: 9 (Nathaniel Scripa)

Proceed to TNG Season 7 Guest Reviews
Last modified: 27.07.12
http://www.ex-astris-scientia.org/episodes/tng6g.htm