The Next Generation (TNG) Season 5
Season 1 - Season 2 - Season 3 - Season 4 - Season 5 - Season 6 - Season 7
Reviews in progress.
Redemption II See TNG season 4
Darmok Stardate 45047.2: When the attempts to establish verbal communication between the Enterprise and the Children of Tama have failed because of their unintelligible language, the Tamarians abduct Picard and isolate him on the planet El-Adrel IV, together with their captain Dathon. Facing a common enemy in the form of an artificially generated creature, they re-enact what the Tamarians call "Darmok and Jalad on Tanagra". Picard begins to understand the meaning of this and other odd expressions which reflect, as opposed to abstract words, their history and customs, but not before Dathon is mortally injured by the creature.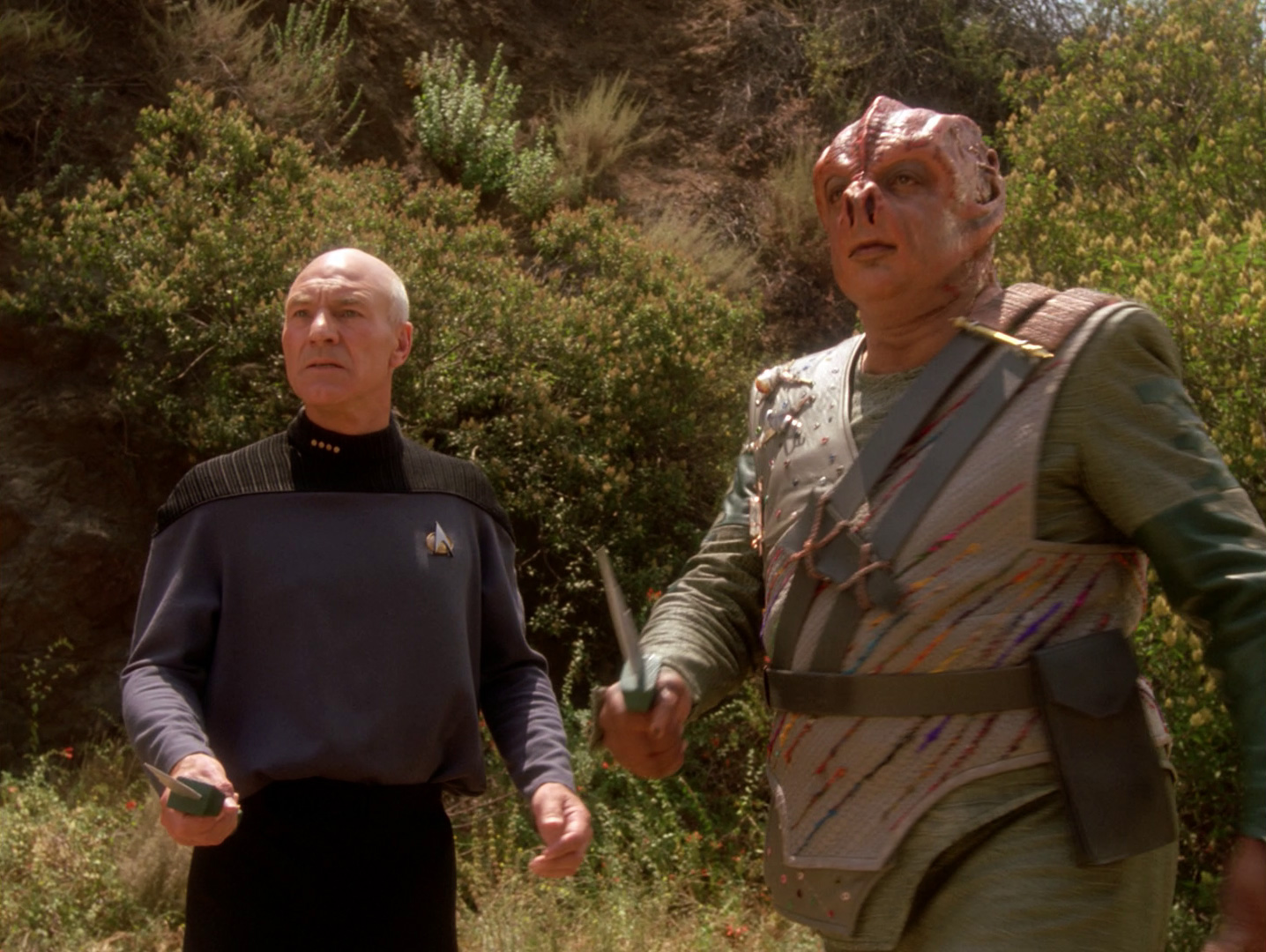 Ensign Ro Stardate 45076.3: After a Federation colony has been attacked apparently by Bajoran extremists, Admiral Kennelly assigns Ensign Ro Laren, a Bajoran Starfleet officer who has been sentenced for disobeying orders, to the Enterprise. Picard does not know that her actual mission is to find the hiding place of Bajoran terrorist Orta, while Kennelly is not aware that the Cardassians raided the outpost themselves to put an end to the Federation aid for the Bajorans. When Ro reveals the plot, Picard seemingly gives the Cardassians the opportunity to get rid of Orta's resistance movement as planned, but they just destroy an empty old ship. Ro Laren is offered a position on the Enterprise, and she accepts.

Silicon Avatar Stardate 45122.3: Riker and an away team witness an attack of the crystalline entity that wipes out the vegetation of a whole planet and kills several people, including Riker's acquaintance Carmen Davila. Dr. Kila Marr, whose son was once killed by the crystalline entity when Lore lured it to Omicron Theta, comes aboard the Enterprise. She is very hostile towards Data, until she learns that he has the memories of all killed settlers and is even able to imitate her son's voice. When the Enterprise encounters the entity, Marr takes revenge by destroying it with a graviton pulse that was supposed to be a means of communication.

Disaster Stardate 45156.1: When a quantum filament hits the ship, Captain Picard is stuck with three children in the turbolift. Geordi and Beverly are trapped in a cargo bay. Their only chance of extinguishing a plasma fire is to open the airlock. Riker and Data try to reach engineering, while Worf stays in Ten Forward to assist Keiko O'Brien who is about to give birth to her child. Deanna is in command of the bridge, and despite the objections of Miles O'Brien and Ro Laren who fear an imminent warp core breach she decides not to separate the saucer which would leave the rest of the ship helpless. After Data has been struck by a high electric current, Riker, with the help of Data's head, manages to restore warp power in time.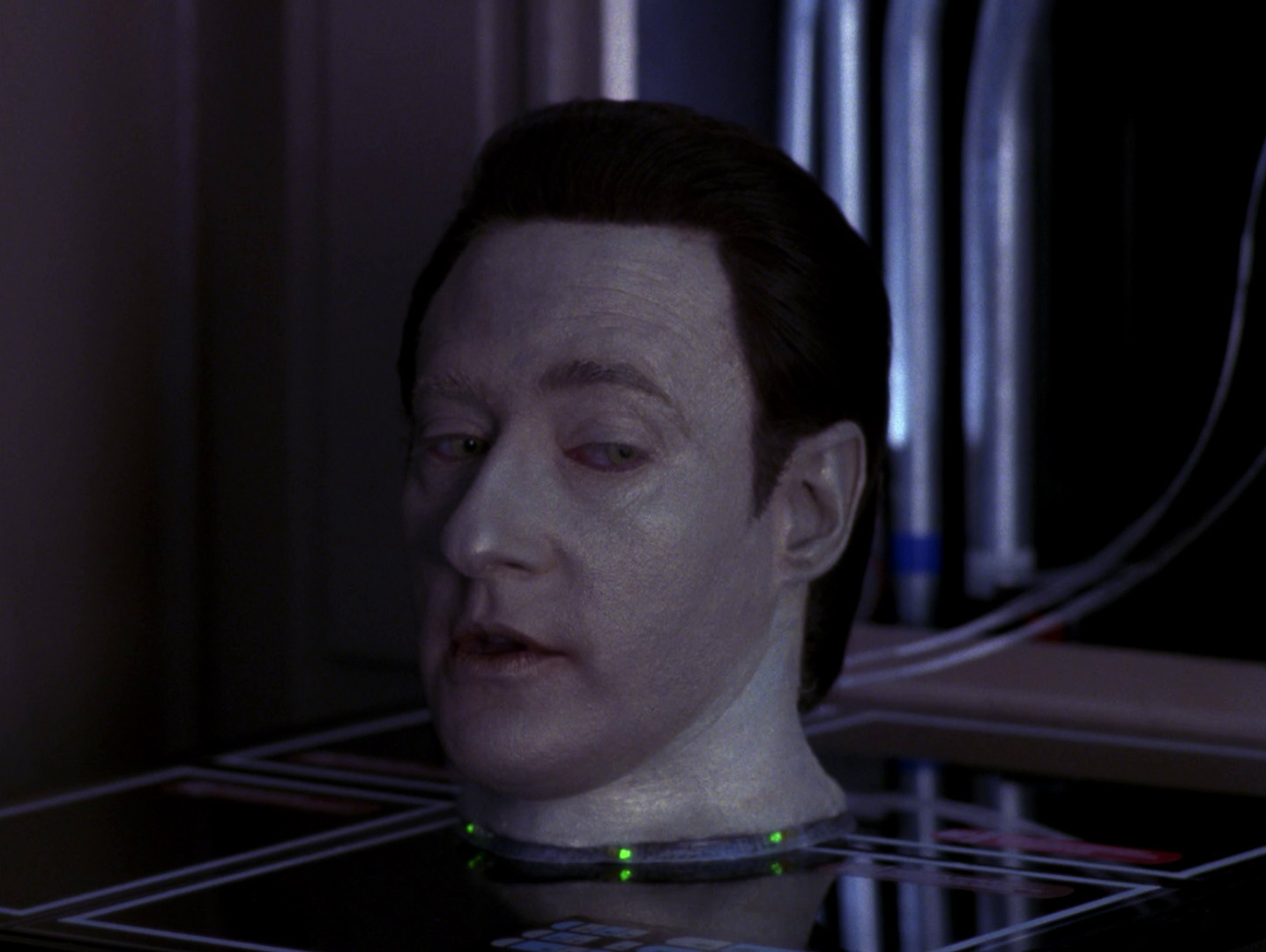 The Game Stardate: 45208.2: Wesley Crusher, back on the Enterprise on a vacation, has a crush on Robin Lefler who works in engineering. They are the only two crew members -apart from Data who is deactivated by Geordi and Beverly- not to become addicted to a new video game everyone on the ship is playing all the time. Riker has received this game from the Ktarian woman Etana Jol whose group of political extremists is using subconscious messages in the game to take control of key positions within the Federation. Wesley and Robin escape the permanent attempts by the rest of the crew to make them play, and they manage to reactivate Data who has found a countermeasure just when Wesley is finally forced to play too.

Unification I/II Stardate: 45233.1/45245.8: A secretly recorded image shows famed Ambassador Spock who is apparently collaborating with the Romulans. Briefly before his death Sarek tells Picard that Spock may be working on a plan to reunite the Romulans and Vulcans. With a cloaked Klingon Bird-of-Prey, Picard and Data travel to Romulus where they disguise themselves as Romulans in the hope of finding Spock. In the meantime the Enterprise investigates the disappearance of several old Vulcan ships which have been removed from a surplus depot on Qualor II. A mysterious alien ship which suddenly appears at the scene, apparently to steal more material, explodes at the first shot. On Romulus, Picard and Data meet Spock who is working in a Romulan underground movement to reconcile Vulcans and Romulans. Picard, unlike Spock, does not trust the Romulan contact persons Pardek and Neral, and soon he is proven right when he himself, Data and Spock are captured. Sela, in an alleged mission of peace, is sending three stolen Vulcan ships to Vulcan, but they are actually carrying invasion troops. Data and Spock manage to send the Enterprise a message, and when the Romulans discover that their ruse has failed, a warbird decloaks and destroys the three invasion ships with all the troops still aboard.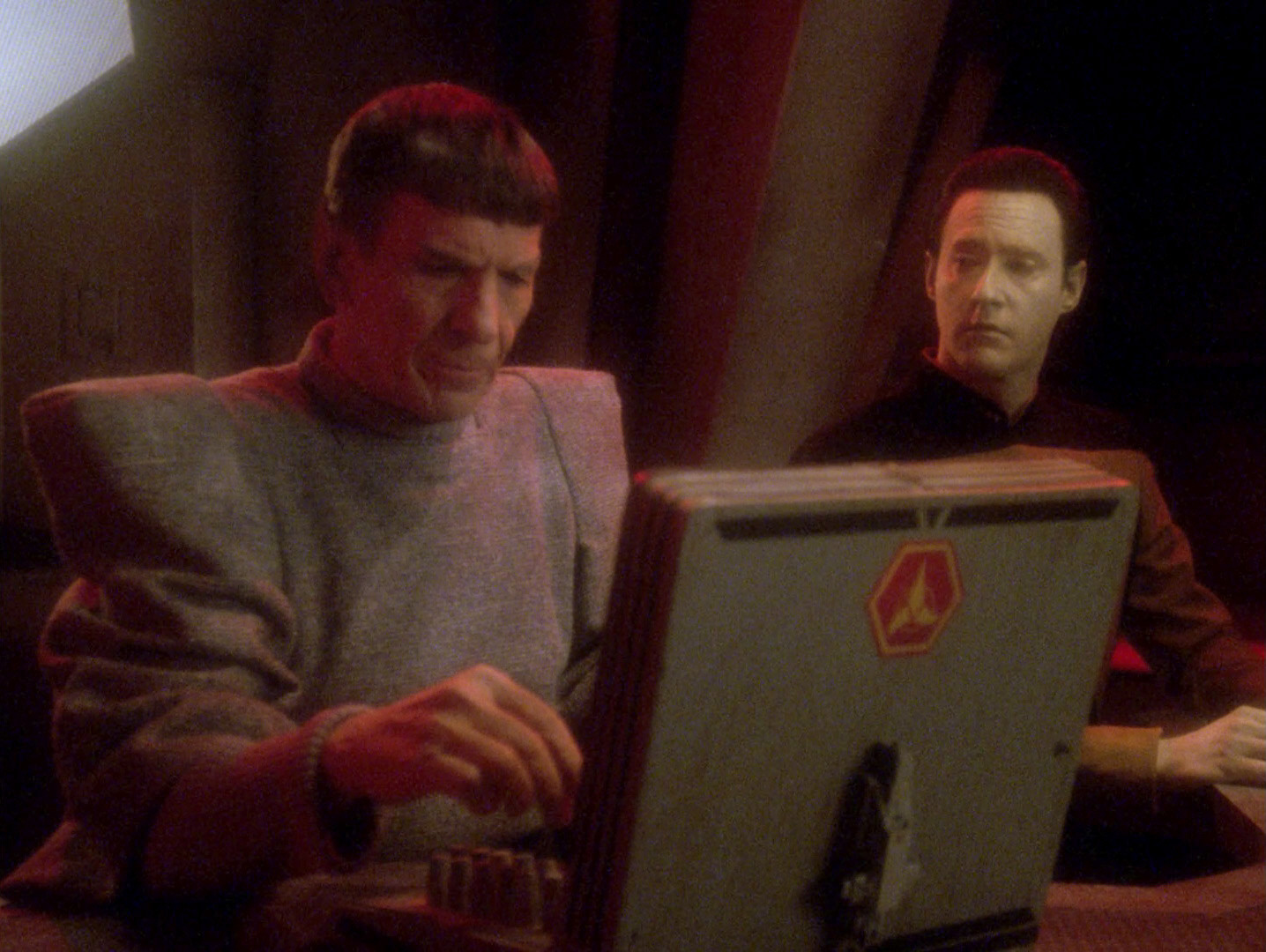 A Matter of Time Stardate 45349.1: While trying to clean atmospheric pollution on Penthara IV, the Enterprise is visited by a time-traveling historian from 26th century Earth, Berlinghoff Rasmussen, who insists to be shown "artifacts" and has questionnaires to be filled out. Troi is convinced he is hiding something, but most crew members go along with his teasing. After the first attempt has failed, La Forge develops a dangerous procedure which might tear off the atmosphere instead of preserving it, but it finally succeeds. It turns out that Rasmussen is actually from the 22nd century. When he tries to escape with stolen gadgets and with Data, he can be stopped, and his time pod leaves without him.

New Ground Stardate 45376.3: Helena Rozhenko arrives with Alexander who has become a problem child, to ask Worf to care about his son himself. In the meantime the soliton wave experiment, supposed to replace shipboard warp drive, has failed. The wave is out of control and threatens to wipe out everything in its path. When the Enterprise penetrates the wave to stop it, Alexander is in an unshielded lab section from where he is rescued by Worf and Riker. Worf then realizes how much he would miss his son if he were sent away; Alexander remains aboard the Enterprise.


"New Ground", featuring a ship without a propulsion system, showed a clear parallel to TOS: "The Ultimate Computer", with a ship that was supposed to go without a crew. In both cases the experiment had tofail, because the technical revolution would have changed the world of Star Trek too much. But in both cases it failed so utterly that I wonder if any new technology will ever do well in Star Trek (except for makeshift improvements on Voyager) and whether all Starfleet engineers that are working on a big project for years are idiots (while the geniuses working on starships know things like quickly modifying the deflector to do something it was never designed for). If it is the intention to point out the limits and dangers of science and technology, there may be more decent ways than always turning innovations into disasters, without the bad credit to scientists and engineers who are frequently depicted as irresponsible or incompetent.
The second plot, about Worf's problems with Alexander, proved to be of equal importance, a rarity even in TNG. It was nice how the two plots were skillfully combined in the end, and this reconciled me a bit with the common motive of the failed experiment.
Unfortunately the science in the episode was very bad. How can the energy level of the wave increase to a factor of 12, later 96 and finally 200 when it was about to reach the planet? The episode even stated that the energy increase went along with a higher speed and a larger extent of the wave. Where did all the additional energy come from after the wave generator had been disengaged?
On a side note, this episode marks the beginning of the "Season of the Children" (if we don't already count in "Disaster" with the newborn Molly O'Brien). In six episodes of this season children are playing a key role.
Remarkable facts: The soliton wave is supposed to have 98% efficiency, 450% (=4.5 times) more than the Enterprise-D warp field (which would give the warp field an efficiency of 21.8%). Alexander was born on stardate 43205. Kivas Fajo claimed he had the last surviving gilvo in "The Most Toys", but now there are allegedly 14 of them left. Maybe the collector exaggerated a bit.
Rating: 4
Hero Worship Stardate 45397.3: Young Timothy is the only survivor of the research vessel S.S. Vico which is found in a black cluster. Timothy tells the Enterprise away team that an alien ship destroyed the Vico, but no evidence for this can be found. In the following time the boy develops a friendship to Data whose unemotional behavior he starts to imitate. Asked about the accident again, Timothy reveals that he touched a console which he believes triggered the Vico's destruction. When the Enterprise is threatened by the same phenomenon and Data realizes that the shields have to be lowered since they would only amplify the gravitational stress in the black cluster, Timothy finally learns that he is not responsible in any way.

Violations Stardate 45429.3: Three historians of the Ullians, a telepathic race, who do their research by probing their subjects' long-forgotten memories, come aboard the ship. In the following time several crew members, most notably Deanna who temporarily falls into a coma, are plagued by memories which are forced upon them. When Troi agrees to be probed by the Ullian Jev, it appears that it was his father Tarmin who tapped into her thoughts. Some time later, however, she realizes that the mental rapist was actually Jev whose behavior is a relapse to the time when the Ullians were a violent race.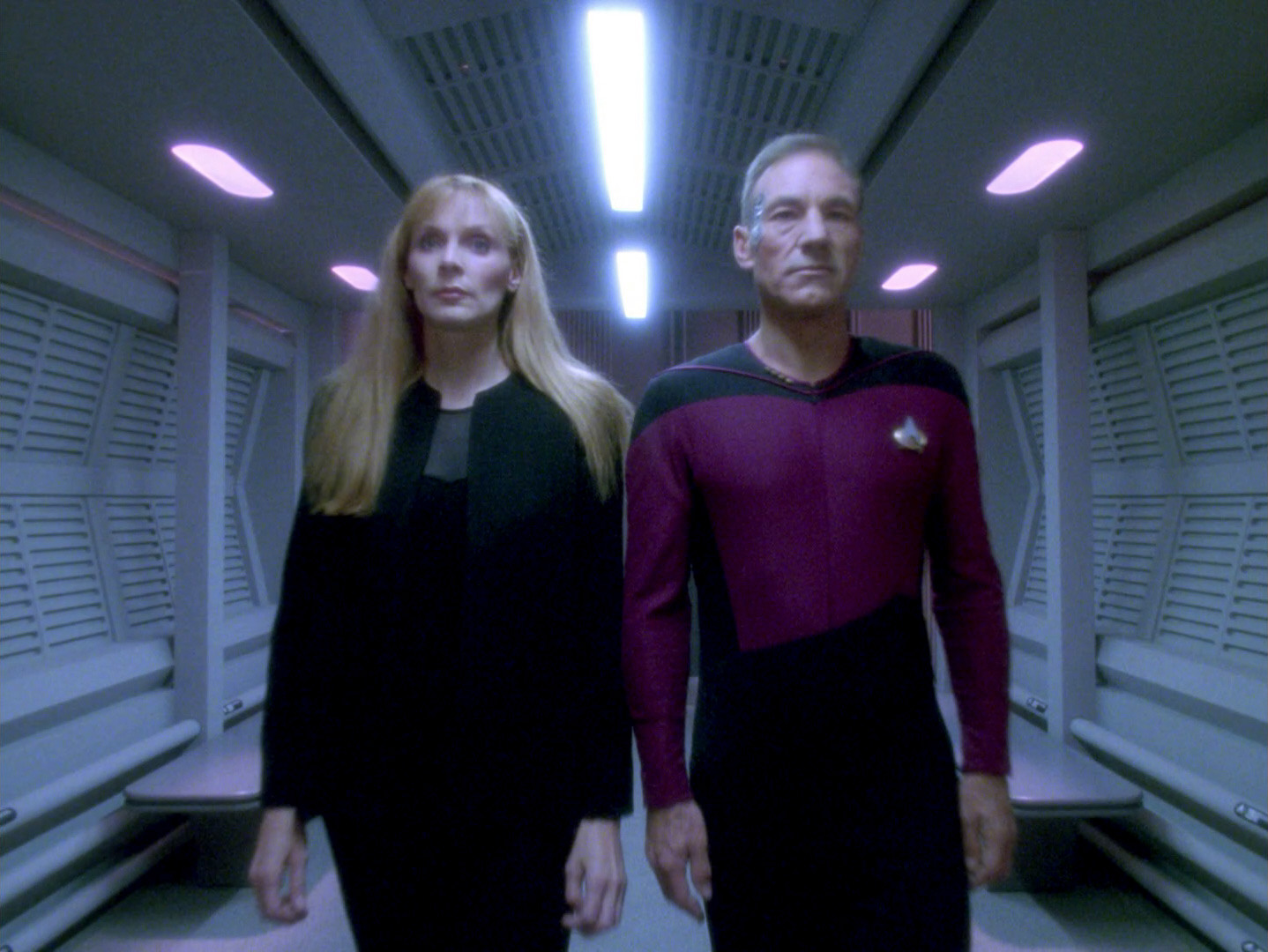 The Masterpiece Society Stardate 45470.1: A neutron star's core fragment is threatening to destroy a newly discovered human colony on Moab IV. Despite the obvious danger, colony leader Conor refuses the necessary evacuation, arguing that the artificially created genetic balance would be ruined once there should be contact to the outside world. While Hannah Bates from the colony and Geordi are working on an enforced tractor beam to deflect the fragment, Troi spends a night with Conor, but realizes that her DNA wouldn't be welcome in the colony. After the danger has been averted, Bates and 23 other colonists ask for asylum on the Enterprise.

Conundrum Stardate 45494.2: The Enterprise is scanned by an alien ship which selectively wipes out certain memories from the crew's minds as well as from the computer. The crew can't remember their names and their functions, so the "highly decorated" Worf assumes command, while Data decides he's the bartender in Ten Forward. Ro and Riker engage in a brief affair. Finally the ship's computer comes up with the crew's names, and all of them, including First Officer Kieran MacDuff, assume their posts again. Their mission, according to the computer, is to destroy the Lysian Central Command. When it is discovered that none of the Lysian weapons are a match for the Enterprise, Picard becomes suspicious. McDuff tries to assume command, and when he is stunned by a phaser blast it is discovered that he is actually a Satarran spy who has been trying to defeat the Lysians who are at war with the Satarrans.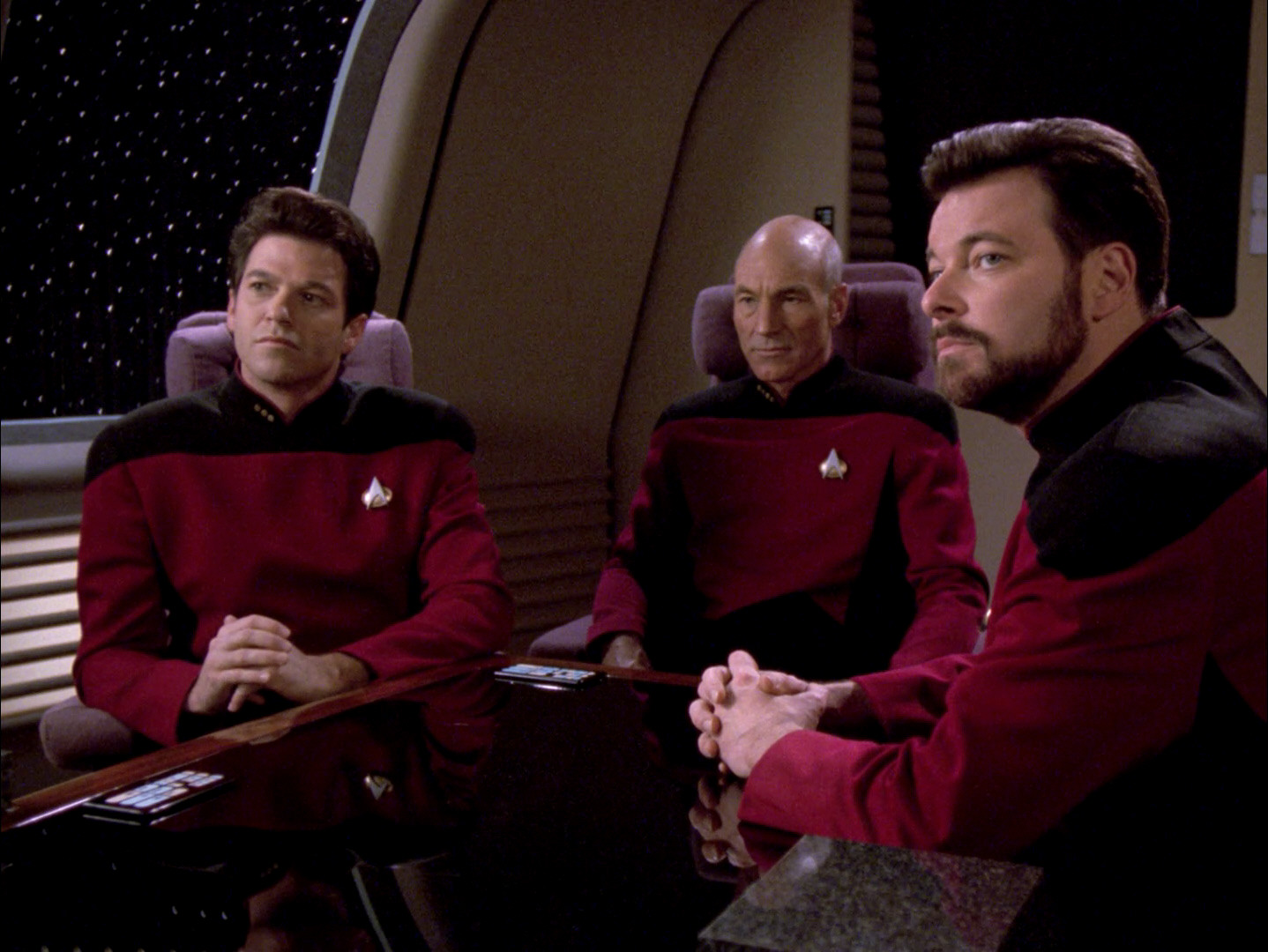 Power Play Stardate 45571.2: Riker, Troi and Data are going to investigate an old-fashioned distress call from a moon of Mab-Bu VI, but their shuttle crashes. After O'Brien has beamed down to rescue them, all but the injured Riker start to behave strangely. Troi's, Data's and O'Brien's bodies have been taken over by entities who claim to be the spirits of the crew of the USS Essex who was lost at the moon two hundred years ago. Their violent behavior, however, belies this story. The three are actually possessed by aliens who have been condemned to living in a penal colony. They take hostages and finally urge Picard to have the remaining criminals beamed up, but Picard threatens to blow them all, including his three officers and himself, out of the airlock, whereupon the entities leave their host bodies and return to their prison.

Ethics Stardate 45587.3: When Worf is paralyzed after an accident, Beverly offers him neural implants that could at least partially restore his mobility, whereas Dr. Toby Russell has developed a highly experimental technique of a replicated spine that could heal him or kill him. Ashamed about being helpless, Worf asks Riker to help him commit ritual suicide, but according to Klingon customs the only one to do this would have be his son Alexander whom Worf doesn't want to involve. Worf finally agrees to Russell's surgery. He apparently dies, but his highly redundant Klingon physiology brings him back to life.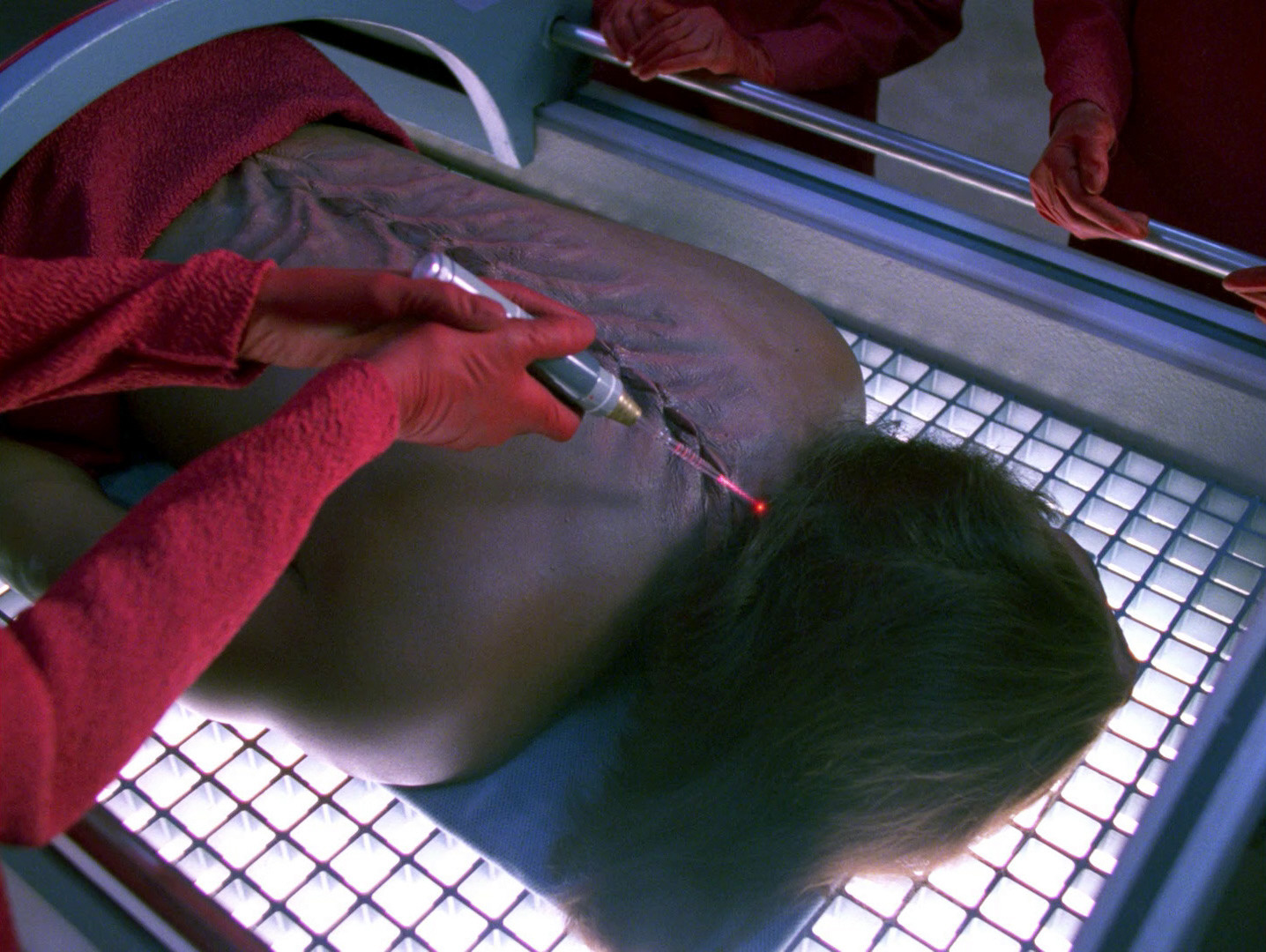 This episode is further proof that TNG, at least most of the time, has matured and that the show is just not about showing as many energy lifeforms or unpleasant guests as possible. "Ethics", as already the title says, is about profound ethical conflicts of which there are actually two in the episode. The first one is that Worf wants to obey Klingon tradition and commit suicide. He is still too much a Klingon that he could accept the alternative of regaining at least partial mobility. On the other hand, he is too much of a caring father and therefore reluctant to let his son perform the custom as the tradition would normally require. The other aspect of the dilemma is represented by the contrasting opinions of Dr. Russell and Beverly. They already had a dispute about Russell's inappropriate treatment of the survivors of the starship Denver. Now Russell, the daring scientist, wants to take the risk and perform her surgery on Worf. Her view of the problem matches the Klingon desire to be either healthy or dead, but only accidentally, as Russell seems to have developed a professional distance to her patients during her years of research. In contrast, Beverly, with her Samaritan attitude, puts the welfare of her patient above all, even if Worf disagrees. Riker and Troi are skillfully involved into this conflict, as they serve as advisors and mediators. Well, the whole story was a bit contrived, as there was accidentally a treatment devised by Dr. Russell to help Worf, but it worked out nicely. The only thing I didn't really like about the episode was Worf's apparent death that, quite predictably, was not as it seemed.
Rating: 6
The Outcast Stardate 45614.6: The J'naii are an androgynous race who have abolished sexual reproduction which they see as primitive long ago. During a mission to rescue a shuttle from a null space pocket, Riker falls in love with the J'naii pilot Soren who has preserved female tendencies. When the J'naii detect what is going on, they take Soren into custody and put her on trial. Despite Picard's warning, Riker and Worf try to free Soren, but the "therapy" has already taken effect and Soren denies her feelings for Riker.


Although certain groups were always calling for it, homosexuality never appeared as a topic in Star Trek. Actually, in the early days of TNG, a script by David Gerrold was purportedly turned down by Roddenberry because the homosexual relationship of two crew members was presented like something unusual - rather from a viewpoint of the 20th century and therefore not fitting for the world of the Federation where there should be more tolerance.
I think "The Outcast" compensates for this missed opportunity in that it shows an equivalent problem, on an alien world in the future. Ironically, a relationship between man and woman, something that is normal for almost any other humanoid race, is regarded as "backward" and "perverted" in the J'naii society. This doesn't only make Soren and Riker, who falls in love with her, outcasts in this episode, but humanity in general. By putting the viewer in the role of the suppressed minority, the episode even stresses the demand for sexual tolerance, as it may be a matter of interpretation what is "normal" and what is not. In my view the "The Outcast" is immensely successful in showing the same basic problem in another light, on a different planet and in a different time. Picard, the preserver of the Prime Directive, and Riker, lovesick and upset about the planet's intolerance, play their roles very well. It may be sad but it was a fitting end that Riker couldn't rescue Soren. The attitude towards her and the "witch process" for Soren's being different was too drastic though. On a world so advanced and enlightened in any other respect I would have expected at least a basic tolerance, not only from the authorities but also the society in general. Maybe a subtler animosity towards Soren would have suited the episode better, although most of the conflict potential would have been dropped with that.
Rating: 6
Cause and Effect Stardate 45652.1: The Enterprise is destroyed in a huge explosion - but only a moment later the senior officers are playing their regular poker game as if nothing was wrong. Dr. Crusher feels like she already knows the present situation and what will happen next. When suddenly another starship appears from an anomaly and is about to collide with the Enterprise, Picard follows Data's advice to alter the other ship's trajectory with the tractor beam rather than decompressing the main shuttlebay as Riker suggested, but this doesn't suffice. The Enterprise is destroyed in a huge explosion - but only a moment later... The ship is caught in a time loop, and the crew -except for Data- notice this by déjà vu experiences which become the stronger, the more often they run through the time loop. Aware that something terrible will happen and there may be little time to avoid it, they give Data the possibility to remember a specific small piece of information in the following loop. It is the numeral "3" which to everyone's surprise frequently appears during this loop. The "3" refers to the number of Riker's rank pips, and when the collision is about to occur again, Data follows Riker's suggestion and opens the main shuttlebay too, which eventually breaks the time loop. The Enterprise was caught in the loop for seventeen days while the other ship, the USS Bozeman, has traveled 90 years to the future, only to get stuck in the time loop too.

The First Duty Stardate 45703.9: One of Wesley Crusher's classmates has been killed in an accident during the flight training at Starfleet Academy. Squadron leader Nick Locarno puts the blame on the dead cadet, Joshua Albert, who allegedly panicked, thereby causing the five spacecraft to collide. Picard, however, discovers that the squadron was actually performing a dangerous stunt called the Kolvoord Starburst which has been banned for over a century. Urged by Picard who would otherwise tell the truth himself, Wesley breaks the silence. Nick Locarno is expelled, while the three remaining team members have to repeat their last year at the Academy.


It was absolutely fitting how the bad "team spirit" or "herd instinct" was denounced here. The cadets' refusal to take the consequences was the most important point of the episode. They had a chance to grow up, to become responsible and honorable officers, but they utterly failed here. Of course, there was a good reason because their careers were in danger, but in essence their agreement was not very different from a childish oath not to sneak who smashed the window. Even more than what happened after the accident, I found it immature and unworthy of future Starfleet officers that they performed a maneuver that is outlawed for a good reason in the first place. There were some allusions that at least Joshua Albert was not sure of what they were doing (and he was even conveniently turned into a scapegoat because of that), but he was simply overruled by the group and their ambitious leader, Nick Locarno.
I wonder anyway if he expected praise and recognition if the Kolvoord starburst had succeeded. It reminded me a lot of the dangerous rituals that seem to be common in fraternities, not only in the USA. Those are young people who have a perverted idea of how they can prove themselves and, even much worse, force other, weaker members of their fraternity to follow suit. I was never like that, and I never had the slightest grasp of it.
As bad as the cadets appeared here, especially Nick Locarno but also Wesley, as trustworthy was Picard. Not the safety of the Federation but only the honor and honesty of four cadets was at stake here. Nevertheless, Picard was taking the matter very seriously - also because he had always promoted Wesley's interest in Starfleet, and now Picard felt exactly the responsibility that Wesley was denying. I liked how Picard gradually found out the truth. Interestingly, it was Boothby who gave him the decisive hint, that Nick Locarno, the team leader, may have had a bad influence on the others. I only wonder why Picard or anyone else didn't recognize the Kolvoord maneuver earlier, as they knew the five ships' relative positions seconds before the accident. On the other hand, I liked that Picard finally got the idea when Data and Geordi were talking about a not recommended procedure to release the plasma which would ignite it. Another nice scene followed when Picard had Wesley come to his ready room and began to talk about the good old days when he first admitted Wesley to the bridge, only to change his intonation abruptly when he questioned the decision to promote him.
Nitpicking: While the cadets all call each other by their first names, they say "Sito" to Ensign Sito, which is definitely her last name because this is what she is called in the hearing.
Remarkable background fact: Robert Duncan NcNeill will also play Tom Paris in Star Trek: Voyager, a very similar character as Nick Locarno.
Remarkable fact: Jean-Luc Picard is of the Academy class of '27. He once fought against a Ligonian.
Rating: 7
Cost of Living Stardate 45733.6: To Deanna's annoyance Lwaxana is about to get married to a man she never met, and to Worf's annoyance she takes young Alexander to a holoprogram of freethinkers, including a mud bath. In the meantime metallic parasites from a destroyed asteroid are consuming the ship. In a race against time, Data barely gets the ship back to the creatures' home and beams them away before life support breaks down, leaving him the only crew member conscious. Lwaxana is disappointed about her fiancé Campio who turns out stubborn and boring. When she appears in the traditional Betazoid wedding dress - that is, without any clothes - Campio is horrified and leaves, while she, Deanna, Alexander and even Worf celebrate their victory in the mud bath.


This episode is very amusing and it skillfully combines the dispute between Worf and Alexander with that between Lwaxana and her future husband Campio. The most interesting scene is when Deanna, Worf, Alexander, Lwaxana, Campio and his assistant meet, and everyone wants something else, and no one reacts on anyone else's arguments. An excellently arranged chaos! Lwaxana, as obtrusive as her nonchalance may usually seem, is just the right person to show Alexander that there is something besides the order he experiences with his father to whom everything needs to be regulated (we remember how he helped Keiko O'Brien deliver her baby in "Disaster" ;-)). The Parallax colony with its open nonsense and the mud bath forms a nice contrast to the always meaningful duty on the always clean ship. This shouldn't be mistaken as a hint that life should be only fun. The truth can be found somewhere in between Lwaxana's and Worf's attitudes. Like Worf is taking part in the mud bath in the end of this episode (although he wishes he would fight instead), Lwaxana has already learned a lesson about real life and its problems in "Half a Life". It is quite obvious that Lwaxana and Campio would never come together, and I wonder how in the world they could have come to the conclusion that their personality profiles would match perfectly. Even more so than Worf, this guy and his assistant are obsessed with rules and protocols. The really only thing he has in common with Lwaxana is his noble descent, but this is far from enough to really tie them together. Their personal mutual dislike is probably even greater than any cultural clash between the joyful Betazoids and the apparently boring Kostolain could be, but the appearance of the naked Lwaxana - after all complying with Betazoid traditions - is the ultimate affront. A human groom would probably have been irritated too, but this Campio really deserves to be embarrassed. The scene is successful in actually exposing his intolerance, rather than Lwaxana's body to whom this was a quite "natural" thing.
What I really disliked about the episode is the completely unnecessary secondary plot with the "space slime". I hadn't watched the episode for years and I had completely forgot about it, so it is even more annoying to see how the ship is endangered by a strange lifeform once again, life support fails once again, and Data saves the ship once again. Everything we see so often in so many slight variations.
Rating: 6
The Perfect Mate Stardate 45761.3: Kriosian Ambassador Briam arrives aboard the Enterprise with a peace gift to Alric, the ruler of Valt Minor. En route to Valt Minor the Enterprise rescues two Ferengi from a shuttle in distress who try to steal the gift, a beautiful young woman called Kamala. She is an empathic metamorph, a woman who can be exactly what any man wants her to be. When Briam is hurt by the Ferengi, Picard has to take over his ambassadorial duties - with the help of Kamala. They feel attracted to each other, also because Picard is the first man who affirms that she has a value of herself. Just when Kamala is about to meet Alric who is not really interested in her, she tells Picard that she will fulfill her duty, but as the woman Picard and not Alric expects her to be.


The similarities to TOS: "Elaan of Troyius", in which Elaan was likewise a peace gift are striking. However, the difference between the two women couldn't be greater. The pampered and capricious Elaan had to learn how to adapt and to become less self-centered, whereas Kamala, educated to serve, needed just the opposite. So it's not really a re-issue even if the circumstances seem to be much the same. While the main plot of "The Taming of the Shrew" in the TOS episode was a bit silly (albeit amusing), it's the Ferengi involvement in the TNG episode. Why must every individual Ferengi be a clown? Why did the Ferengi get access to the cargo bay in the first place (although Picard promised that access would be restricted)? How in the world did they want to carry away the "egg" with Kamala? Why were they not arrested after that? All scenes involving the Ferengi were just awkward. Fortunately, the episode improved when Picard learned about the purpose Kamala had to serve. The sexism of the story is evident, in particular the effect Kamala seems to have on about every male, but in some way this is the compensation for "The Outrageous Okona".
Nitpicking: The status of Krios is contradictory. In "The Mind's Eye" the planet was a Klingon colony with a Klingon governor, but here it seems to be completely independent, and the Klingons are not even mentioned. Maybe the two planets were not even supposed to be the same, but only after it had been discovered that the name was used twice.
Remarkable fact: Kamala's spots will return - as the make-up of the DS9 Trills.
Rating: 4
Imaginary Friend Stardate 45832.1: Young Clara Sutter has an "imaginary friend", Isabella, who comes to life when a plasma-based lifeform enters the ship and assumes Isabella's shape. Isabella gets Clara into all sorts of trouble, while other plasma lifeforms are draining power from the ship. Deanna tries to prove to Clara that her imaginary playmate can't hurt her - and is promptly stunned by Isabella. Picard who realizes there is a connection between the energy drain and Clara's playmate convinces the lifeforms to refrain from their attacks.


This very unremarkable episode concludes the "Season of the Children". In essence, the story is only a slight variant of the recurring theme "energy lifeform learns about human emotions", just like in "The Child" or "The Bonding". Although it was never really bad, nothing really caught my interest or would need to be commented on here.
Remarkable set: We get a good impression of the arboretum for the first time.
Remarkable quote: "But if you are to judge us as a people by the way we treat our children - and I cannot think of a better criterion - you must understand how deeply we care for them. When our children are young, they cannot always understand what might be dangerous. Our rules are a way to keep them from harm. Either real or imagined." (Picard, to "Isabella")
Remarkable facts: Isabella names the graviton field generators as part of the deflector shields, a clear hint at their function principle. -- Guinan mentions her pet, a Tarkassian razor beast. -- Ensign Sutter is a Starfleet officer since Clara is two years old. This would mean he hasn't been promoted in about eight years!
Rating: 2
I, Borg Stardate 45854.2: The Enterprise rescues a young Borg from a crashed scout vessel, Three of Five. Beverly and Geordi, to Picard's displeasure, take care of the Borg whom they name Hugh. Cut off from the collective mind, Hugh soon develops individuality and refers to himself as "I" instead of "we". Picard, on the other hand, is determined to destroy the Collective by sending Hugh back with a deadly virus. Beverly, Geordi and finally even Guinan tell him this would be wrong, so Picard talks to Hugh himself and finds that his newly gained individuality and his ability to engage in friendships deserves his respect and protection. Hugh, however, opts to return to the Collective.

The Next Phase Stardate 45092.4: While assisting in repairs on a Romulan ship, Ro Laren and Geordi La Forge apparently die in a transporter accident. The two rematerialize on board the Enterprise but they are not visible to the rest of the crew and they can pass through walls. While Laren thinks she is dead, Geordi seeks for a scientific explanation. They soon find that their current state is the result of a Romulan experiment - they are phase-cloaked. When they discover that a cloaked Romulan has sabotaged the Enterprise's warp core, they try to warn their crew by producing chroniton traces, but Data who discovers the traces regards them as random patterns, and his cleaning isn't sufficient to make them visible again. Looking for a suited place to get the attention of as many people as possible, they flood their own memorial service with chronitons, and the cleaning procedure makes them visible again, just in time to warn the crew not to activate the warp drive.

The Inner Light Stardate 45944.1: A seemingly harmless space probe taps into Picard's mind and renders him unconscious for several minutes. While the crew are worrying about him, Picard finds himself in the role of Kamin who lives in the city of Ressik on the planet of Kataan. He is married to a woman called Eline and has a friend, Batai. After years have passed, Picard has finally accepted his new life that gave him two children, but a continuing drought is threatening the planet. Many years later Picard/Kamin is an old man, his children are grown up, and Eline and Batai have died, while the planet keeps drying up. The sun is going nova, and the limited technology of Kataan allows nothing more than to launch a space probe to preserve the memory of its population. Kamin's life was selected to be told to a future historian who happened to be Picard. When Picard awakens on the bridge, less than half an hour has passed, while he lived half a life on the planet of Kataan. Inside the probe the flute that Kamin/Picard used to play is found.

Time's Arrow I/II Stardate 45959.1/46001.3: The Enterprise investigates the mystery of Data's head which was found in a cave near San Francisco, among artifacts from the 19th century. The trace leads to Devidia II where a time rift is discovered that transfers Data to San Francisco of the 1890's. Data meets Guinan, who has no recollection of him because she will meet him in the future, and Samuel Clemens aka Mark Twain who is suspicious about the strange visitors. An away team with Picard follows Data and they discover that aliens from Devidia II are consuming energy from cholera victims of those days. Just when the away team are going to leave the 19th century through the cave, they are first surprised by Clemens and then by two Devidians who open the gateway which decapitates Data. Data's body, the away team and Clemens make it to the 24th century, while Picard stays behind with Data's head. He leaves a message to be found in Data's head that allows Clemens and Picard to return to their respective time. Since Picard had to leave the "new" head behind so it could be found, there is no other way but using the "old" head found in the cave to repair Data.

Last modified: 17.05.13
http://www.ex-astris-scientia.org/episodes/tng5.htm