The Next Generation (TNG) Season 7
Season 1 - Season 2 - Season 3 - Season 4 - Season 5 - Season 6 - Season 7
Reviews in progress.
Descent II See TNG season 6
Liaisons Stardate not given: Picard welcomes two Iyaaran ambassadors aboard his ship before departing in their shuttle to meet with their leader. Worf is confronted with Byleth, who does everything to enrage the Klingon. Troi, on the other hand, finds herself escorting the gentle Loquel, who is longing for any kind of culinary pleasures. When Picard's shuttle crashes on a hostile world, and the Iyaaran pilot Voval is knocked out, he finds a human woman, Anna. She apparently lives there for seven years, after her freighter has crashed. Picard initially likes the sympathetic woman, but soon notices she is doing everything to sabotage his attempts of rescue. It turns out that the Iyaarans arranged this whole scenario to test the human emotion of love, as their two ambassadors on the ship were to experience rage and pleasure, respectively.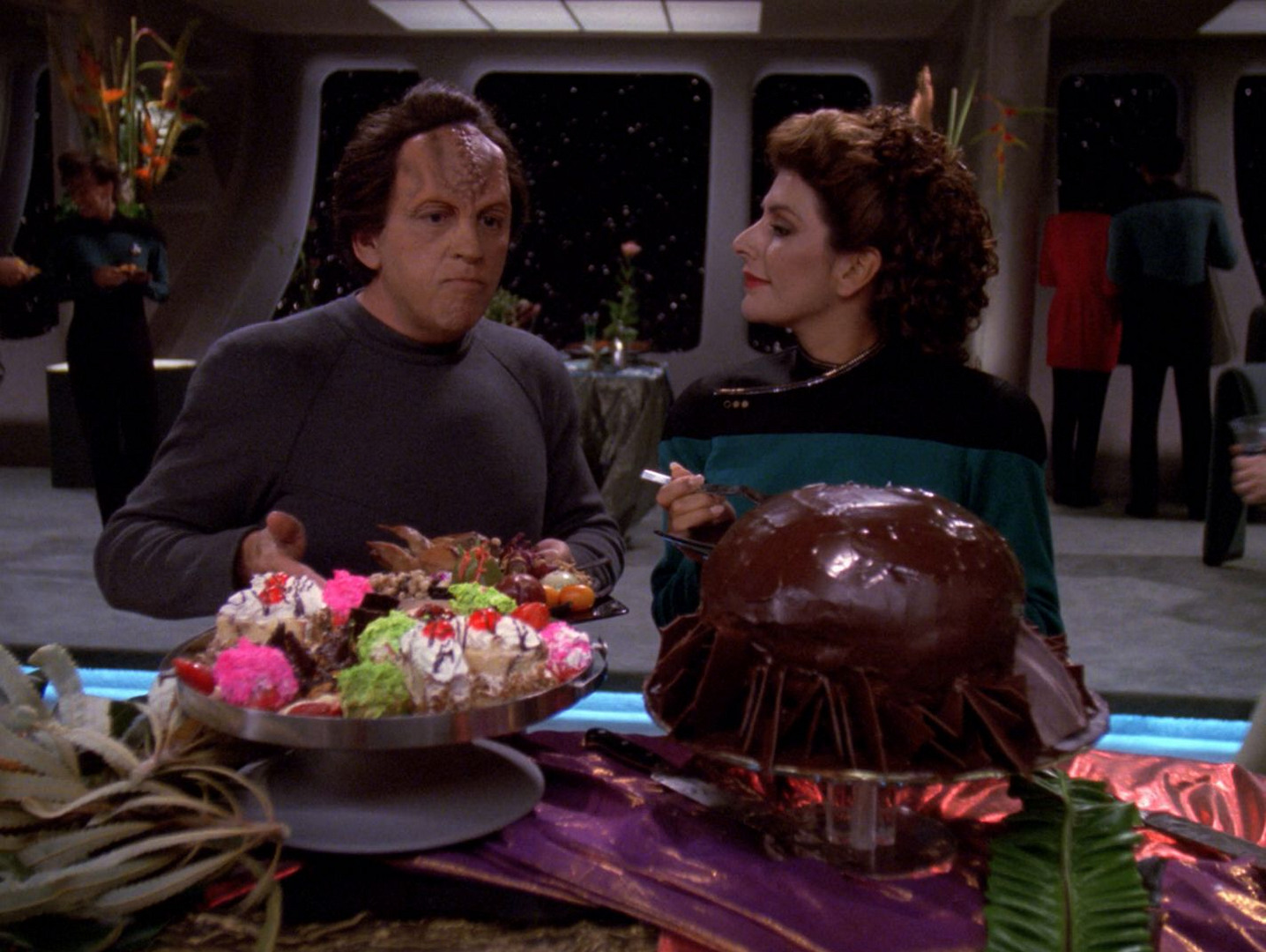 Some aspects are quite amusing, some rather annoying about this episode. The interaction between Deanna and Loquel as well as between Worf and Byleth was quite funny, but never ridiculous. The events on the Enterprise may have been intended as the secondary plot, but they made up for the rather contrived main story that involved Picard and the alleged lonely human woman. In my opinion there is a huge logical flaw already in the Iyaarans' intention to explore the human(oid) emotions of rage, pleasure and love. They were so well prepared for their roles that no one of the Enterprise crew ever noticed that it was only a test, a problem already known from DS9: "If Wishes Were Horses". If the Iyaarans really don't know any of that, they must have done a good deal of research, and must have rehearsed it a lot. In other words, there would have been no need for a live test. In particular, as they should have anticipated that they would annoy their hosts already at their first contact. Moreover, the Iyaarans should have been in contact with other alien races before, considering that they seem to have comparably advanced warp technology and how much they already knew about the outside world. It makes no sense that they would test the basic principles that they should know are common to all races except for themselves.
Remarkable facts: This episode shows the Ktarian chocolate puff, made of 17 types of chocolate. If only flavored TV would already exist! Terellians are mentioned to have four arms which will later be contradicted in Voyager.
Rating: 4
Interface Stardate 47215.5: Fitted with a new interface that converts sensor data to VISOR inputs, Geordi is ready to take on the retrieval of the lost USS Raman which is stuck in the atmosphere of gas giant Marijne VII. Geordi is sad to hear that the USS Hera, his mother's starship, is missing with all hands, but he carries on with the mission. He receives sensor inputs that seem to indicate that his mother is still alive and her starship located still lower in the atmosphere, but this turns out to be a message by lifeforms which are trapped on the Raman and need to be brought back to their realm in the lower atmosphere.

Gambit I/II Stardate 47135.2/47160.1: It seems Picard was vaporized in a bar weeks ago, but Riker, unwilling to accept that his captain is dead, follows the trace of the possible murderers to Barradas III. Suddenly the away team is ambushed by a group of mercenaries. They kidnap Riker who is surprised to find Picard alive - as one of them. Taking a cue from Picard who plays the archeologist "Galen", Riker assumes the role of a renegade Starfleet officer eager to follow them. The Enterprise follows the mercenary ship to Calder II which is, like Barradas III, the home of a Romulan offshoot civilization. Picard and Riker play their parts by firing a low-level phaser burst that leaves the Enterprise unharmed but impresses the mercenary leader, Baran. Tallera, an alleged Romulan, reveals to Picard that she is actually Vulcan and that the mercenaries are seeking an ancient psionic Vulcan weapon. When they finally reach Vulcan to deliver the weapon to an underground movement, Tallera turns out to be among those who want the weapon. With the power of her bad thoughts she kills the other mercenaries, only to see that the weapon is useless against those who don't share the hatred.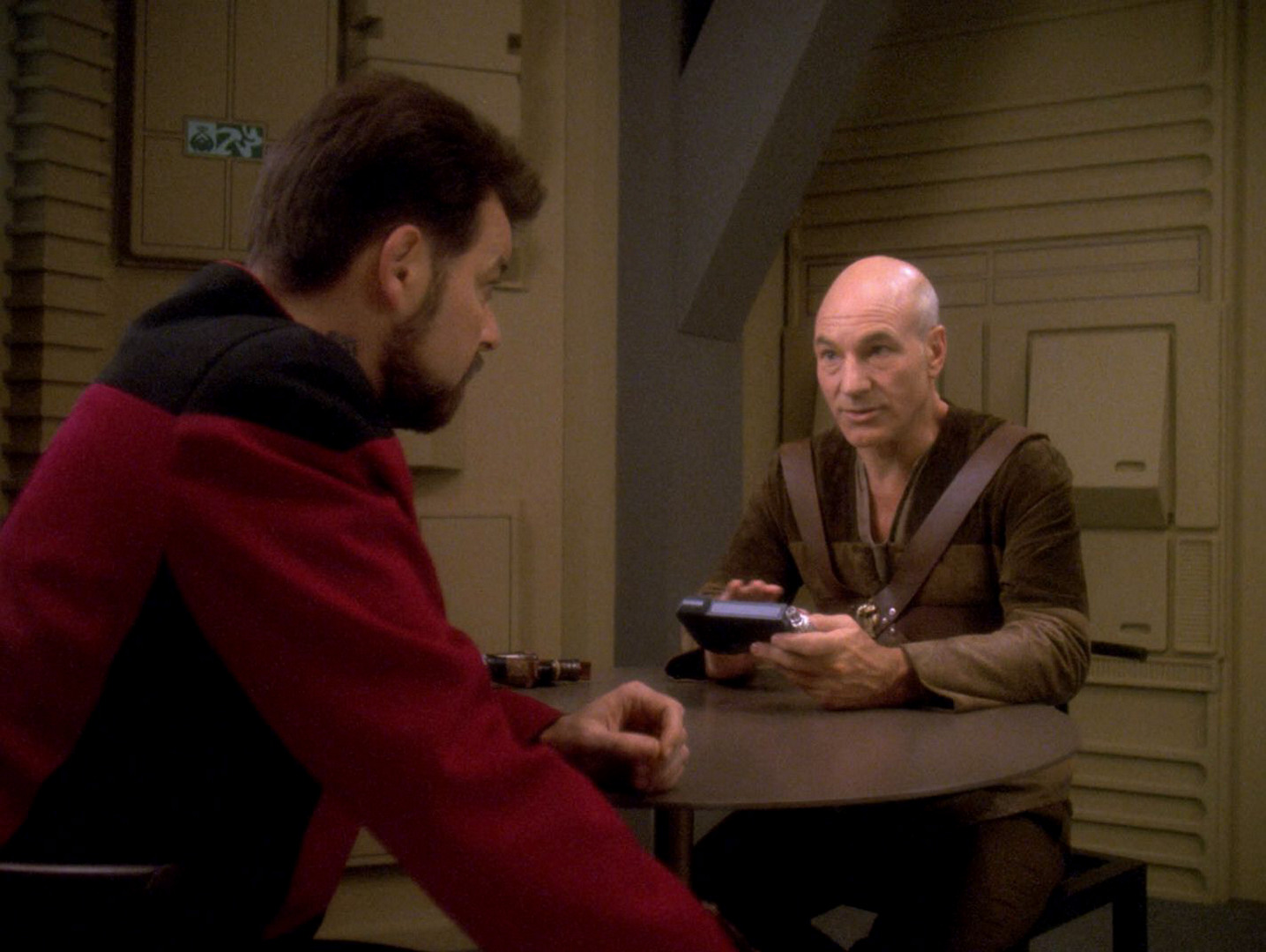 Phantasms Stardate 47225.7: Data becomes troubled by disturbing nightmares from his dreaming program, including a "cellular peptide cake" in the shape of Deanna Troi and workmen apparently disrupting a plasma conduit. When Data begins seeing strange mouth images on his crewmates and finally stabs Deanna into the shoulder, he is confined to quarters. Beverly, examining Deanna, finds an interphasic creature just where the wound is located. These lifeforms are extracting cellular peptides from their victims. With the help of Data's dreams which symbolized the effects of the alien attack, a high-frequency interphasic pulse is devised to expel the creatures.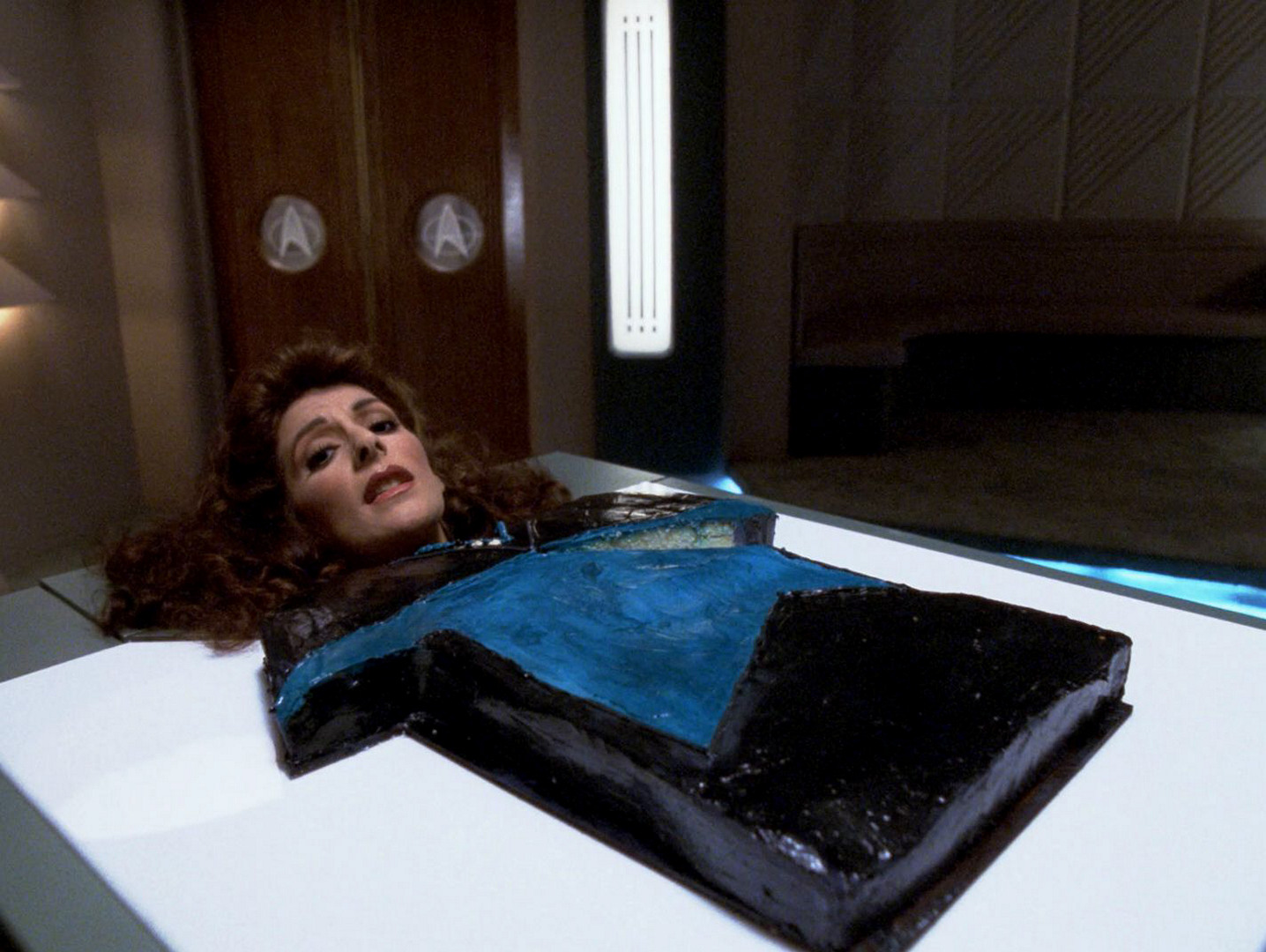 Dark Page Stardate 47254.1: Lwaxana Troi seems to be tired, even depressive, in the presence of the telepathic Cairn who until recently didn't have a spoken language. When Lwaxana breaks down, Maques, one of the Cairn, discovers that some buried traumatic memory must have resurfaced. Maques acts as a telepathic bridge, so Deanna can read her mother's mind, but she doesn't find a definite clue. When she reads Lwaxana's diary, she finds that seven years have been deleted. The reason is that Lwaxana's first daughter Kestra drowned in a lake a long time ago. Feeling guilty about this tragical accident, she suppressed any memory of Kestra.

Attached Stardate 47304.2: The Enterprise visits Kesprytt because the Kes, unlike their xenophobic neighbors on the planet, the Prytt, have applied for Federation membership. When Picard and Beverly beam down, the transporter beam is redirected and they are taken prisoners by the Prytt. They manage to escape with the help of a Kes agent, but they discover that they are telepathically linked to each other, so that Beverly learns that Picard was once attracted to her. On the Enterprise the Kes have installed a security office, and their behavior soon becomes as paranoid as that of their enemies. Riker finally tells them to leave, with the remark that the UFP will definitely turn down their application. After reaching the Kes border, Picard and Beverly can finally be beamed up again.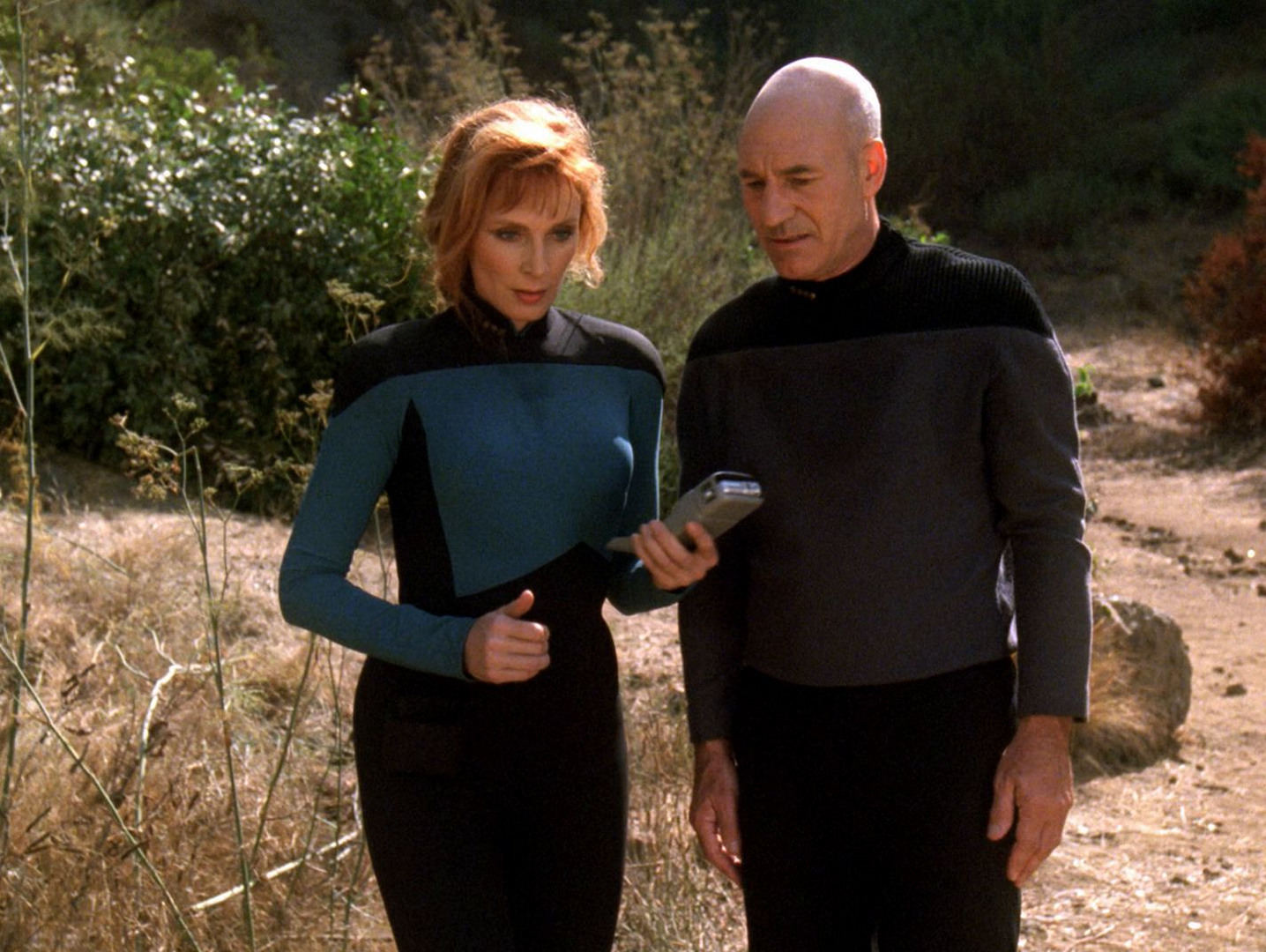 Force of Nature Stardate 47310.2: When the Enterprise searches for the missing medical ship Fleming in the Hekaras Corridor - the only safe route through an area filled with tetryon particles - a Ferengi ship suddenly opens fire. DaiMon Prak claims that his ship has been disabled by a Federation buoy, and the Enterprise is attacked the same way only a few hours later. It turns out that Rabal and Serova, brother and sister from Hekaras, want to prevent all ships from engaging warp drive in the corridor, for they think warp drive destroys the fabric of space. Serova sacrifices herself by opening a subspace rift in which her ship is destroyed, thereby proving that their theory is correct. The Federation declares a general warp speed limit of Warp 5, to prevent further damage until a solution to the problem is found.

Inheritance Stardate 47410.2: While the Enterprise is helping in reheating the cooling magma core of Atrea IV, Juliana Tainer, married to one of the participating scientists, introduces herself as Soong's ex-wife and, in a manner of speaking, Data's mother. When pressed, she tearfully admits that she was against Data's creation and wanted him dismantled when they left, all because of fears he could become like evil Lore. On Atrea IV her husband is injured in a plasma cave. When Data joins her there, the instability forces them to jump from a cliff and her arm is severed, confirming his guess that she is an android. When Soong's real wife died, he implanted her memory into this new body which imitates the human functions much more perfectly than Data, so that even Juliana herself has no idea that she is an android.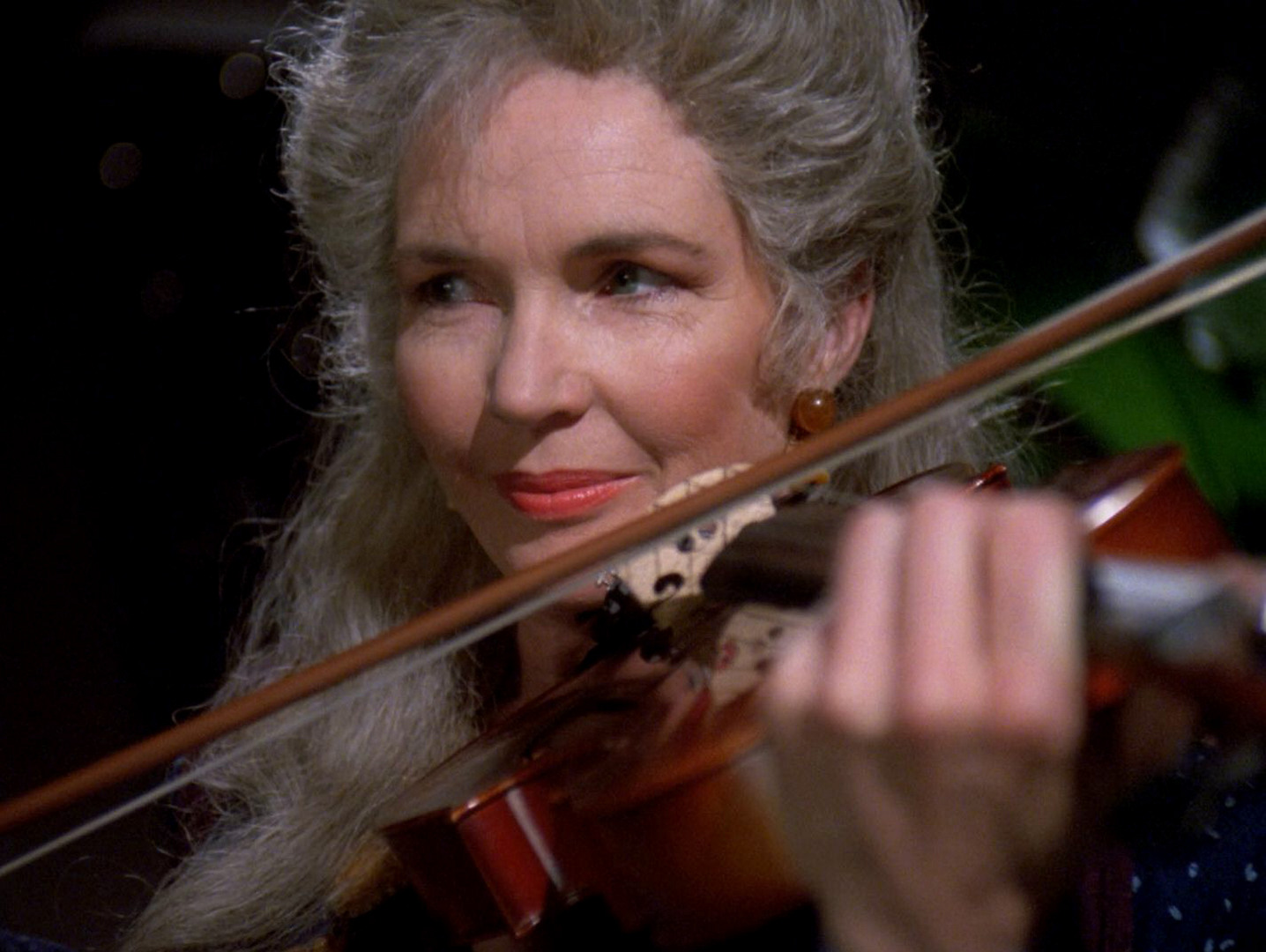 Parallels Stardate 47391.2: After returning from a victorious bat'leth competition, Worf notices that reality changes from one moment to another, beginning with the color of his birthday cake. The changes become more severe, and at some point he is not able to return fire during a Cardassian attack because the console configuration suddenly becomes unfamiliar - causing Geordi's death. Also, he is now married to Deanna and he is the ship's first officer under Captain Riker. The only constant is that Geordi was always close to Worf when he slipped into another reality. Data finds out that Worf's quantum flux is out of sync with the rest of the universe, and the VISOR's subspace pulse triggers his transition from one quantum universe to another. Wesley discovers a subspace fissure where countless of these universes intersect and which widens after an attack by the powerful Bajorans of this universe, so that thousands of Enterprises from the different universes keep popping up. Finally the correct Enterprise for Worf to return to is found, but as Worf is on his way, he is attacked by an Enterprise that wants to prevent his return because in their reality they are among the last survivors of a successful Borg attack. Captain Riker orders to fire at them, and the weakened ship explodes. The rift is finally sealed when Worf reaches his own universe, and he also travels back in time just prior to his birthday surprise party - but the surprise is that there is no party in his universe, but just a visit by Troi who has a present for him.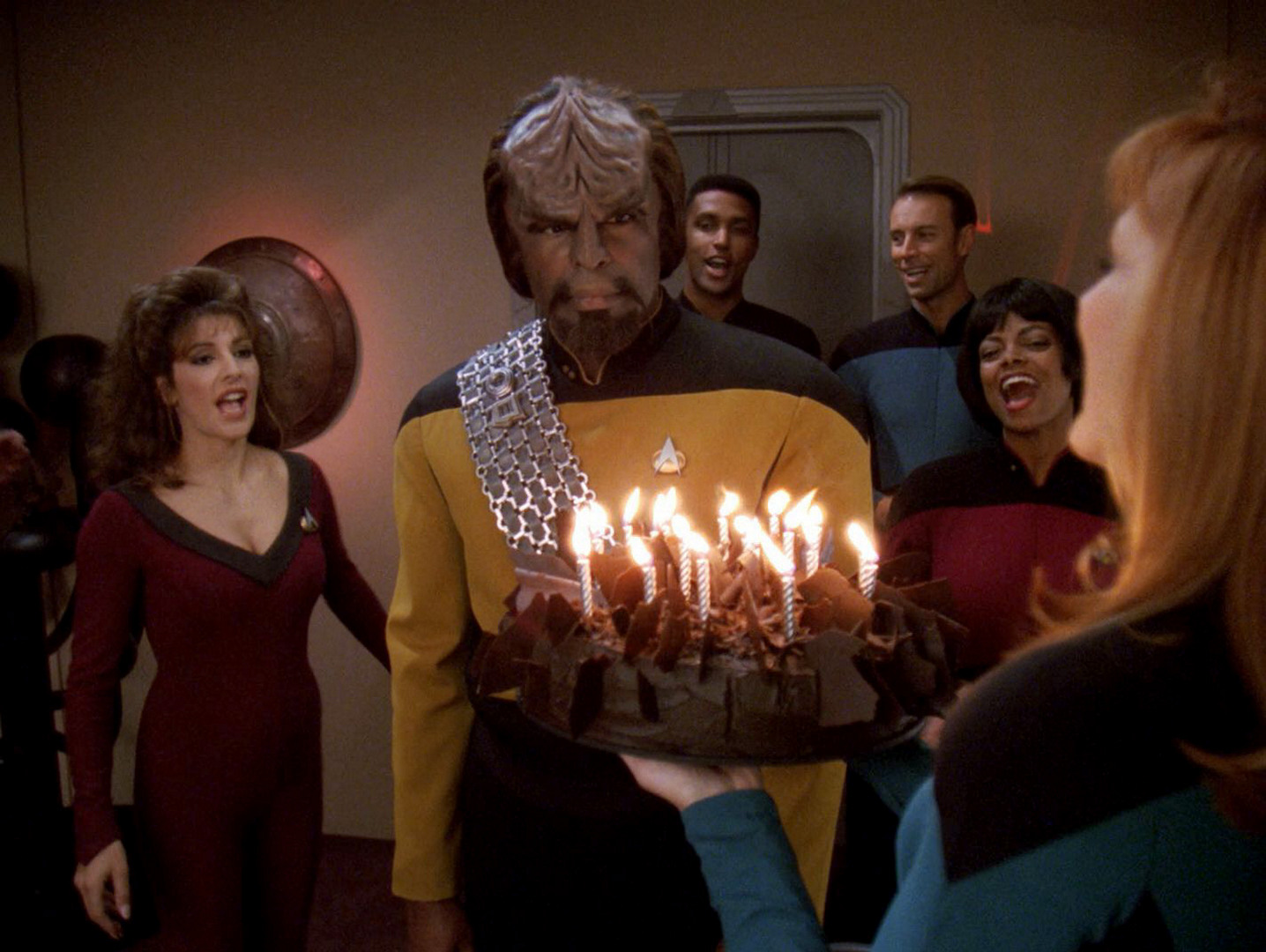 The Pegasus Stardate 47457.1: Admiral Erik Pressman leads the Enterprise on a mission to recover the USS Pegasus which he and Riker, at that time one of his junior officers, had to abandon years ago. He doesn't tell Picard the whole story, and he demands that Riker be silent about the events on the Pegasus. Actually, Pressman was testing a phase cloaking device, illegal according to the Treaty of Algeron, the crew mutinied, and the few crew members loyal to their captain had to leave the ship. When they discover traces of the ship, Pressman orders the Enterprise to enter a narrow rift leading into the interior where they find the Pegasus, partially submerged in the solid rock. Obviously the phase cloak suddenly failed. Aboard the Pegasus Pressman and Riker are going to salvage the cloaking device, but a Romulan warbird has sealed the entry to the asteroid, leaving the Enterprise trapped. Riker reveals Pressman's secret, and the phase cloaking is installed on the Enterprise, so that the ship can pass through the solid rock. In open space Picard orders the cloak to be deactivated, because he wants to make Pressman's violation of the treaty public.

Homeward Stardate 47423.9: Nikolai Rozhenko, Worf's foster brother, has been living on the primitive planet Boraal II for some time, where he played more than just a cultural observer. When the planet's atmosphere is about to dissipate and the rest of the crew is just watching how every living being dies, Nikolai has created a duplicate of the caves on Boraal on the holodeck in order to save at least some of the natives. Picard and Worf are outraged, but now they have to go along with Nikolai's plan. One Boraalan, Vorin, accidentally steps out into the Enterprise, and when he can't cope with this new experience, he commits suicide. A new home for the people is found and the Boraalans are transferred there. Nikolai stays with them.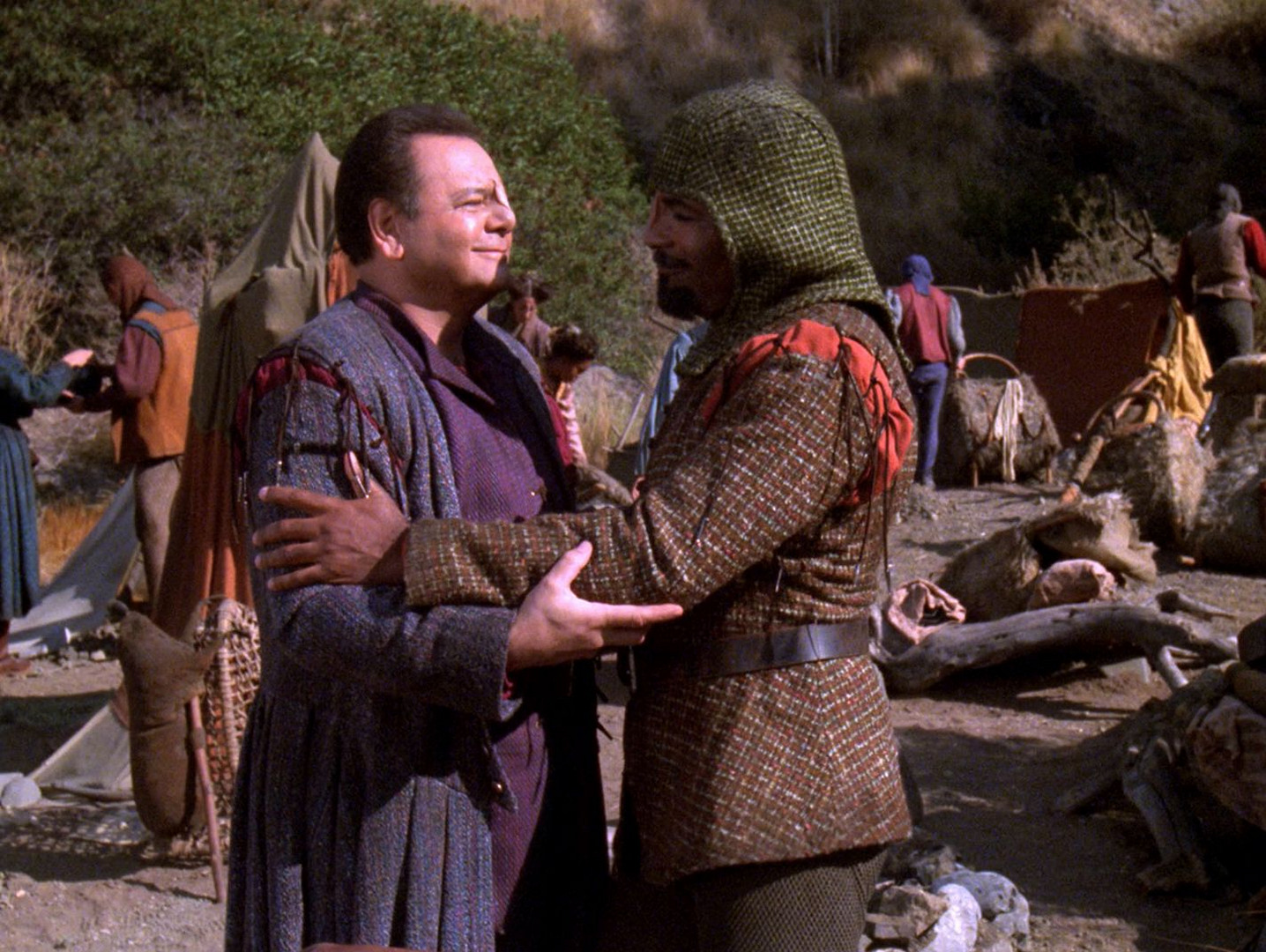 Sub Rosa Stardate 47500.0: Following her grandmother Felisa Howard's funeral on Caldos IV, Dr. Crusher finds diaries revealing that the old woman had a young lover named Ronin. Ronin appears to have romanced her family's women for centuries. Ned Quint, a friend of her grandmother, warns Beverly about Ronin, but after some odd sensations of pleasure she is finally ready to resign from Starfleet. When Ronin kills Ned, then disables Picard, Data and Geordi and finally reanimates her grandmother's body, Beverly has to kill Ronin, who is actually an anaphasic lifeform.


This episode leaves the wrong impression that the writers may have forgotten that TNG is a science fiction series. Because "Sub Rosa" has little Star Trek in it but very much of a gothic novel. The idea about a secret in the Howard family isn't bad, it only should have been presented appropriately. But the episode just takes too much pleasure in exploiting all the common clichés about ghosts, mysterious buildings, haunted objects and frightening thunderstorms that should be totally anachronistic in the 24th century and already are today. Moreover, the story is gratuitously set on a planet that is modeled after old Scotland. All the small ingredients that were supposed to spice up the story only made me yawn. And as if all this were not yet enough, in the climax of bad taste Ronin resurrects Felisa Howard's body from her grave! Like in a cheap horror flick. This may be easily the most appalling scene in Star Trek's history so far.
Apparently in an attempt to throw in at least a little bit of science fiction, the writers incorporated well-known tropes, such as yet another series of malfunctions on the ship and yet another energy lifeform responsible for that (essentially the same as "Redjac" in TOS: "Wolf in the Fold"). However, the comparably quick revelation that everything is the work of an "anaphasic lifeform" is only the Trek-like technobabbling justification of something that would have gone unexplained, i.e. simply called a "ghost" in fantasy or mystery shows.
But most of all Beverly's weakness is frustrating in this episode because it is so out of character. Comparing this Beverly to the self-confident woman of earlier seasons or the courageous one that solved the case in TNG: "Suspicions", it is like we are dealing with two different individuals. And regardless of the alien influence on her that may excuse her unusual behavior, it does a disservice to Beverly's character. I think it is latent sexism that women in Star Trek, at least occasionally, are shown as if only the right guy needed to come along (preferably an alien or otherwise superhuman macho), and after a few days they would abandon their career and all of their principles. As Picard puts it, "Beverly is not that spontaneous", but this doesn't make it more plausible that it looks like she has made a conscious decision, that she is apparently willing to remain under Ronin's influence. Picard contributes at least a few redeeming qualities in the form of a good deal of common sense. Another interesting aspect is how openly Beverly and Deanna talk about the sexual part of her relationship with Ronin.
Nitpicking: Ronin says that already the first ancestor of Beverly he met 800 years ago was named Howard. So did all the women of Beverly's family in about thirty generations keep their last name? Extremely unlikely. Moreover, Beverly would have been the very first to break with this tradition.
Background information: The story of "Sub Rosa" was submitted by freelance writer Jeanna F. Gallo, later adapted by Jeri Taylor and developed to a screenplay by Brannon Braga. The similarities of "Sub Rosa" to The Witching Hour by Anne Rice are coincidental, and Jeanna F. Gallo is a real person, not a pseudonym for Anne Rice.
Rating: 1
Lower Decks Stardate 47566.7: Four young Enterprise ensigns, Nurse Ogawa, Taurik, Sito Jaxa and Sam Lavelle are expecting their promotions. It seems that Lavelle and Sito are both up for the same job as ops relief. Sito, who was involved in the accident in Wesley's squadron at Starfleet Academy, receives a severe lecture by Picard and a strange lesson in self-defense by Worf, while Nurse Ogawa has to deal with a Cardassian, and Ensign Taurik is to shoot at a shuttle with a phaser. The reason is that Sito is going on an undercover mission where she is to disguise as the Cardassian's prisoner, to infiltrate the Cardassian Union. The mission fails, and the two are probably killed. Lavelle's promotion at this cost leaves a bad feeling in him, but the friends and Worf keep bolstering and comforting each other.

Thine Own Self Stardate 47611.2: When retrieving radioactive debris from a downed probe on pre-industrial Barkon IV, Data loses his memory and unwittingly spreads the fragments throughout a village. Data befriends a family and especially their daughter Gia. But when the villagers are showing more and more signs of radiation sickness, they put the blame on the strange looking man. They finally lynch and bury him, but the Enterprise manages to locate and salvage him. In the meantime, on the Enterprise, Deanna has passed her last exam for promotion to commander, the subject of which was to be able to condemn one crew member to death in order to save the ship.

Masks Stardate 47615.2: A comet discovered by the Enterprise is found to be the archive of the ancient D'Arsay civilization. Soon parts of the starship are being converted to artifacts of this culture. The program also targets Data and makes him impersonate different iconic characters. Eventually, Picard and the others deduce that Masaka, the most feared character, and her pursuer, Korgano, share a cycle much like Earth's sun and moon. With time running out and direct override impossible, Geordi finally locates the archive's transformational program just in time for Picard to assume the "mask" of Korgano and "chase" Masaka off her temple throne. Once Masaka is subdued, both the ship and Data return to normal without the whole society of characters that were once within him.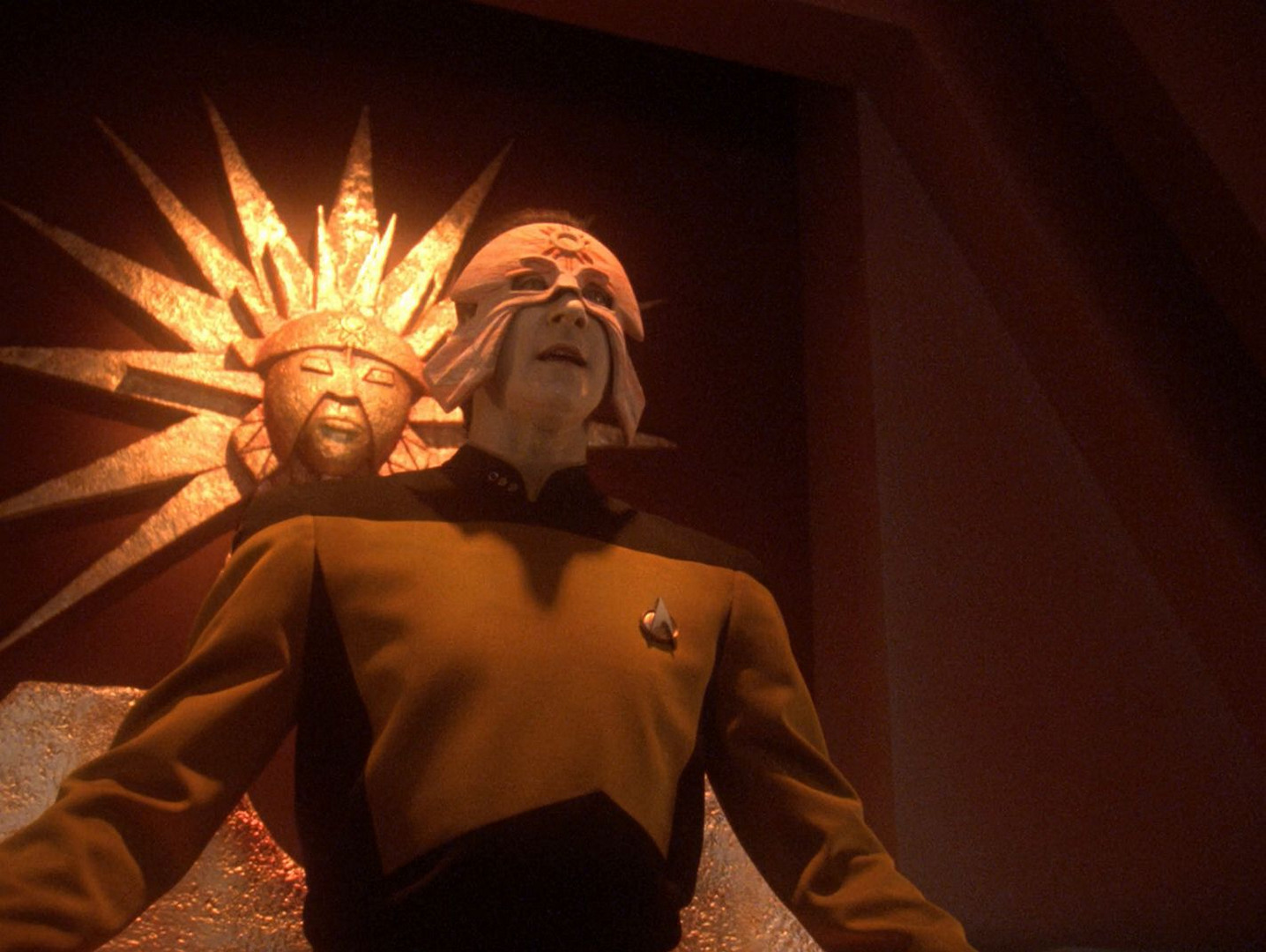 Eye of the Beholder Stardate 47622.1: The unexpected suicide by promising young Lt. Kwan in the plasma stream of the warp coils is baffling to all those who knew him. When Deanna visits the site for the first time, she is overwhelmed with panic and fear. It is found that while the Enterprise was being built at Utopia Planitia that an engineer named Walter Pierce found his lover embracing another man and killed them both. The guilt he felt caused him to commit suicide by throwing his body into the plasma stream. Being partially empathic Pierce's experience was imprinted into the bulkhead. When Kwan found it he acted out that experience. Deanna Troi being empathic also feels these experiences but is stopped in time.

Genesis Stardate 47653.2: After Data and Picard return from retrieving a wayward demonstration torpedo, they find the ship without control and the crew mutated to what seems lower lifeforms. Deanna is an amphibious lifeform, Riker an Australopithecine. While Picard is being chased by Worf, who has turned into a massive monster, Data discovers that a synthetic T-cell which Dr. Crusher has given to Barclay to fight a flu, has activated the crew's dormant introns. Barclay was turned into a spider. Only the new-born kittens of Spot are immune while Spot herself is now an iguana. With the help of Nurse Ogawa who is now a primate Data is able to find a remedy to reverse the de-evolution.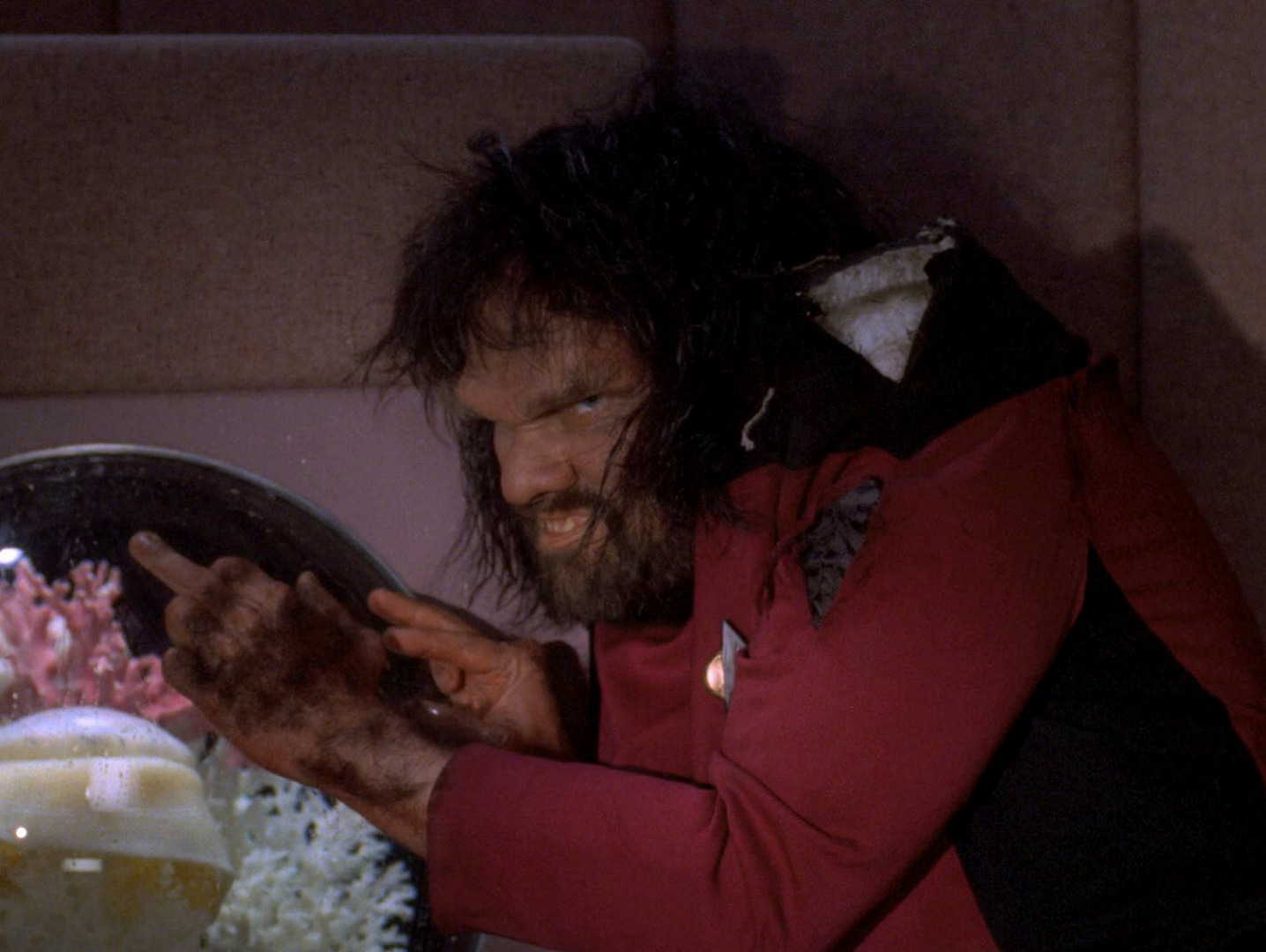 Journey's End Stardate 47751.2: According to the peace treaty Picard is forced to remove Federation settlers from colonies which are now in Cardassian territory. On of these colonies is Dorvan V, where American Indians have found a new home after they have escaped the cultural assimilation on Earth. Wesley arrives, and he is surprised when the Indian Lakanta tells him that he should find his own way. Wesley decides to resign from Starfleet. Lakanta reveals himself to be the Traveler and takes Wesley on his journey. The Indians decide to stay on Dorvala V, even under Cardassian supervision.

Firstborn Stardate 47779.4: When Alexander shows little interest in warrior training, Worf takes him to a Klingon outpost's Kot'baval festival, celebrating the battle between Kahless and the tyrant Molor. They are almost killed by an assassin apparently from the Duras family. A strange man named K'mtar shows up, who claims to be a friend of the family. When the Duras sisters are confronted with the knife that was used to attack Worf and Alexander they find the seal of B'etor's son, but B'etor only just learned herself that she was pregnant. It turns out that K'mtar is Alexander from the future who is going to avoid to become a pacifist diplomat who couldn't help his father when he was assassinated in the Klingon High Council.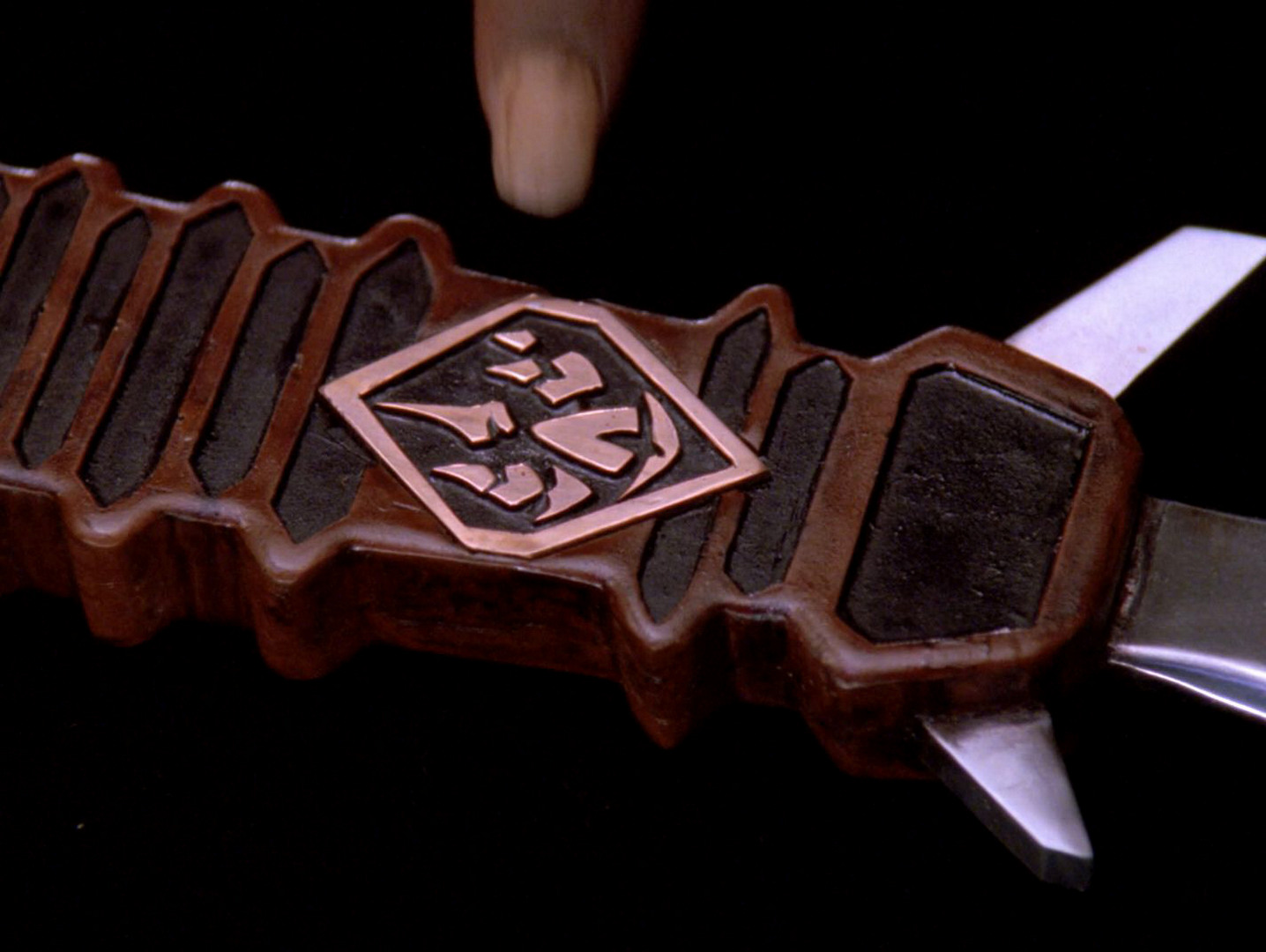 Bloodlines Stardate 47829.1: DaiMon Bok blames Picard for his son's death in the Battle of Maxia, and he threatens to kill Jason Vigo, Picard's possible son. DNA tests prove that Jason Vigo, who has had a troubled life after his mother's death, is Picard's son. Bok uses a subspace transporter to kidnap Jason. In the meantime a genetic defect is brought to light that Jason can't have inherited from either his mother or Picard. Actually, his DNA has been resequenced to match Picard's. The captain uses the risky subspace transporter too, and once again he reveals Bok's unprofitable intentions to his crew who relieve him of command.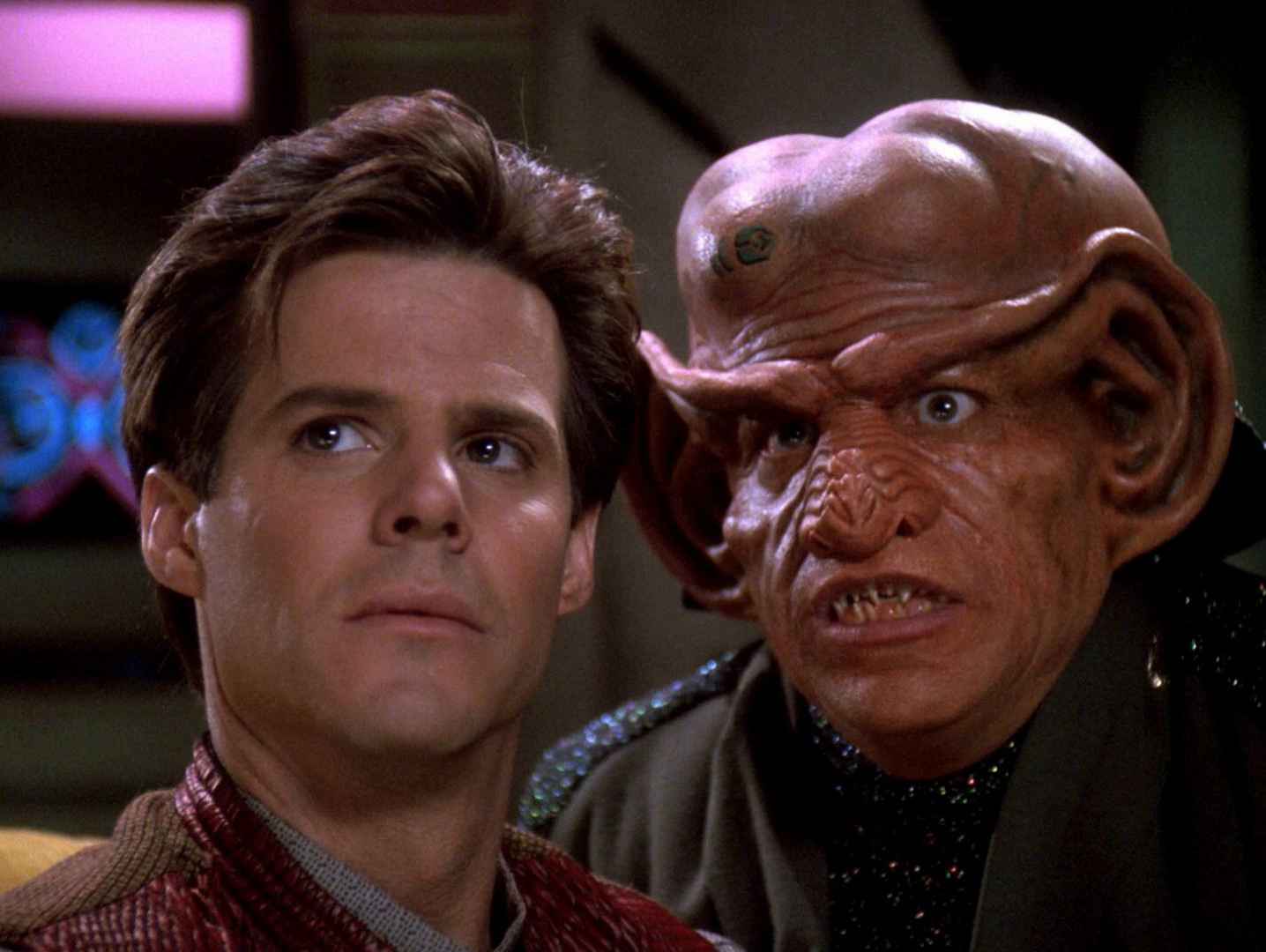 Emergence Stardate 47869.2: The holographic Orient Express gets out of control, when it runs through Data's program of "The Tempest". Amazingly, Data and Geordi find a network of self-erected nodes cross-connecting ship's functions, much like a lifeform's neural web. They discover that characters in the train program represent various functions of the ship. The ship begins reproduction by creating a new lifeform in a cargo bay, and all this is reflected in the train. When the new lifeform needs more verteron particles and the natural sources are exhausted, Geordi launches a photon torpedo into a nebula to generate them. The new lifeform leaves the ship with unknown destination.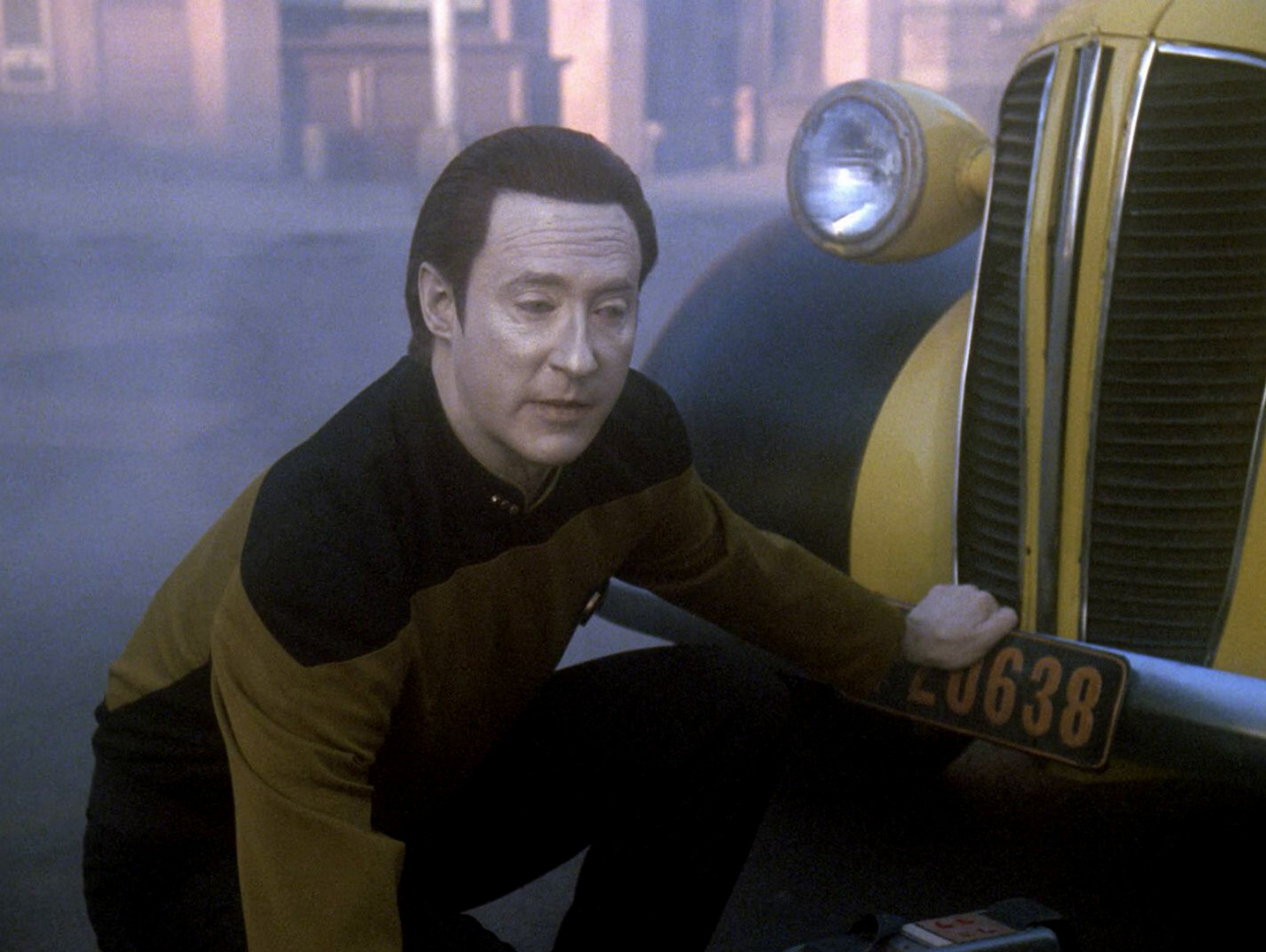 Preemptive Strike Stardate 47941.7: Newly promoted Lieutenant Ro Laren is asked to infiltrate the Maquis which is an organization of Federation colonists who fight the Cardassians. She soon gets the attention of the group and proves herself trustworthy when she helps stealing medical supplies from the Enterprise. Ro is subsequently torn between her loyalty to Picard who always supported her and her new sympathy for the people and the cause of the Maquis. When Ro is supposed to lure the Maquis into a trap, she defects.

All Good Things Stardate 47988: Picard finds himself slipping from one time to another: the present - seven years in the past, when he first took command of the Enterprise - and twenty-five years into the future, when his crew has scattered or resigned from Starfleet. He thinks that his time travels may be connected to an anomaly in the Neutral Zone, when suddenly Q appears and puts him on trial like he did seven years ago. Q admits that he is responsible for the time travel but claims that Picard was, is and will be responsible for the death of all humanity. He then takes Picard to primordial Earth where amino acids are supposed to combine, but they don't do that because of an anomaly visible in the sky that Picard is supposed to have caused. The captain and his various crews can't figure out what this anomaly, which is larger in the past, is about, until Picard gets the idea that it's an effect of anti-time. Picard will create the anomaly by scanning the same region of space with an inverse tachyon beam in three different times, and this will cause an anomaly to grow backward in time. When finally the damage is repaired in the course of which all three Enterprises have been (temporarily) destroyed, Picard is back in his normal time, and he takes the opportunity to join his senior crew's weekly poker game for the first time.