The Next Generation (TNG) Season 6
Season 1 - Season 2 - Season 3 - Season 4 - Season 5 - Season 6 - Season 7
Full reviews to be added soon.
Time's Arrow II See TNG season 5
Realm of Fear Stardate 46041.1: Beaming back from the disabled USS Yosemite, Reginald Barclay, who suffers from transporter psychosis, is confronted with his worst fear when creatures touch him in mid-transport. Barclay, aware that no one would believe him anyway, keeps the story secret until he discovers that the spot where the creature touched him is glowing. It turns out that Barclay encountered one of the missing Yosemite crew members who was caught in the transporter beam and that they can be saved by someone who grabs them in mid-transport.

Man of the People Stardate 46071.6: Lumerian ambassador Alkar comes aboard the Enterprise to conduct peace talks between Rekag and Seronia. He is accompanied by his mother who dies soon after. Alkar performs what he calls a "funeral ritual" with Deanna, and soon she exhibits a strange behavior and, moreover, begins to age rapidly. Alkar actually uses Troi as a "receptacle" to dump his negative emotions on her in order to keep his own mind clear. The old woman was not Alkar's mother but just his previous victim. Picard and Beverly fake Deanna's death, so that Alkar would have to seek a new victim among his aides, but they have been beamed out so that there is no one he could link to. Alkar ages quickly and dies just like his victims.


Yet another boring diplomatic mission, yet another guest who is keeping a secret, yet another time of suffering for Deanna, yet another miraculous recovery. A TNG episode couldn't be more stereotypical. Much worse, it was deemed necessary to cheer the well-known plot up with a dose of sex (Deanna and the young crewman) and action (Deanna attacks Alkar with a knife and hurts Picard). There are only a few interesting aspects about the episode. I like the scene when Deanna, already under Alkar's influence, is very uncooperative to the young female officer who is seeking her advice. More than most that we have seen of Deanna's work before, this shows how important the counselor's position is on a ship with 1000 crew members with their individual problems. I also appreciate how it is Riker all the time who is concerned about Deanna's misbehavior. Surprisingly, although the basic course of action is predictable, the episode becomes quite exciting towards the end when Picard, against all orders, decides to end Alkar's misdeeds and help Deanna. Although it doesn't make the medical miracle in any way more credible, it is quite satisfactory to see Alkar age as Deanna regains her youth.
Remarkable fact: Lumerians are empaths, but only among each other.
Rating: 3
Relics Stardate 46125.3: The Enterprise discovers a Dyson sphere, an immense artificial structure built around a star. The starship USS Jenolan has crashed on this sphere, and surprisingly its transporter is still operating in a continuous diagnostic cycle after 75 years, preserving the pattern of one survivor: Captain Montgomery Scott. Scotty is sad that he isn't of much help in the 24th century, so Picard assigns him to help Geordi examine the Jenolan, while the Enterprise is studying the Dyson sphere. The Enterprise, however, is drawn into the sphere when the automated doors are accidentally activated. On the Jenolan Scotty and Geordi devise a plan to free the Enterprise by reactivating their ship and using it as a "doorstop". The Enterprise escapes, and the two officers are beamed out from the Jenolan just when the shields begin to fail and the ship is about to be crushed by the door. Picard borrows Scotty a shuttle so that he can engage in new adventures in the 24th century.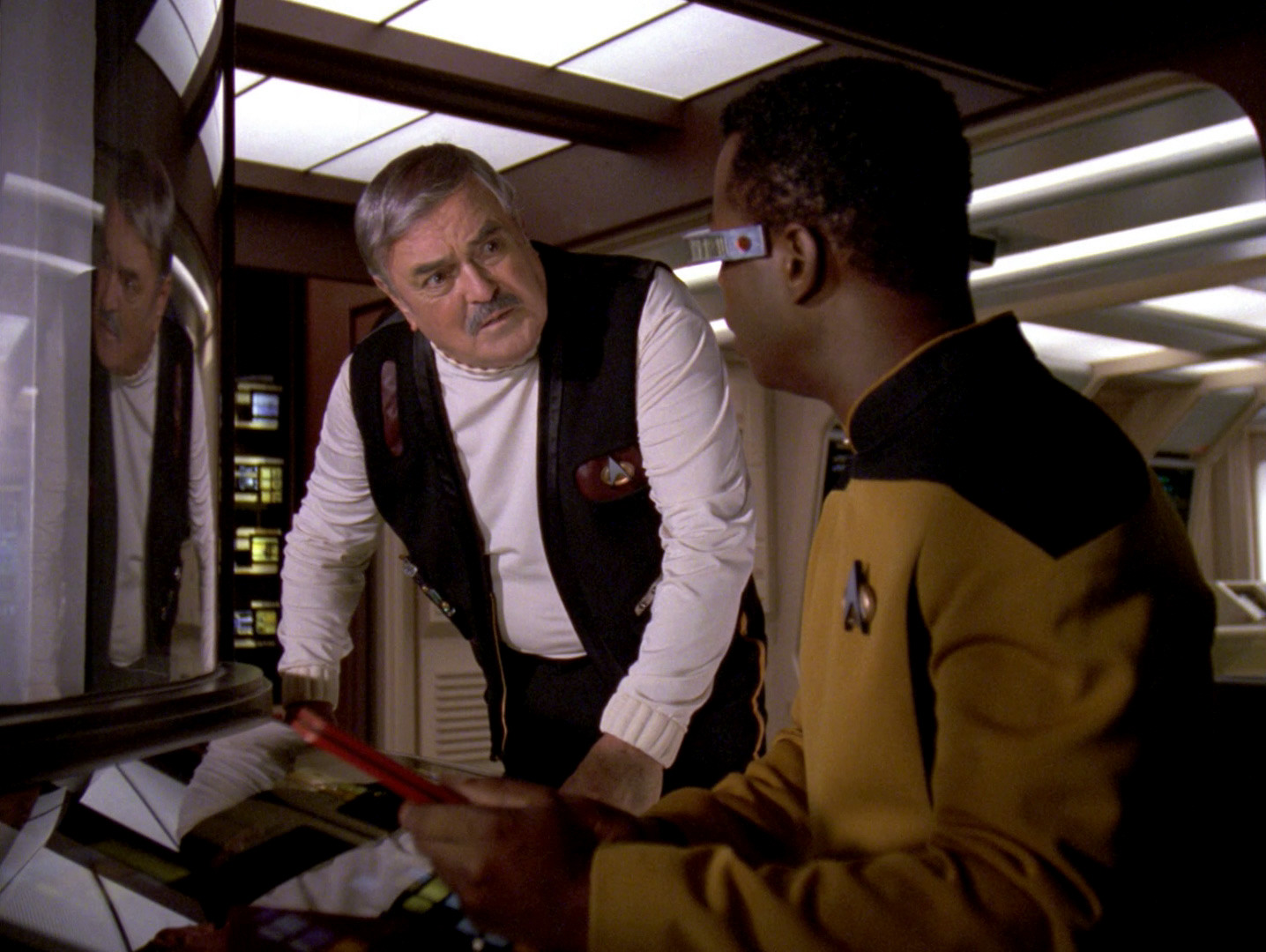 Schisms Stardate 46154.2: Many of the crew are plagued by inexplicable amnesia, exhaustion and anxiety and also Data's memory of ninety minutes is missing. In the holodeck Deanna recreates what seems to be a common memory of all victims: an alien lab of some kind. Meanwhile, one crewman even dies in agony. Armed with a stimulant and a homing beacon, Riker volunteers to track where the missing people are being taken. He is abducted into subspace and awakes in a lab with solanagen-based creatures who are trying to seal the rupture that has been re-opened from the Enterprise's side. Riker grabs the last missing crewmate and dashes back as the rupture closes.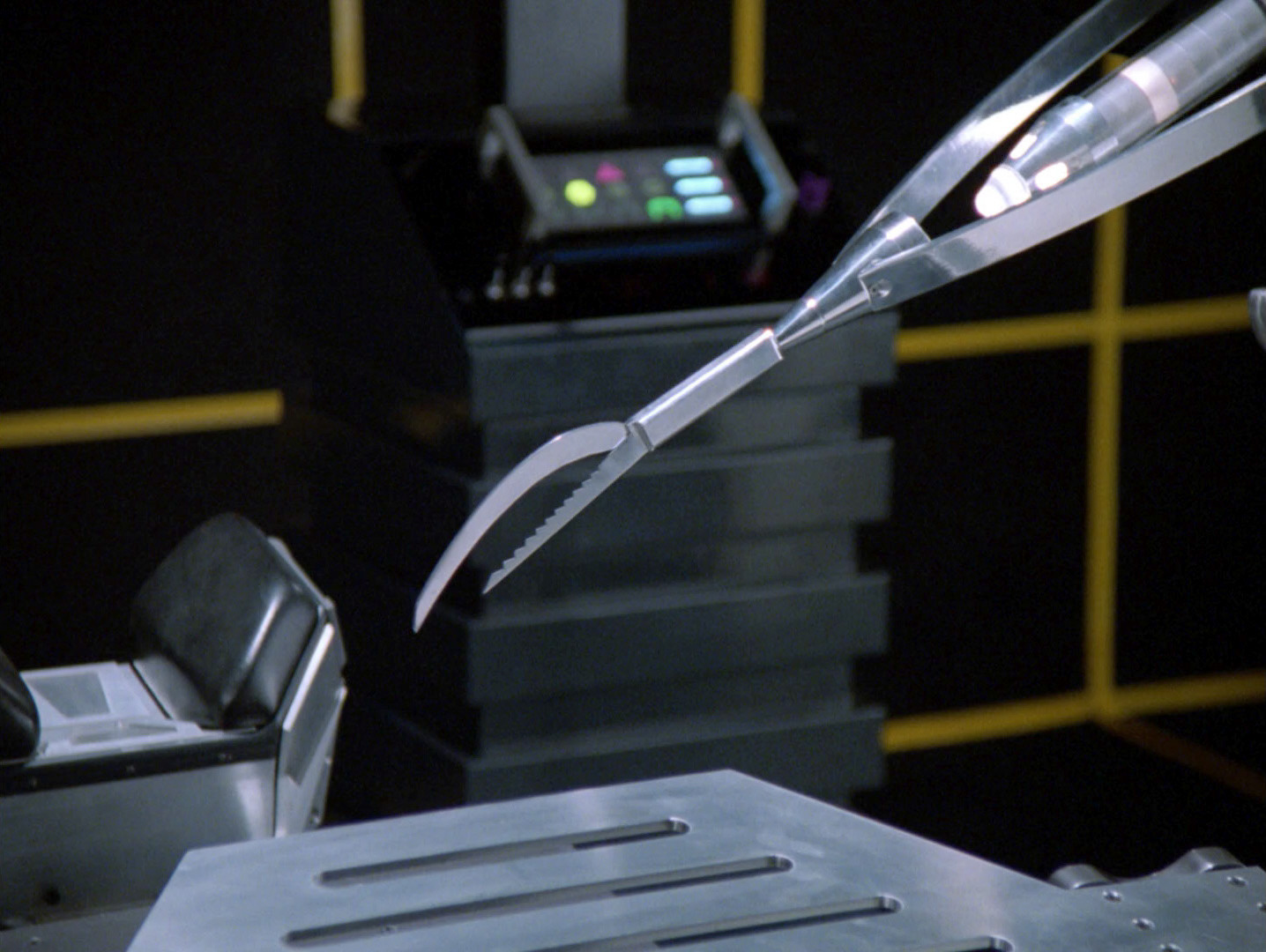 At first sight, there did not seem to be much special about the episode whose plot, regarding Riker's sleep problems, reminded me too much of "Night Terrors" when I first saw it. In this light it was definitely a good decision of the author to focus on a secondary plot at first (Data's problems of putting emotions into his poetry), and only slowly build up the main plot with its two aspects (the crew's nightmares and the malfunctions on the ship). Although both of them are already overused ideas, the writing is skillful in that it gradually increases the suspense, from Riker's sleepiness over Worf's sudden panic when he sees Mr. Mot's scissors to the key scene, the scary reconstruction of the alien lab in the holodeck. The episode proves that a horror motive may be incorporated in a very intelligent fashion and that it doesn't always need people running through shady corridors with rifles fighting eerie creatures (as they don't appear until the end of this episode). The episode's score and the unusual camera positions and movements (often filming from the ceiling) add perfectly to the overall mood.
At the end, the impression is created that the aliens, who have left a probe in our universe, would return. But as it was already with the creatures in TNG: "Conspiracy" whose ending was very similar, this won't happen. A missed opportunity in both cases, as I think.
Remarkable poem: Data recites his "Ode to Spot".
Ode to Spot
Felis catus is your taxonomic nomenclature,
an endothermic quadruped, carnivorous by nature.
Your visual, olfactory, and auditory senses,
contribute to your hunting skills, and natural defenses.
I find myself intrigued, by your subvocal oscillations,
a singular development of cat communications,
that obviates your basic hedonistic predilection,
for a rhythmic stroking of your fur, to demonstrate affection.
A tail is quite essential, for your acrobatic talents.
You would not be so agile, if you lacked its counterbalance,
and when not being utilized to aid in locomotion,
it often serves to illustrate, the state of your emotion.
Oh Spot, the complex levels of behavior you display,
connote a fairly well developed cognitive array,
and though you are not sentient, Spot, and do not comprehend,
I nonetheless consider you, a true, and valued, friend.
Remarkable fact: When Riker seeks Dr. Crusher's advice about his sleepiness, she mentions to him a possible lack of REM sleep (cf. TNG: "Night Terrors"), as well as (Picard's) Aunt Adele's recipe.
Rating: 7
True Q Stardate 46192.3: Young Amanda's world is turned upside down when she realizes that she is actually a member of the Q Continuum. Q appears to take the girl back but then agrees to let her decide on her own where she would like to stay. When Data discovers that her supposedly natural human parents were killed by a very localized tornado that should have been prevented by the weather control system, Q has to admit that they were actually members of the Continuum who were executed for being renegades - which included begetting Amanda the natural human way. The girl is furious about this and is tempted to give up her powers to stay with the humans. That seems an easy task until Amanda can't help intervening in a planetary disaster on Tagra IV, and sadly realizes the best choice for all is for her to go live among her own kind.

Rascals Stardate 46235.7: After they have been beamed off an endangered shuttlecraft through an energy field, Picard, Laren, Keiko, and Guinan are turned into the physical equivalents of twelve-year-old children. Riker assumes command for the time being, but the ship is soon captured by renegade Ferengi. The four apparent children stay on aboard, together with the actual children. Picard poses as "Number One's" son and Riker gets him access to the children's computer in the school room while confusing his Ferengi guard with technobabble. The four "children", supported by Alexander, beam the Ferengi into confinement. O'Brien and Beverly finally find a method to reverse the rejuvenation, using the transporter.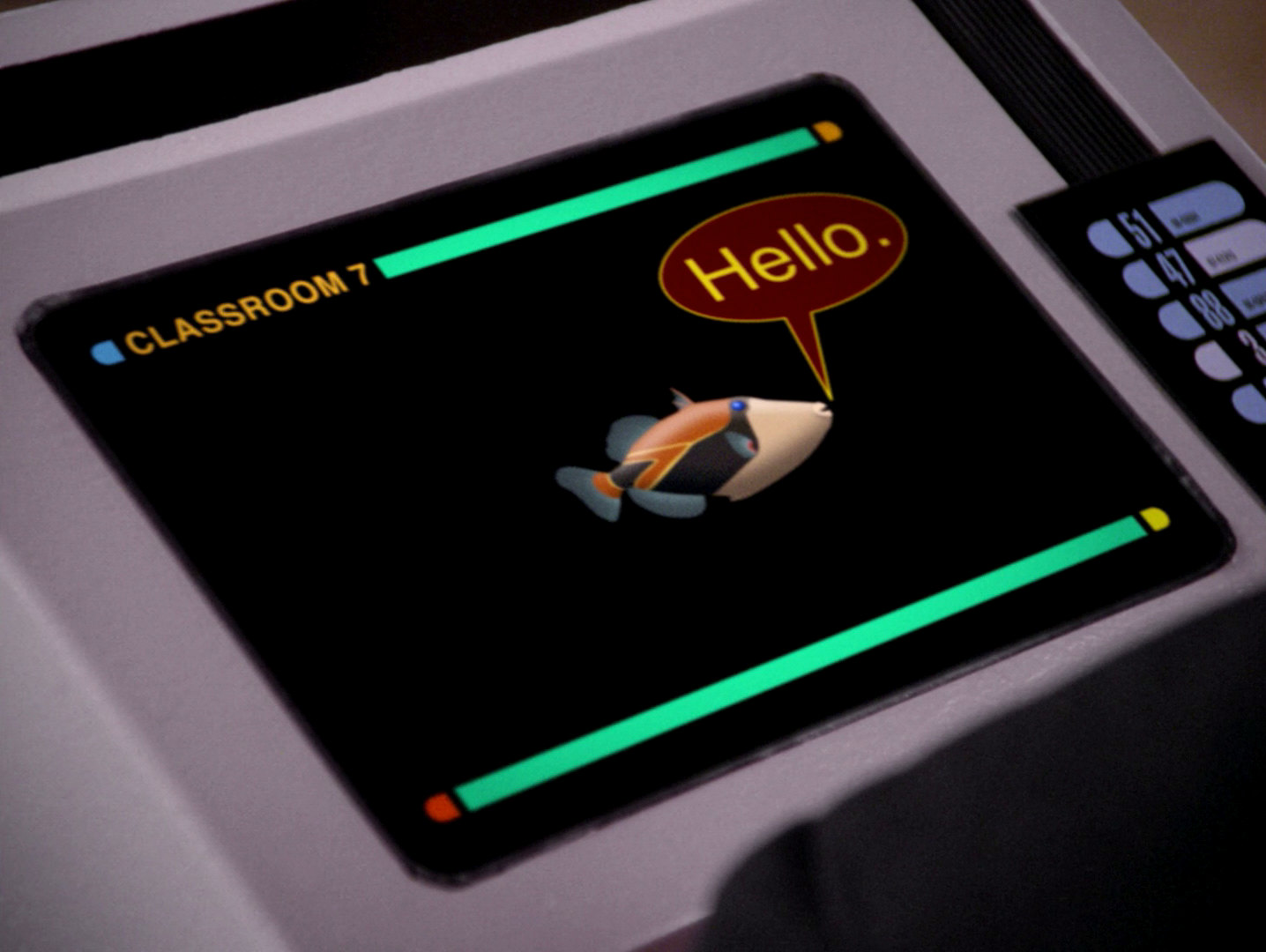 A Fistful of Datas Stardate 46271.5: While Geordi is testing if Data can be used as a backup to the ship's computer, Alexander coaxes his father and Deanna into taking part in a holodeck Western program. Soon some glitches become obvious when Data's "Ode to Spot" shows up in one of Beverly's (usually far more serious) plays. Things become worse when the holodeck safety protocols go offline, outlaws show up which all look like Data and have Data's abilities, and kidnap Alexander. The situation is finally resolved through a progressive memory purge that restores both Data's mind and the Enterprise computer.


The frequent holodeck malfunctions in TNG and later in Voyager might still be plausible if not every time the safety protocols would fail as well. For this time it was still acceptable though, because the episode didn't take itself too seriously. At latest when Data, just after he had been disconnected from the ship computer, handled his tricorder like a colt, was a clear hint that it should become a fun episode. It was cute to see how Worf tried to fit in his role somewhat awkwardly - although he was totally in character as the indefatigable enforcer of the law. Deanna, on the other hand, played a filthy guy in strong contrast to her real character and had a lot of fun with that. Well, Data's travesty roles on the holodeck were on the verge of becoming tasteless, but fortunately at least the scene when he appeared as the barmaid was very short. I was as relieved as Worf when the holoprogram was finally over. The real Data's transformation into a Western outlaw, on the other hand, was quite entertaining.
It is also nice how this episode created strong intra-series continuity. It picked up Data's "Ode to Spot" from "Schisms", Crusher's theater group which will also appear in "Frame of Mind", Geordi's and Data's friendship and, finally, Worf's and Deanna's emerging relationship which was hinted at for the second time since "Ethics".
Remarkable quote: "Most replicators only produce cat food." (Riker)
Remarkable dialogue: Worf (looking up to the prostitute on balcony): "You wrote this program yourself?" - Alexander: "Lieutenant Barclay helped me."
Rating: 6
The Quality of Life Stardate 46307.2: Director Farallon of the orbital mining station Tyrus VII-A has developed Exocomps, smart robots that take over tasks in hazardous environments. When one of the Exocomps refuses to carry out an order, Data examines the case. He finds that there was no malfunction, but the robot acted to preserve itself. Data thinks Exocomps are alive and strives to prove this with the same determination Picard helped Data to be accepted. An experiment with a simulated danger fails - until Data discovers that the Exocomps were aware that the danger was not real. When Picard and Geordi are trapped aboard the station, only the Exocomps can help by forming a transport window, but one of them has to stay behind, sacrificing itself for the two other Exocomps.


Data's attempt to confirm that Exocomps are sentient lifeforms is definitely the most important and most exciting part of the episode. I would only wish that it had not been supplemented with the seemingly unavoidable action-loaded "technical malfunction" plot, as this doesn't suit the episode. "The Measure of a Man", where Data's sentience was acknowledged, managed to do without anything like that. How the test of a revolutionary technology, namely the particle fountain, (almost) ends up in a disaster, has already become a bad cliché of TNG by now. Only the fact that one Exocomp had to sacrifice itself, in order to save the two others (and Picard and Geordi), did require such a situation. This reconciled me with the action elements in the end. Once again I liked how TNG managed to discuss an ethical conflict in a civilized fashion, with pointed arguments on both sides. Considering the controversy between Data and Dr. Farallon, it may have been more interesting to involve Geordi in a personal conflict. After all, he is Data's friend but, as was briefly hinted at in a scene in Ten Forward, he also seemed to be attracted to the woman who may have reminded him a lot of Leah Brahms. Considering how Data disobeyed Riker's direct orders, I would only have expected consequences for him, even if Data's decisions turned out right in the end. Well, maybe it is the reason why Data is never promoted?
It is interesting to notice how the episodes are linked to each other in this season. "The Quality of Life" continues with the weekly poker game. One week after Data's remark about it, Geordi's beard is again hinted at, and Beverly's complaint about the male habit to grow beards is the incentive for a bet: if Beverly wins, the men will shave their beards; if Beverly loses she will have to dye her hair. Unfortunately we never learn who loses. Beverly is also shown as she is hurt after what has obviously been a Mok'bara fight with Worf.
A nitpick (or a bad error?): When Riker notices that the particle fountain is out of control, he issues "Red alert." But if I'm not mistaken, red alert includes raising the shields. This does not get along with Riker's very next order to beam the crew up to the ship.
Rating: 7
Chain of Command I/II Stardate 46357.4/46360.8: Picard, Crusher and Worf are assigned to a classified mission to uncover the presumed production of Cardassian metagenic weapons on Celtris III. They are discovered and while Worf and Crusher can escape, Picard is taken prisoner by the Cardassians. Picard is tortured by Gul Madred who was already awaiting him because the whole scenario of metagenic weapons was a trap, supposed to let the Federation take the first step to a new conflict. In the meantime Captain Jellico has taken over the command of the Enterprise. The crew can't get along with his strict regime and his seemingly inappropriate behavior towards the Cardassians which seems to lead directly to a war. Jellico also refuses any attempt to rescue Picard. Jellico's tactics, however, eventually prove successful when he traps a Cardassian invasion fleet in a nebula by laying mines around the ships, which puts him into a position to demand their retreat and Picard's release.

Ship in a Bottle Stardate 46424.1: Dr. Moriarty's routine in Data's Sherlock Holmes holoprogram is accidentally reactivated. The holovillain is angry that the crew have forgotten their promise to transfer him to the real world some day. He then puzzles Picard and Data when he walks outside the holodeck and stays in one piece. After a while Data discovers inconsistencies. He finds that everything is a ruse and he, Picard and Moriarty are still on the holodeck, so the rest of the ship is not real, including all other persons. Unfortunately Moriarty has now the access codes to the real ship, after Picard was forced to use them, which is especially dangerous since the Enterprise is very close to two colliding gas giants. The crew, however, outwit Moriarty using his own trick when they just transfer him and the Countess Barthalomew to the holodeck in the holodeck instead of beaming them out to the real world. Now stored in a small module, the two are provided with lots of adventures in what they think is the real world.

Aquiel Stardate 46461.3: The two crew members of a Federation relay station close to the Klingon border have mysteriously vanished. One of them is the attractive Aquiel Uhnari to whom Geordi has developed some affection after viewing her log entries. She suddenly reappears on a Klingon ship, and she becomes the main suspect, for she didn't get along with her crewmate Keith Rocha and manipulated the station logs. Beverly, investigating DNA residues from the station, is shocked when a sample assumes the shape of her hand. Rocha was actually killed by a coalescent lifeform that assumed his shape and then killed Aquiel's dog, Maura. Geordi barely escapes the attack by the dog which is actually the shape-shifting creature.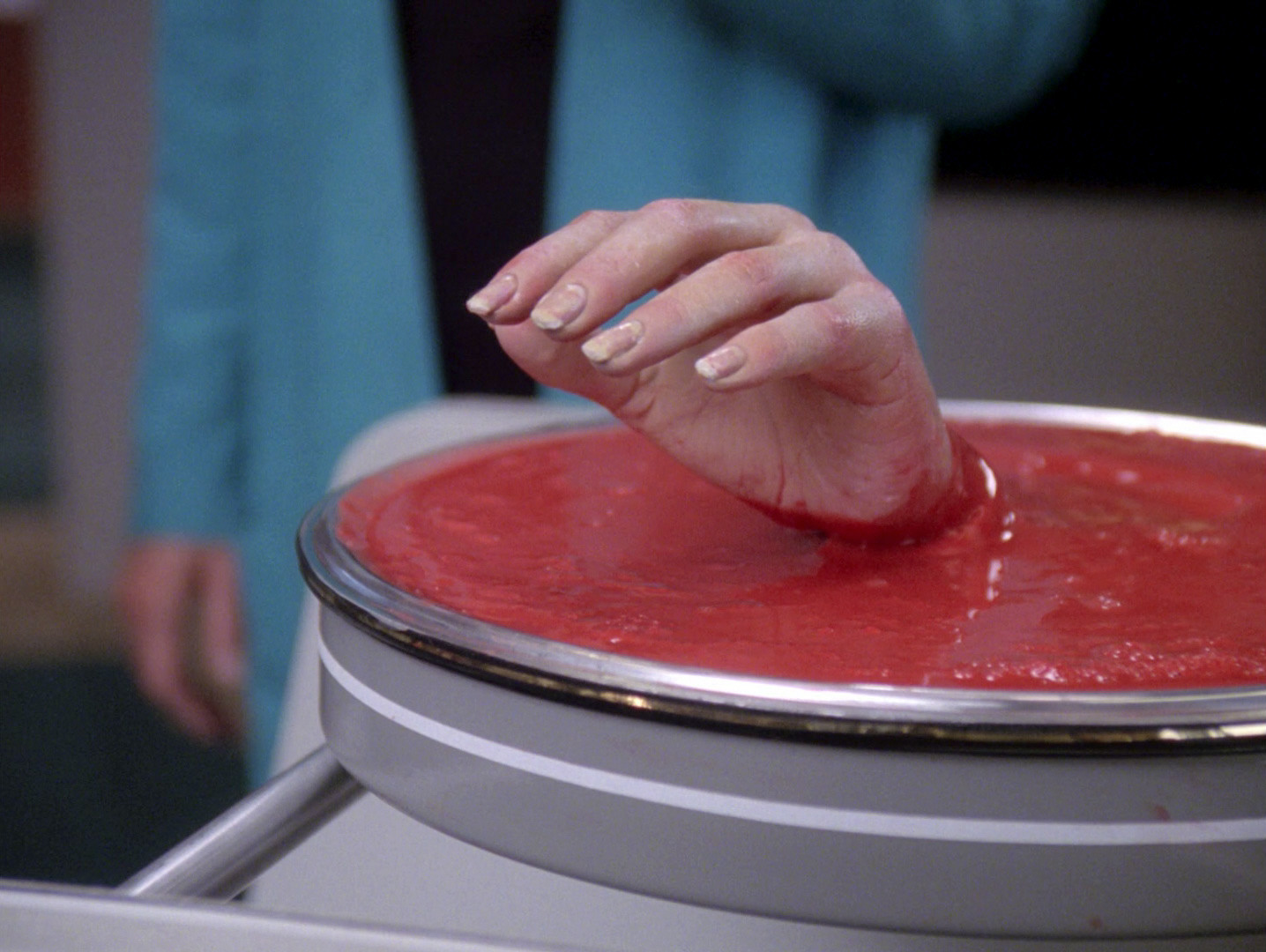 Face of the Enemy Stardate 46519.1: Deanna wakes up and finds her face surgically altered to look like a Romulan. She was taken to the Warbird Khazara in the disguise of a Tal Shiar officer to help smuggle out three high-level defectors to the Federation via a neutral Corvallen freighter. As "Major Rakal" Troi has a hard time dealing with Commander Toreth, whose father was secretly abducted by the Tal Shiar, and only Subcommander N'Vek is going to support her. When Troi/Rakal senses the Corvallens are traitors, N'Vek destroys the ship but doesn't really have an alternative plan. The cloaked warbird and the Enterprise are facing for a battle, and Troi manages to get the defectors beamed over to the Enterprise. When Toreth notices the plan, N'Vek is killed, while Deanna can be beamed out in time.

Tapestry Stardate not given: Picard, seriously wounded by a phaser discharge, finds himself in a bright empty environment and he is welcomed by Q who claims that Picard is dead and he, Q, is God. After Q tells him that with a natural heart he would have survived, Picard regrets the mistake he made in his young days when his heart had to be replaced after a fight with three tall Nausicaans. Instantly, Q whisks him back to the day before the accident happened. Picard wants to do everything right this time, and he even surrenders to the desire to be more than just a friend to his classmate Marta Batanides. Finally, he prevents his other friend Cortin Zweller from starting the fight with the Nausicaans. Back in his time, Picard has to bear the consequences: He has become a different person, one who was never willing to risk anything, and he is only a junior grade lieutenant on the Enterprise. Picard asks Q to take him back again. This time Picard allows the fight to take place, and history is reset. In the Enterprise sickbay Beverly manages to save Picard's life despite the bad damage to his artificial heart.

Birthright Stardate 46578.4/46579.2: While the Enterprise is docked to Deep Space Nine for a Bajoran aid mission, Worf learns that his father may be still alive in a Romulan prisoner camp - which would be dishonorable since Klingons have to escape or to die when they are captured. He urges the Yridian Shrek to take him to the camp on Carraya IV. Upon his arrival Worf is captured himself, but soon notices that this is not really a prisoner camp, but the former Romulan guards and Klingon prisoners have started an attempt to live in peace, unbeknownst to their respective governments. Worf's doesn't find his father. He is unhappy that the Klingons have abandoned their heritage as warriors, and he is disgusted by the fact that there are marriages between Klingons and Romulans, even more when he discovers the pointed ears of his love interest Ba'el. When Worf is going to "infect" the young people in the camp with his ideas, camp leader Torath decides to have him executed, but eventually many of the Klingons decide to stand with Worf. Worf takes some of the young people with him, who he claims are survivors of a ship crash. In the meantime, on the Enterprise, Data is experiencing dreams, which were implanted into him by his creator Soong as a further stage of his development.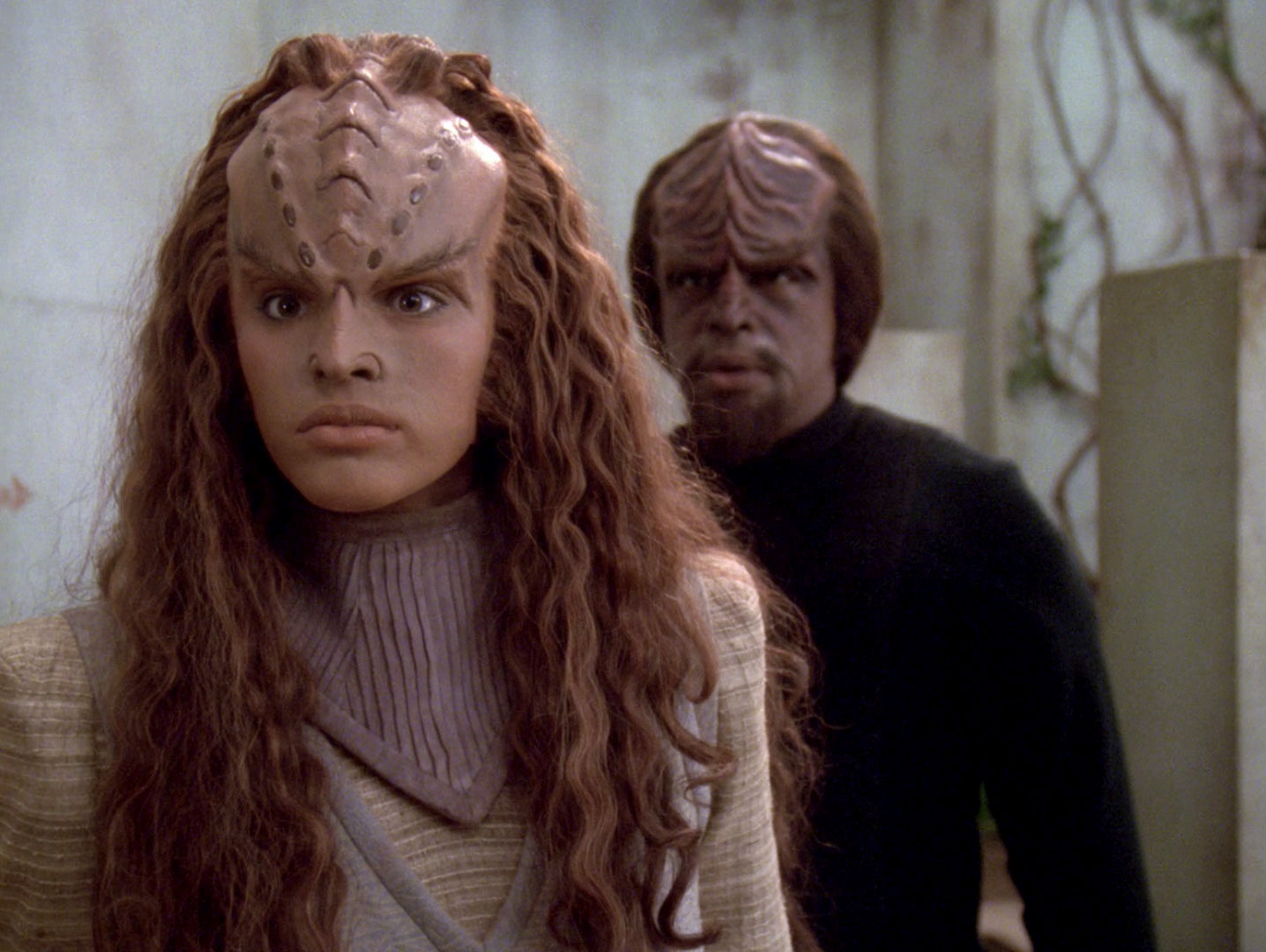 Starship Mine Stardate 46682.4: When the Enterprise is evacuated for a baryon sweep in the Remmler Array, Picard discovers that terrorists are going to steal highly volatile trilithium from the ship's warp core. The gangsters also capture the planet base and kill its commanding officer, Huchinson, while they hold the Enterprise crew hostages. On the largely disabled ship which is being swept by a deadly beam from the stern to the bow, Picard begins a cat-and-mouse game to prevent the terrorists from completing their plan. He manages to kill or disable all of them, until he and gang leader Kelsey meet in Ten Forward, the last location on the ship which is not yet affected by the beam. Kelsey escapes with the trilithium, but her shuttle explodes because Picard has removed the stabilizer. After the crew has turned tables among the terrorists, they can beam out Picard in the last moment before the baryon beam reaches him.

Lessons Stardate 46693.1: Picard falls in love with Neela Daren who is heading the stellar cartography department of the ship. They find a common interest in music and use the excellent acoustics of the Jefferies tubes for their private concerts with one piano and one Ressikan flute. Their relationship is put to a test when Neela is missing after a dangerous away mission to evacuate a Federation outpost on Bersallis III which is threatened by firestorms. Even when she is eventually saved, Picard realizes that he shouldn't be in love with someone who is his subordinate, and Neela opts for a transfer to another ship.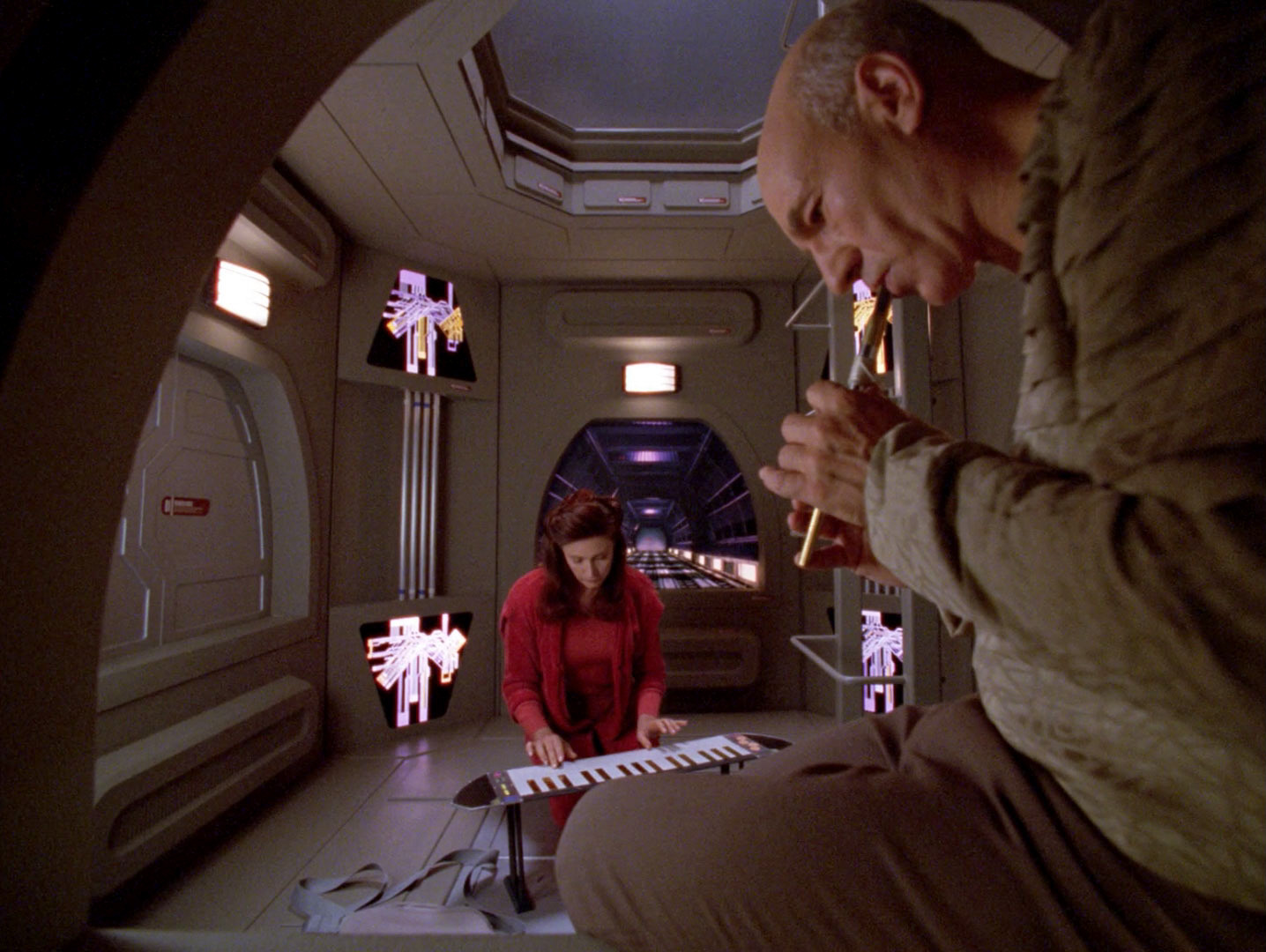 The Chase Stardate 46731.5: Picard turns down the tempting offer of his old archeology professor, Richard Galen, to accompany him on a quest that could have an impact on the whole galaxy. Galen leaves, only to be deadly wounded after an Yridian attack. Picard traces Galen's travel, and he finds a puzzle composed of DNA fragments Galen has been collecting from various planets in the galaxy. There is something like a coded message in these fragments. Not only the Enterprise, but also Cardassians, Klingons and Romulans are seeking for the missing fragments to decode the message, which could be the plan for a weapon or something equally powerful or valuable. When finally the different parties meet on a desert planet and struggle for the possession of the code, Picard and Crusher feed a tricorder with the last fragment which they find in the ground of this long-dead planet, and a message is replayed. A humanoid appears and declares that their race was the first to emerge in the galaxy. They found themselves alone, but they preserved their legacy by spreading DNA fragments on many planets, to trigger a development that would finally lead to the formation of humanoids just like them. In a way, Klingons, Cardassians, Romulans and humans are all related to each other. The message of peace, however, isn't received very well by the various species. Only the remark by the Romulan commander who was obviously impressed and is looking forward to future common missions is a sign of hope.

Frame of Mind Stardate 46778.1: With a few days rest before leading an undercover mission on Tilonus IV, Riker takes on the demanding role of a patient in a mental hospital in the play "Frame of Mind". Soon Riker finds himself in what looks like a real mental hospital, and he is not sure if the asylum or the starship is the reality. He finally submits to the idea that he is actually mentally ill. When he is rescued from the hospital by Data and Worf, Riker still can't believe that he is on the ship. Actually, he has been captured by the Tilonians who have drugged him, and only after he drops both illusions he wakes up and manages to arrange for an emergency beam-out.

Suspicions Stardate 46830.1: The Ferengi scientist Dr. Reyga has developed a metaphasic shield that can protect a starship inside the corona of a star. Beverly has arranged a meeting of Reyga with skeptical Vulcan and Klingon colleagues and a Takaran scientist named Jo'Bril who demands to test the device which is installed in a shuttle. Jo'Bril dies, and after some time Reyga is found dead after what appears to be a suicide. Against Takaran customs, Beverly performs an autopsy, upon which she is relieved of duty. In an effort to solve the case, Beverly takes the shuttle herself to test the shield, but Jo'Bril is already waiting for her. He is not dead because his race is capable of a death-like stasis, and he was going to steal the prototype. Beverly gets the upper hand in the following fight, and Jo'Bril is killed, while Reyga's and Beverly's reputations are restored.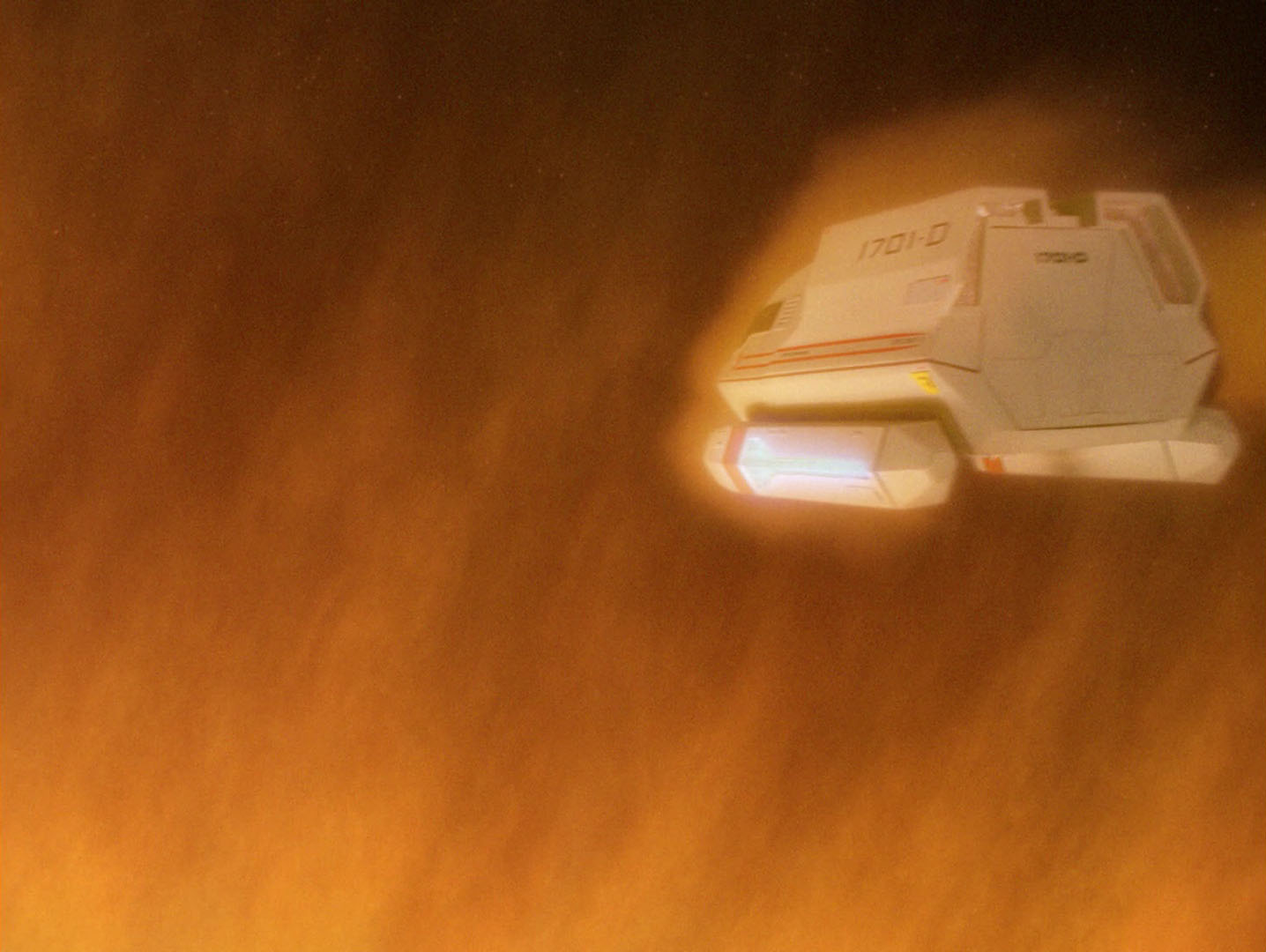 Rightful Heir Stardate 46852.2: Worf spends some time in a monastery on Boreth to await the return of Kahless. He is disappointed that he doesn't have any visions like the other Klingons, when suddenly Kahless actually appears. Worf is skeptical, but a DNA comparison with blood on the Knife of Kirom reveals that this is indeed Kahless. Chancellor Gowron is not lucky at all, and he questions Kahless's right to be the Klingon leader, and his suspicion proves right when Kahless exhibits only very faint memories of his former life. The cleric Koroth finally has to admit that they cloned Kahless. Nonetheless, knowing that a renewal of Klingon society is due, a solution is found to make Kahless the Klingon Emperor, while Gowron remains the head of the government.

Second Chances Stardate 46915.2: Riker is surprised to find a second version of himself on the planet Nervala IV. He visited this planet years ago, while still a lieutenant on the Potemkin. When his beam-up through the unstable atmosphere was about to fail, a second beam was locked onto him. When Riker materialized on the Potemkin, no one was aware that one of the beam had been reflected, creating a second Riker on the planet. This Lt. Riker spent many years on the lonely outpost and has taken a completely different development than Cmdr. Riker - including that Lt. Riker's love to Deanna is still alive. The two can't get along with each other, but they finally work well together when the last data from the outpost has to be retrieved just as the transport window is about to close for a long time. Lt. Riker decides to leave for the USS Gandhi, and he is going to use his second name, Thomas.


This episode is interesting in two aspects. First of all, it sheds a new light on Riker's character. Commander Riker always appeared as one of the most curious and open-minded crew members, as opposed to Worf or Picard, for instance, who were often very reserved. Now that Riker meets his other self, he couldn't be more defiant and negative about him. He first avoids any contact with Lieutenant Riker, even avoids to talk about him to others. When they have to work together, he lets him feel his disapproval about each and everything. Since he sees in Lieutenant Riker the person he once was, it is like Commander Riker is accusing himself of his errors of the past, or of which he sees as errors. Maybe it is also a bit of hurt vanity because he is not unique any longer, but Commander Riker definitely thinks he has to prove that he is the better Riker, which makes him consistently unlikable here.
Regarding Lt. Riker, he is embracing the world and expecting the world to embrace him after eight years of loneliness. But he definitely has the worse perspective for the future, as Cmdr. Riker has been promoted in his place, has given up Deanna in his place, has come to terms with their father in his place. There is hardly anything left he could have or could do on his own, and the stubbornness of his other self to accept him makes it even harder. On the other hand, Lt. Riker should realize that he, being the same person, would have done exactly the same if he had been given the chance. With a certain complex of inferiority (quite like Cmdr. Riker too), he thinks he must question everything that has happened in the past eight years and that he was not able to participate in. The key scene is the poker game in which both Rikers make aggressive bets and think they can mutually guess their thoughts. Finally Lt. Riker loses. Annoyed about it, as if the poker game would mean anything for his life, he leaves the room with the remark that Cmdr. Riker always had the better luck.
The second interesting aspect is how two complete human beings may materialize from only one pattern. Like already in TOS: "The Enemy Within" and later in DS9: "Our Man Bashir" it seems as if not always the very matter of a person or object were transferred, but only in an ideal case. This may also raise questions about the ethics of the transporter, concerning of individual rights that may be harmed if someone is "split" or missing matter complemented.
Notwithstanding the above revelations, the episode focused too much on trivialities right after the astounding teaser when the second Riker was discovered. The climax when Commander Riker saved Lieutenant Riker's life was too contrived, and the ending when the latter leaves the ship to seek fortune on his own was quite predictable.
Remarkable fact: Lt. Riker will call himself Thomas Riker. He will return in DS9: "Defiant" where he operates for the Maquis.
Rating: 6
Timescape Stardate 46944.2: Returning by runabout from a conference, Troi, Picard, Data and La Forge are puzzled by areas in which time is elapsing with different speeds. They find the frozen scene of a Romulan warbird firing a disruptor beam at the Enterprise. With the help of modified transporter armbands they beam over to the Enterprise while remaining in their own frame of time. They discover that the ship is apparently boarded by Romulans and, even worse, a warp core breach is in progress. Picard, suffering from side effects of the time shift, has to return to the runabout. On the warbird the other officers discover strange lifeforms in the ship's quantum singularity which they are using as a nest. The presence of the lifeforms interferes with a power transfer from the Enterprise which endangers both ships. Geordi is hurt and Deanna saves him by removing his armband so that there will be enough time to treat him. Data manages to turn back the time so as to prevent the warp core breach, but not far enough. To stop the power transfer, Picard steers the runabout between the two ships where it disrupts the beam and explodes.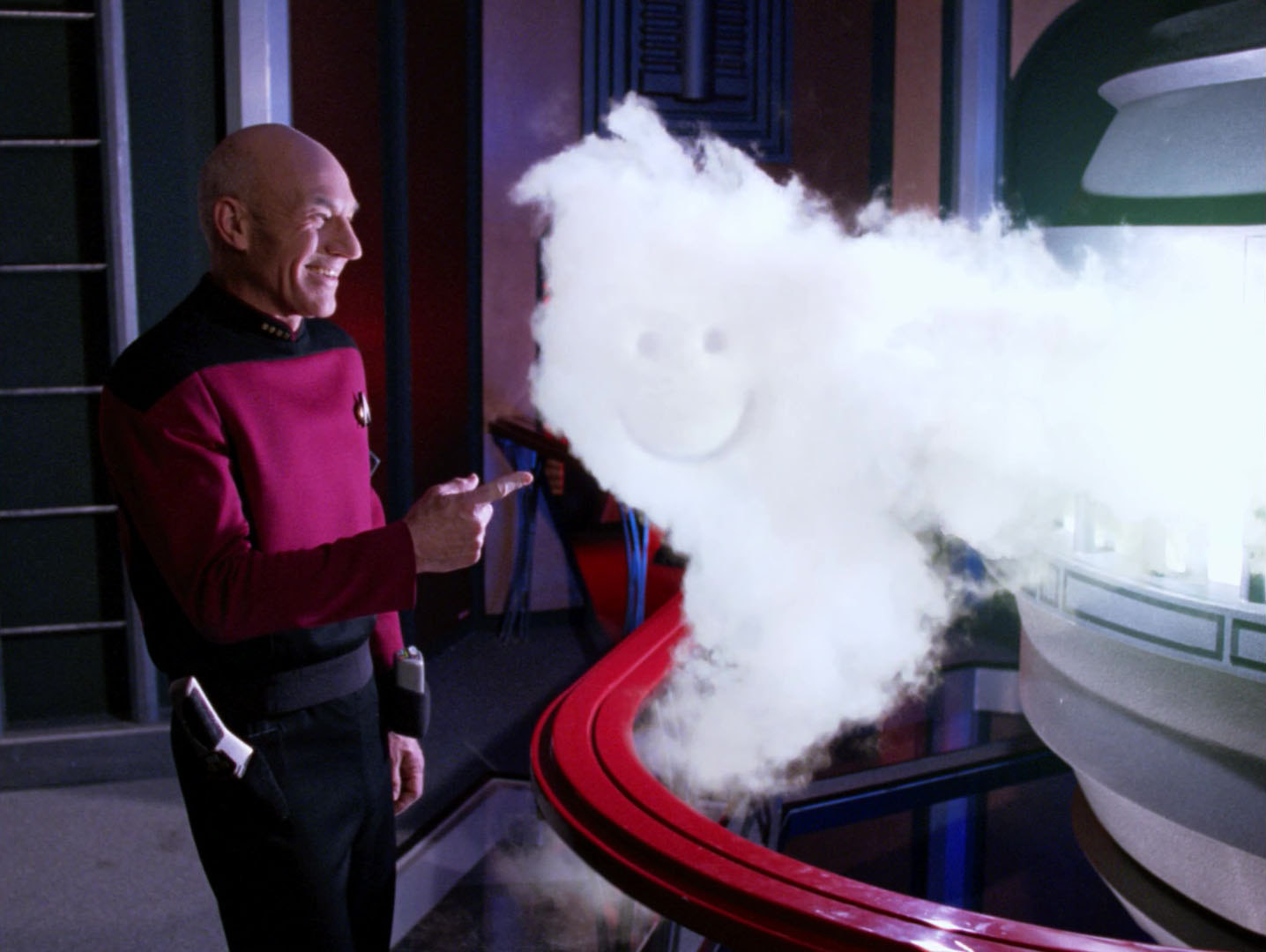 Descent I/II Stardate 46982.1/47025.2: The Borg have attacked a Federation outpost, but these Borg are different in that they have a strategy, they seek vengeance and they have individual names. Data is obviously different too when he kills a Borg in rage. When Data is abducted by a Borg some time later, their trace leads to a planet whose shielding doesn't allow to scan for lifeforms. While most of the crew take part in a large-scale ground search, Beverly remains in command of the ship. Picard's team is captured by the Borg, and he is shocked to see Data and his evil twin Lore as the new leaders of the Borg. The new individuality brought to the Collective by Hugh has left a vacuum Lore was able and willing to fill. Lore takes Geordi to perform experiments on him, but despite Lore's mind control Data's conscience kicks in. In the meantime the Enterprise is attacked by a Borg ship, but Beverly manages to lure the Borg into the sun's corona where they destroy it while the Enterprise is protected by the metaphasic shield. Hugh helps the crew to defeat Lore who is finally deactivated, while Data takes his emotion chip.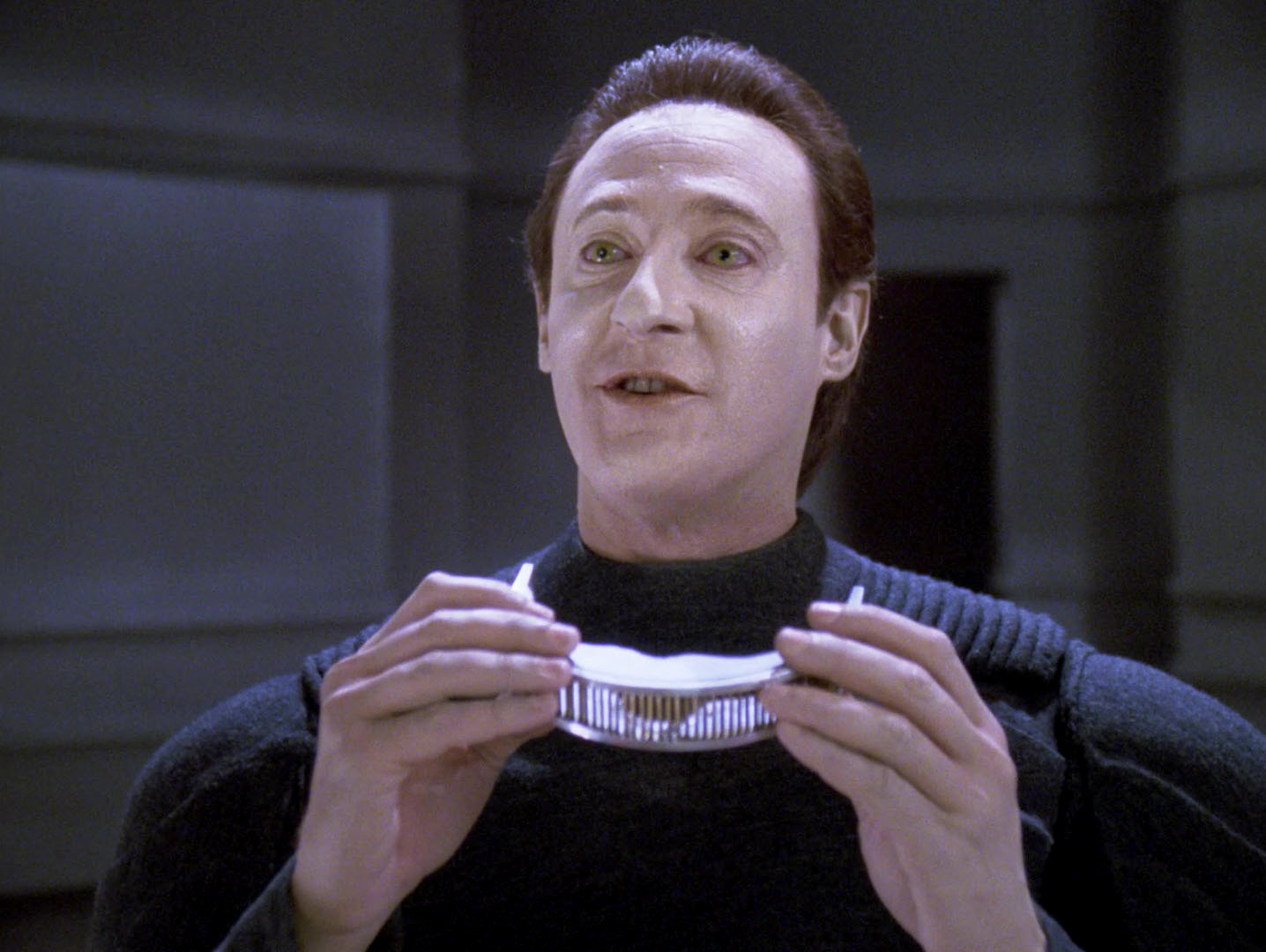 Last modified: 14.10.12
http://www.ex-astris-scientia.org/episodes/tng6.htm