Main Index
Random Page
Featured Topic
Affiliated Site
External Link
News
Here is a poll on the on the USS Discovery ship design. There is also a new write-up on the reasons why Starfleet's ships have saucer-shaped main hulls at Canon Fodder.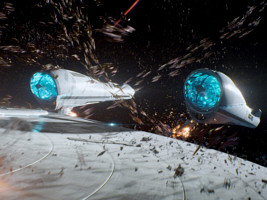 More "Star Trek Beyond"-related updates: the galleries with Abramsverse Federation Vessels and Abramsverse Alien Vessels, the Abramsverse FAQ and a write-up on Krall's backstory at Canon Fodder.
Bryan Fuller revealed some details on the new series Star Trek: Discovery. It is set ten years before Kirk, has a female lead character who is not the captain and will feature many aliens.
I have expanded the article on Continuity Issues of the Abramsverse regarding the apparently new official policy on how we are supposed to understand the Kelvin Timeline.