Main Index
Random Page
Featured Topic
Affiliated Site
External Link
News
CBS reports that James Frain will play Spock's father Sarek on Star Trek Discovery. The shooting for Discovery will begin on January 24. The release date in May, however, appears to be uncertain. CBS announced that "if it's best for the show", the launch date will be "flexible".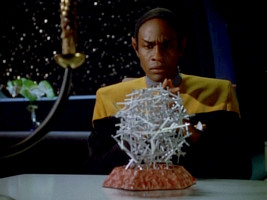 Two more Voyager season 3 reviews: "Alter Ego" and "Coda".
Here are my reviews of two more Voyager season 3 episodes, "Macrocosm" and "Fair Trade".
Happy New Year 2017!
Cuddly puppies, standing on the Enterprise at warp and planetary spring cleaning! Here are our Observations in TNG: "True Q" in SD and HD screen caps.
New Poll: What would you like to see in Star Trek Discovery?