Main Index
Random Page
Featured Topic
Affiliated Site
External Link
News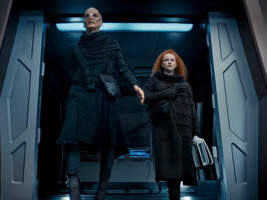 The USS Discovery too ends up in the 32nd century, and the crew has to deal with different kinds of parasites. Here is my review of the second episode of season 3, "Far From Home".
Michael Burnham arrives in the 32nd century, only to notice that a lot of things have changed for the worse. Here is my review of the Discovery season 3 premiere, "That Hope Is You, Part 1".
New Poll: Rate the first season of Lower Decks.
In the five DS9 Mirror Universe episodes we can see several variations of the emblem of the Klingon-Cardassian Alliance. Read in Jörg's new article on The Evolution of the Alliance Emblem.
Not all starship types of Star Trek are well-documented. Sometimes they can be seen only briefly on screen, and further information is hard to come by. I have compiled a list of such obscure designs, together with pretty much everything we know about them: Obscure Yet Interesting Starships.