Main Index
Random Page
Featured Topic
Affiliated Site
External Link
News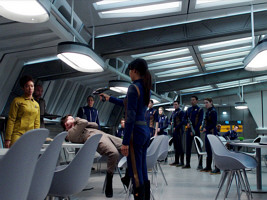 While I'm slowly recovering, I took care of some small updates. There are several more Commercially Available Chairs in Star Trek (many thanks to Eno from Star Trek + Design) and a comment on the new trailers.
After five months of immobility and pain, I'm going back to the hospital to have my shoulder joint implant repositioned, meaning that I will be out of action for another six weeks. For now, see a few more classic articles with updates, such as Planet Mutations.
I noticed that there is no dedicated article on Starfleet's Miranda class at EAS. Jörg investigated the many appearances of the class as long as 16 years ago. So, with slight delay, here is the article on Miranda Class Variations. It includes all the latest information and summarizes practically everything we know of the studio models as well as of the appearances of the Miranda and derived ship types on screen.
There are more or better screen caps (HD where available) and new references in almost 30 starship articles, some of which were originally written by Jörg more than 15 years ago. See the updates in Redresses of the Orbital Office Complex, Redresses of the Groumall and Redresses of the Akritirian Patrol Ship, for instance.
A new trailer for Star Trek Picard season 2 has dropped. I have written down a few comments on the premise of the season and I can say I am hopeful.