Main Index
Random Page
Featured Topic
Affiliated Site
External Link
News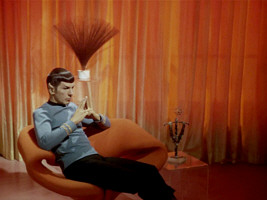 Many more Commercially Available Chairs in Star Trek could be identified with the help of Eno from Star Trek + Design. See also our extended list of Unidentified Chairs in Star Trek and help us find their origin.
The article on Time Travel in Discovery now includes facts and considerations from season 3. We also found a few more Commercially Available Chairs in Star Trek. And yes, Quark got his bar chairs from a Swedish furniture store! Finally, there are several additions to TNG season 2 observations, mostly in "Where Silence Has Lease", "The Schizoid Man" and "Q Who".
In order to be prepared for the new stuff to be released later in 2021 and in 2022, there are now index pages for Strange New Worlds and Prodigy, as well as placeholder pages for the five new seasons currently in production.
Comments are open on the new SNW and PRO index pages. Please leave a few words on what you expect from the two upcoming series! Also, anyone who would like to review Discovery's season 3?
I have collected the Discovery Future Alien Ship Classes from the third season and added a few entries to the Discovery Mirror Universe Ship Classes. Also, watch out for small additions on various pages, such as among the starship-related articles.