Main Index
Random Page
Featured Topic
Affiliated Site
External Link
News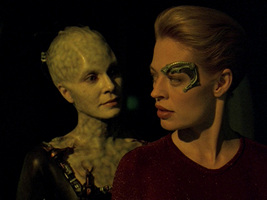 The next revised Voyager season 5 review is of the exciting 90-minute movie "Dark Frontier".
The new stories by Travis Anderson continue with Breakout, part of the series The Cause.
Here are two more revised/extended Voyager season 5 reviews: "Gravity" and "Bliss".
More stories by Travis Anderson are coming up in the Fan Fiction section, starting with Pirates for a Day or Two, part of the series The Cause. This is the new first story of the series in chronological order.
It's been over a year, and I will continue my Voyager retro reviews in season 5 while there are no new episodes. Here are "Latent Image" and "Bride of Chaotica!".
Over 50 new or improved images, mostly from the Official Starships Collection, on the gallery pages for Pre-Federation Earth Vessels and NX Class.
Find some 30 new or improved images in the Borg Starship Gallery.