Main Index
Random Page
Featured Topic
Affiliated Site
External Link
News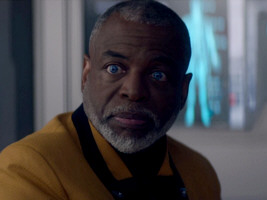 Here is my review of PIC: "The Bounty". This is the most eventful episode of the season so far. It comes with wonderfully sentimental moments but also with problematic story developments.
If any proof was still missing, the excitement is back and persists in Star Trek. Read my review of PIC: "Imposters", which includes a few critical notes, though.
Now in the Starship Database: Prodigy Alien Ship Classes. The Federation and Starfleet vessels from the series are in work, but it will still take a while.
PIC: "No Win Scenario" has only minor flaws. It may be the best episode of the series so far, and perhaps the best live-action Star Trek in the past 18 years.
The page on Re-Used Beam Weapons has been completely reworked: more and better screen caps, chronological order, some fixed errors. Also, find facts from "Seventeen Seconds" in articles, such as Classical Music in Star Trek or Re-Uses of Freezer Spacers.