Main Index
Random Page
Featured Topic
Affiliated Site
External Link
News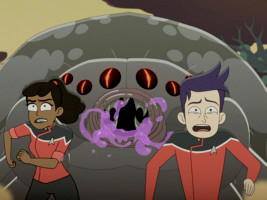 It looks like most fans like Lower Decks a lot, as a comical but respectful take on the good old Star Trek. While I'm waiting for the international release, see the guest reviews and feel free to add your comments.
Until I am able to watch it legally, there will be no Lower Decks coverage at EAS - no reviews, no articles and no discussions with me. In the meantime, feel free to use the Disqus comment section to talk about the show or submit a guest review. Maybe I will catch up with Lower Decks but it will likely have a low priority. I can't stress enough this is the consequence of being locked out and not because I expect to hate the show.
The long and short names of Star Trek series and movies are not quite consistent in all publications. Only recently, the announcement that Lower Decks will be officially called "LDS" added another discrepancy. My article on Titles and Abbreviations of Star Trek Series and Movies summarizes the sometimes different styles of referring to series and movies, in official sources and in the fandom.
Star Trek: Prodigy is the title of the second new animated series that is set to air on Nickelodeon. There are also new pictures from Lower Decks and a 90-second clip from the pilot episode, "Second Contact". I'm willing to give both series a chance, although we now have even more proof of how dumb the humor of Lower Decks may be.