Main Index
Random Page
Featured Topic
Affiliated Site
External Link
News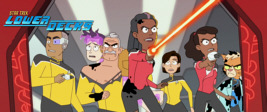 New Poll: What do you think of the design of the USS Cerritos for Lower Decks?
The site is going to move to a new (and faster) server later today. There may be some temporary problems with redirects.
The animated series Lower Decks, created by Mike McMahan, will premiere on CBS All Access on Thursday, August 6. There is no word yet if, when and where the series will be released internationally.
I have replaced the blurry images in the articles Planets in TOS and TOS Remastered - Part 1, Part 2, Part 3 and Planet Surfaces in TOS and TOS Remastered with HD caps. Thanks to Trek Caps and TrekCore for their effort of capping every Star Trek series!
The Corridor from the Transporter Room to Sickbay is a small set that was built for the first Star Trek feature film in 1979 and that, along with the transporter room, also appeared in many TNG episodes. Jörg has investigated all appearances of the corridor, also as seen from the sickbay office, over the course of 15 years.