Main Index
Random Page
Featured Topic
Affiliated Site
External Link
News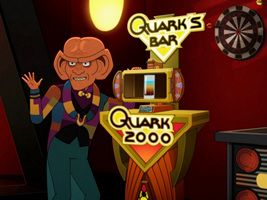 Here is my review of LOW: "Hear All, Trust Nothing". Just as expected, the DS9-related episode is very entertaining, although the B-plot is somewhat misplaced.
Major update of the Starship Database, as I have added the missing vessels from Picard season 2 on the pages Starfleet Ship Classes A-K, Starfleet Ship Classes L-Z, Other Starfleet Ship Classes, Federation Shuttlecraft, Earth Ship Classes and Borg Ship Classes.
Read my review of LOW: "Reflections". I think the series just delivered one of its best episodes so far.
Continuing the Voyager season 5 retro reviews with "Thirty Days" and "Counterpoint".
I will gradually add all starships from recently completed seasons to the database, starting with the Confederation Timeline Ships from Picard season 2.