Main Index
Random Page
Featured Topic
Affiliated Site
External Link
News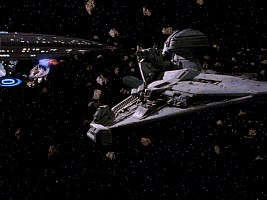 I have added several new observations by Jörg to the old article on TNG: "Booby Trap". There is a lot to discover in and around the Cleponji in this visually impressive episode!
There are numerous ranking lists with something like the "10 worst episodes" or the "10 most powerful ships". I thought it would be fun to have such a format at EAS too, both opinion- and fact-based, and maybe on some more obscure topics as well. Feel free to post your personal ranking in the comments, or contact me if you have an idea for a new list. Let me start with the 10 Biggest Artificial Structures in Star Trek.
Major update! All ships from season 2 of Lower Decks are now in the Starship Database: Lower Decks Starfleet & Federation Ship Classes and Lower Decks Alien Ship Classes. Both pages have more than doubled in size. Thanks to Jörg for several additional finds!
Netflix has clandestinely removed Star Trek Discovery from all of its international streaming services, following a pay-out deal with ViacomCBS. The fourth season, which is set to launch on Paramount+ on November 18, will not be available internationally until some time in 2022. For EAS, this means that there will be no coverage of Discovery's season 4 for the time being. Please refrain from sending me links to illegal streaming platforms!