Main Index
Random Page
Featured Topic
Affiliated Site
External Link
News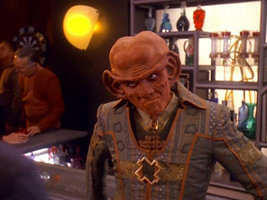 Several more Commercially Available Chairs in Star Trek and Commercially Available Lighting in Star Trek could be identified with help from our dear friend Eno.
The articles on The Continuities of Star Trek, The Visual Continuity of Star Trek and Discoverse Continuity Problems are up to date now with examples from Strange New Worlds. Also watch out for more SNW-related updates in other articles.
I continue my reviews of Discovery's season 4 with DIS: "The Examples". This episode comes with classic Trek vibes as they are rare in the series and is arguably the best one of the season.
The Rebirth is the first story of Travis Anderson's SID Rebirth. The SID team awakens in a new reality, in which everything is familiar yet not quite the same.
Here is my review of DIS: "All Is Possible". This episode consists of two plot threads, and the good one about the diplomatic negotiations cannot make up for the many weaknesses of the shuttle crash scenario.
Travis Anderson launches a new series of stories named SID Rebirth, which begins with the transition to another universe. Read the message from the author and see the updated personnel and vessel profiles. The first story will be posted shortly.