Main Index
Random Page
Featured Topic
Affiliated Site
External Link
News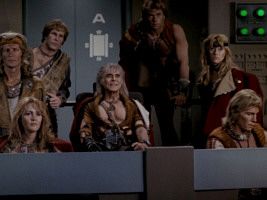 Rick Sternbach and Lee Cole designed various pictograms for "Star Trek: The Motion Picture". Many of them appeared as stickers in the Star Trek: The Motion Picture Peel-Off Graphics Book. Our new article on Pictograms from the Star Trek: The Motion Picture Peel-Off Graphics Book identifies the logos from the book in the TOS movies and later appearances on Star Trek. Research by Jörg Hillebrand. Logo reconstructions by Brad Wilder.
New Poll: Do you like the idea of Strange New Worlds?
After months of rumors, the much-discussed prequel series with Captain Pike and Spock has finally officially been announced. It will be called Star Trek: Strange New Worlds. While this is what many fans have hoped and campaigned for, it is not what I want to see and what I think Star Trek needs right now. Read my thoughts and remember you have been warned.
Two new book reviews by Daniel Tessier: the brand-new TOS tie-in The Higher Frontier by Christopher L. Bennett and the classic TNG novel Requiem by Michael Jan Friedman and Kevin Ryan.
See our Observations in PIC: "Et in Arcadia Ego II", with everything notable about apples, footballs, hyposprays, Rikers, and more.