Main Index
Random Page
Featured Topic
Affiliated Site
External Link
News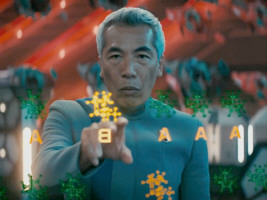 I have to speed up my Discovery season 4 reviews because Lower Decks season 3 is coming up. And if time allows, I will go through SNW season 1 as well. So here are my thoughts on DIS: "Species Ten-C".
Love is the message and the message is love. Here is my review of DIS: "Rosetta". Finally some progress in the storyline, at least on the emotional side.
Here is my review of DIS: "The Galactic Barrier". The storyline is dragged out for little benefit, although one of the plot threads is unexpectedly touching.
Here is our update to the Observations in TNG: "The Offspring", with new findings and over 40 new images.
Read my review of DIS: "Rubicon". The cat-and-mouse game initially makes up for some of the mistakes of "All In" but then regresses to typical Discovery storytelling: unwarranted worship of you-know-who, unprofessional disputes, mistakes for which nobody assumes responsibility, little progress regarding the mystery at hand.