Main Index
Random Page
Featured Topic
Affiliated Site
External Link
News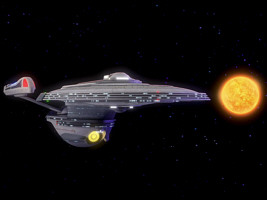 Season 2 of Lower Decks comes to an end in an exciting finale - without hot chocolate but with a naked ship! Here is my review of LOW: "First First Contact".
Reviving the Poll with the question: How do you rate the second season of Lower Decks?
Starship Farragut's final episode is out, after a production time of more than six years. Read my review of "Homecoming"
Read my review of LOW: "wej Duj", which comes with more subtle humor and with a well-balanced intelligent plot. The best episode of Lower Decks so far!
Some smaller updates for today: beautifully detailed Enterprise-A bridge cutaways by Donny Versiga, additions to the article about alien hands, the varieties of Romulan emblems in Lower Decks, a couple of new chairs and lamps (Biconica and Torchiere), newly identified acoustic panels.
The large EAS header image will be switched frequently from now. But don't try to reload pages repeatedly to force a change - the script runs as a cron job and not on page load.