Main Index
Random Page
Featured Topic
Affiliated Site
External Link
News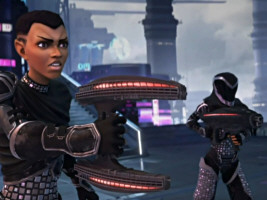 This week's episode "Masquerade" keeps up the fast pace of Prodigy. It excels when it reveals Dal's origin but then falls back into clichéd themes of the series.
The latest Prodigy episode "Crossroads" comes with a great deal of action, but the story about the crew's run of misfortune when trying to contact Starfleet is unconvincing.
There are five new commercially available lamps in Star Trek (thanks to several people on Twitter), some new considerations on the Tellarites and additions related to "All the World's a Stage" in The Evolution of the Starfleet Medical Emblem. I have also updated the Links page.
Here is my review of PRO: "All the World's a Stage". As lame as the idea of yet another totally self-referential Trek episode is, as funny is it how the "Enderprizians" are modeled on classic TOS aliens - or on fans?