Main Index
Random Page
Featured Topic
Affiliated Site
External Link
News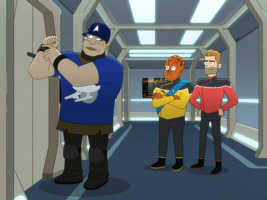 Read my review of the latest adventure of the USS Cerritos, "The Spy Humongous", which avoids the mistakes of the preceding season 2 episodes.
Dozens of new observations by Jörg in TNG episodes, this time in "Shades of Gray" and "The Ensigns of Command".
Several new examples of Commercially Available Lighting in Star Trek and a couple of new Commercially Available Chairs in Star Trek, found in the recent book Star Trek: Designing the Final Frontier and by Eno of Star Trek + Design.
Lower Decks delivers its so far best episode of the second season. Here is my review of "An Embarrassment of Dooplers".
My review of the latest Lower Decks episode, "Mugato, Gumato". It is not the weakest episode of the series, but among other problems its gross (allegedly "adult") humor about violence, feces and sex feels wrong.