Main Index
Random Page
Featured Topic
Affiliated Site
External Link
News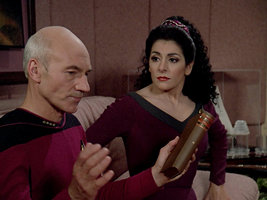 See several additions to the Observations in TNG: "Who Watches the Watchers" by Jörg and read the story about the book that Picard gave to Data as a gift.
Two new Disqus threads for topics that are not directly related to EAS pages: Feedback & Suggestions and General Trek Discussion. To post without registration, enter your name and check the box "I'd rather post as a guest".
There are updates on several pages. See very detailed and accurate renders of the USS Salcombe by Daniel Broadway, additions to the Observations in TNG: "The Survivors" by Jörg and three newly identified lamps (Inner Pyramid, Oz Lamp, Noce Sconce) by Eno.
Season 2 of Lower Decks comes to an end in an exciting finale - without hot chocolate but with a naked ship! Here is my review of LOW: "First First Contact".
Reviving the Poll with the question: How do you rate the second season of Lower Decks?