Main Index
Random Page
Featured Topic
Affiliated Site
External Link
News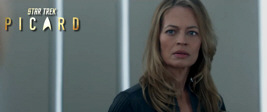 A new trailer for Star Trek Picard season 2 has dropped. I have written down a few comments on the premise of the season and I can say I am hopeful.
The Star Trek Prodigy cast and characters were presented by Paramount+. Here are a few thoughts on the six alien teens and on the premise of the show.
In a small new article, Jörg and I look at the Redresses of the T'Pau, how the model was turned into the Tosk ship and how its old look was partially restored.
Small updates in various articles. See new observations by Jörg in TNG season 2 episodes, such as in "Samaritan Snare" and most notably in "Up the Long Ladder". Also, I have reworked many classic starship articles, such as the Wolf 359 series or The Bird-of-Prey Size Paradox. There is little new content in this section but the references, image quality and formatting are up to date now.
The Trek furniture store opens its lighting department! See Commercially Available Lighting in Star Trek and help us find where still unidentified lamps came from. Once again, special thanks to Eno from Star Trek + Design.