Main Index
Random Page
Featured Topic
Affiliated Site
External Link
News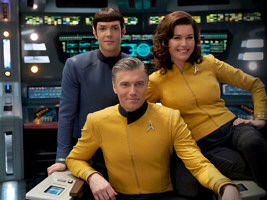 In order to be prepared for the new stuff to be released later in 2021 and in 2022, there are now index pages for Strange New Worlds and Prodigy, as well as placeholder pages for the five new seasons currently in production.
Comments are open on the new SNW and PRO index pages. Please leave a few words on what you expect from the two upcoming series! Also, anyone who would like to review Discovery's season 3?
I have collected the Discovery Future Alien Ship Classes from the third season and added a few entries to the Discovery Mirror Universe Ship Classes. Also, watch out for small additions on various pages, such as among the starship-related articles.
It has taken a lot longer than usual, but here are the Discovery Future Federation Ship Classes from the third season.
Several more article updates, mostly to TNG season 2 observations, such as in "Time Squared" and in "The Icarus Factor".
There are several new findings in the rearranged article on Re-Used Props - Stationary Consoles. Thanks to Tadeo D'Oria! See also his recent reconstruction of the Enterprise-C bridge.