Main Index
Random Page
Featured Topic
Affiliated Site
External Link
News
36 days left until the pilot episode of the new series. I have compiled another Discovery news round-up, with details about Michael Burnham, a new trailer and my comment on Jason Isaacs's statement about die-hard fans.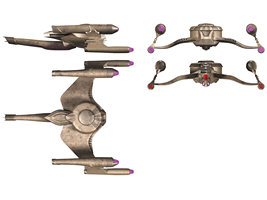 I have added some more orthographic CGI views from the Official Starships Collection: Gorn ship (TOS-R: "Arena"), Klingon D5 cruiser and a few more. Thanks to Jörg! We also noticed some substantial differences between the Klingon deuterium tanker and the D5 that we so far thought were largely identical.
Only 44 days until Star Trek Discovery goes on air. Here is another production news round-up, with more about Klingons and starships, and with some comments.
The latest Star Trek Continues episode is titled "What Ships Are For". Read my thoughts on the episode.
Nudes, Tribbles, Walkers and a fired series creator. Here is the Discovery news round-up of the past couple of days, with my personal (and not always kind) comments.