Main Index
Random Page
Featured Topic
Affiliated Site
External Link
News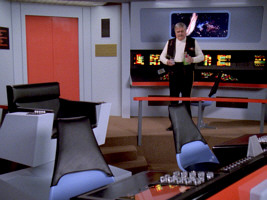 Star Trek has a legacy of more than 50 years. The franchise is famed for the iconic looks of its characters, species, sets, props and starships. They so far contributed greatly to the continuity of Star Trek. It appears that this has changed with the Abramsverse and ultimately with Discovery. My new article illustrates The Visual Continuity of Star Trek with many examples and pictures.
Five new designs in the Journal of Applied Treknology. Cordial thanks to all contributors!
Still more new pictures in the Galleries, such as HD screen caps of planets from Star Trek Enterprise. I have also added some more ship diagrams from the Official Starships Collection, for instance of the Borg Queen's ship.
Update of the Links page.