Main Index
Random Page
Featured Topic
Affiliated Site
External Link
News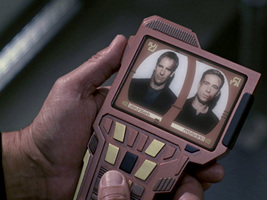 Another round of updates in the re-used props section. This time dozens of new entries were added to the pages about engineering tools, stationary consoles and mobile computers.
Two more updated Voyager season 4 reviews, of "Demon" and "One".
More supplements to the re-used props section. This time the focus is on furniture and decoration. But several other articles have been updated too.
The official Star Trek site lists the air dates and the synopses of the four Short Treks mini episodes. Read my comment on this new series format.
I have added dozens of re-used props and sets to various articles, many of which Jörg already spotted and sent me more than ten years ago. The most additions can be found on the page about Re-Used Props - Beam Weapons.