Main Index
Random Page
Featured Topic
Affiliated Site
External Link
News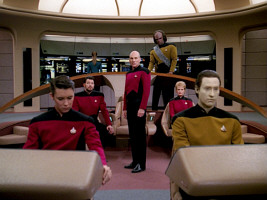 An all-new article by Tadeo D'Oria shows the The Evolution of the Enterprise-D Bridge in great detail. All changes to the set (that we could identify so far) are illustrated with screen cap comparisons, including fake and parallel universe variants.
New Poll: What do you think of Star Trek Discovery so far?
Daniel Tessier has reviewed Desperate Hours by David Mack, the first Discovery spin-off novel.
Star Trek Continues has released the second part of its series finale "To Boldly Go". Here is my combined review of both parts.