Main Index
Random Page
Featured Topic
Affiliated Site
External Link
News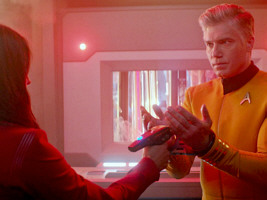 Here is my review of the latest Short Treks episode, "Ask Not". It could get only better after the Edward disaster. And indeed, although it is very predictable, "Ask Not" is deserving of the label "Star Trek" again.
Yippee ki-yay! When a group of terrorists attempt to take over his ship during a clean-up procedure, Picard is the last line of defense. See our Observations in TNG: "Starship Mine". The complete HD screen cap gallery of the episode is available at TrekCore.
Various different flags of the United Federation of Planets could be seen in series and movies. In a new article, we investigate The Evolution of the Federation Flag in production order. Research: Jörg Hillebrand, illustrations: Brad Wilder.
Countless off-the-shelf office chairs, lounge chairs or car seats appeared in Star Trek productions. We have compiled a list of the models that we identified, among them many design classics: Commercially Available Chairs in Star Trek. We are grateful for input on the chairs that are not yet identified.