Main Index
Random Page
Featured Topic
Affiliated Site
External Link
News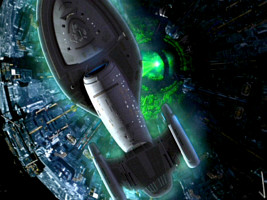 I continue my Voyager reviews in season 5. Read my takes on "Night" and "Drone", two episodes with classic Trek stories that I still find inspiring after so many years.
Daniel Tessier reviews the latest novel by Christopher L. Bennett, The Captain's Oath.
Marten van Wier reviews the issues #8 and #9 of Star Trek Early Voyages by Marvel Comics.
In an all-new article, we investigate The Emblems of the Federation Founding Members: Earth, Vulcan, Andor(ia) and Tellar, including all notable variations, as well as related symbols. Research: Jörg Hillebrand, illustrations: Brad Wilder.
Here is a comprehensive (but probably not yet complete) list of Discovery Continuity Problems, aside from it being a "visual reboot".