Main Index
Random Page
Featured Topic
Affiliated Site
External Link
News
A personal note on the coverage of Discovery at EAS, which will have to wait some time.
I have summarized the latest news on Discovery costumes, props, make-ups and ships, along with a couple of comments.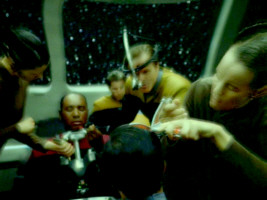 Here are two more reviews of Voyager's season 4, "The Raven" and "Scientific Method". Two of the better episodes in the arguably best season of the series.
In a second brand new article related to the one about the shuttle Alice, we show the various Redresses of the Type-9 Shuttle Cockpit that were created for other Starfleet shuttles, but also for some alien ships in Star Trek Enterprise.
Jörg and I have completed a new article about the Redresses of Alice. We investigate how the life-size mock-up and how the CG model was modified for the Arkonian shuttle and the Tellarite shuttle that appeared in Star Trek Enterprise.