Main Index
Random Page
Featured Topic
Affiliated Site
External Link
News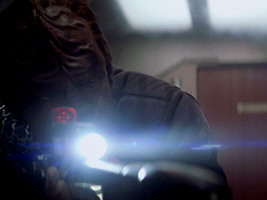 A new article by Finntrekkie looks at The Proliferation of Dark, Gloomy and Empty Ships in Star Trek. It lists variations of the trope and includes a gallery with examples.
An EAE Award goes to The Star Trek Design Project. Congratulations!
New Klingons yet again? With hair? Make-up designer Glenn Hetrick surprised the fans at STLV. Read the whole news and my commentary.
Surgical Incision is a new story by Travis Anderson. In his growing bid for power within the ranks of the Maquis, Michael Eddington leads specially chosen Maquis cells to the Starfleet Ship Depot in Sector 04 where decommissioned starships and shuttles from the 22nd and 23rd centuries float, seemingly lost and without purpose. The goal is to mount an overwhelming attack against Gul Maret's headquarters in the Dorvan Sector.
Patrick Stewart to return to Star Trek in a new series. Is this the series we have been hoping for? Or just another attempt to link the reboot with canon? Read my comment.