Main Index
Random Page
Featured Topic
Affiliated Site
External Link
News
Ex Astris Scientia celebrates 20 years online. The site was first uploaded on January 21, 1998. See the reconstruction of the site as it looked 20 years ago. Since then, EAS has been a continually updated and further developed. I would like to take this opportunity to thank all contributors for creating great content. Many thanks also to the visitors, who provide valuable feedback and suggestions. Here's to the next 20 years!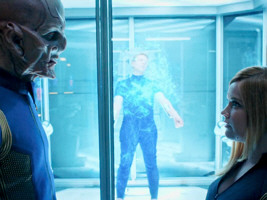 Read my review of this week's Star Trek Discovery episode, "The Wolf Inside". The ship is still in the Mirror Universe, and the story still doesn't work for me.
New Poll: Rate "The Wolf Inside".
Here is my review of the latest Star Trek Discovery episode, "Despite Yourself". The story answers some of the lingering questions, but is neither very surprising nor very plausible.
New Poll: Rate "Despite Yourself".
I have added almost 200 HD screen caps from Star Trek Enterprise to the Starship Gallery, such as of the Other Aliens of the 22nd Century. Not all of them look as great as they could because the visual effects were generally produced at a lower resolution and only upscaled for the Blu-ray release. Still, most caps are better than anything available so far.