Main Index
Random Page
Featured Topic
Affiliated Site
External Link
News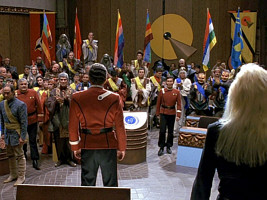 In an all-new article, we investigate The Emblems of the Federation Founding Members: Earth, Vulcan, Andor(ia) and Tellar, including all notable variations, as well as related symbols. Research: Jörg Hillebrand, illustrations: Brad Wilder.
Here is a comprehensive (but probably not yet complete) list of Discovery Continuity Problems, aside from it being a "visual reboot".
There are also some more pictures of Discovery Sets and Props, notably a reconstruction of the Discovery bridge. Thanks to BobyE!
A new article by Jonah Kuttner looks at the Navigation Lights on Starfleet Ships and how the pattern remained (almost) consistent across the design generations of Star Trek.
The new series with Sir Patrick Stewart has an official title. It's Star Trek: Picard!