Main Index
Random Page
Featured Topic
Affiliated Site
External Link
News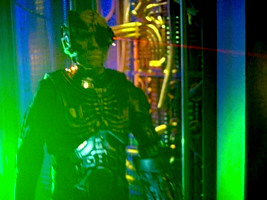 I have reviewed two more Voyager season 3 episodes, "Blood Fever" and "Unity".
I have added information about the corrections in the Netflix HD versions of the following TNG episodes: "The Vengeance Factor", "Brothers", "Imaginary Friend", "Relics". These changes are highlighted in the articles.
You can now find the TNG-R: "Relics" HD screen caps at TrekCore. See our article on the episode.
Regarding the alleged Klingons on the leaked photo from the Star Trek Discovery set, I will further comment on it once I have an official confirmation.
As a further step to improve the usability of this site, I edited the intra-page navigation bars that can be found on many pages. This could have been done with a few easy CSS edits if Frontpage hadn't left a huge amount of garbage in the code (such as line break tags with links on them) that took me hundreds of search-and-replace passes until they were clean.
Read my review of Hive, the third volume of the Star Trek Graphic Novel Collection (please scroll down).