Main Index
Random Page
Featured Topic
Affiliated Site
External Link
News
It appears that for Discovery the scope of Star Trek's canon was reduced to the mere facts, exempting any visuals. Here are the links to the recent interviews about canon and Klingons and my comment on the revised policy.
On a different note about Discovery, I'm drowning in work and it may still take several days until I can begin to watch and review Discovery.
And here are my comments on the revelation what the Klingon sarcophagus ship is about.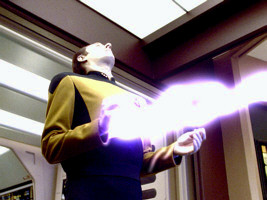 Worf is on a quest for his father, and so is Data, in a manner of speaking. See our Observations in TNG: "Birthright I". Our friends at TrekCore have the complete HD screen cap gallery of the episode.
Only 12 days left. Here is my perhaps final news round-up with a summary of recent media coverage on Discovery and my comments.