Main Index
Random Page
Featured Topic
Affiliated Site
External Link
News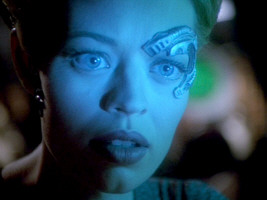 I have revised and extended the reviews of the two Voyager episodes "Vis à Vis" and "The Omega Directive".
It has taken me quite a while, but here is the database of Discovery Federation Ship Classes with all Federation starships, shuttles, stations, satellites and probes that have appeared so far. I am grateful for any supplements or corrections!
Here are my impressions of Destination Star Trek 2018 in Dortmund, a convention that we attended last weekend. The event was a lot of fun and featured an impressive array of guest stars, including William Shatner.
Here is my expanded review of the Voyager season 4 double episode "The Killing Game I/II".
I have posted a season 2 news round-up and a comment on the rumor that Discovery's version of the USS Enterprise was legally required to be "25% different", a rumor that was very quickly refuted by CBS but has some aftereffects.