Main Index
Random Page
Featured Topic
Affiliated Site
External Link
News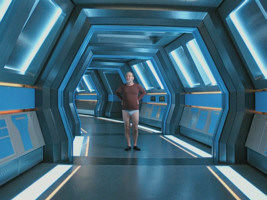 I have found and reviewed the latest Short Treks episode, "The Trouble with Edward" that turns out to be a disaster in every possible regard.
Here is my review of the new Short Treks episode "Q&A" that I managed to find a totally legal copy of earlier today. The always honest Spock will swear this is true. Sorry for the sarcasm, I neither like being excluded from Trek content, nor do I like this episode.
Because of geoblocking (Thanks CBS, your policy sucks!) I can only slowly catch up with the news from NYCC. But here is my comment on the new Picard trailer, the arguably most important of the three ones that were released.
Here are two more updated reviews of Voyager's fifth season, "Extreme Risk" and "In the Flesh".