Main Index
Random Page
Featured Topic
Affiliated Site
External Link
News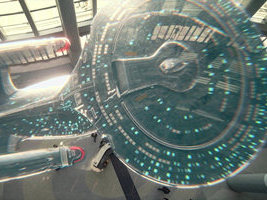 More articles updated with facts from Star Trek Picard: The Evolution of the Federation Emblem, The Visual Continuity of Star Trek, Timeline - Post-Nemesis Era and several entries in the Treknology Encyclopedia.
We have finished our article with Observations in PIC: "Broken Pieces". See how the pieces fit together in 286 pictures.
Here is the first batch of articles with Picard-related updates (aside from some tiny changes that I wouldn't bother to list here): Spot the Difference, Artificial Lifeforms, Locating Starfleet Buildings in San Francisco, The Emblem of Starfleet Command. Much more will follow in the next couple of months.
The first season of Star Trek: Picard ends with an exciting, emotional and meaningful episode. Read my review of PIC: "Et in Arcadia Ego II".
Updated Poll: Rate the season finale, PIC: "Et in Arcadia Ego II".
Here is our big article with Observations in PIC: "Nepenthe". We show everything interesting about the eponymous planet and the Troi-Riker home in 305 pictures.