Main Index
Random Page
Featured Topic
Affiliated Site
External Link
News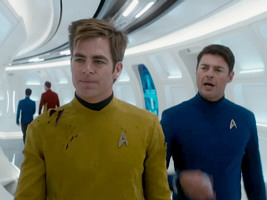 Updates the first articles with Information from "Star Trek Beyond": Homosexuality in Star Trek, The New Enterprise Design, Kirk's Ripped or Removed Shirts.
Full spoilers ahead. Here is my review of "Star Trek Beyond". Did I mention full spoilers?
Feel free to submit your own review of the latest movie.
I will gradually include information from "Star Trek Beyond" to all sections of the site. If you don't find at EAS something you noticed in the movie, please only contact me if it is something not yet discussed in the various forums and social media.
Many images in the Galleries are shown in higher resolution now, such as the alien weapons and other photos from The Art of Star Trek. I scanned them as long as 15(!) years ago, using a professional scanner that did a better job than anything available today, but had to reduce them in size because of bandwidth concerns. Since this is no longer an issue, I sifted through the archive of the original scans. This is a work in progress and may not encompass all scans but only those with considerable potential for improvement.
I have reviewed two more Voyager season 2 episodes: "The Thaw" and "Tuvix".