Main Index
Random Page
Featured Topic
Affiliated Site
External Link
News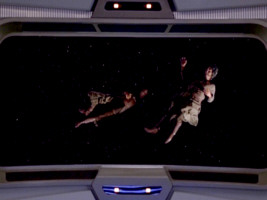 Two more Voyager season 2 reviews. Here are "Maneuvers" and "Resistance".
Read my review of "The Holiest Thing", the recently released episode of Star Trek New Voyages.
Here are two new Voyager season 2 reviews, of "Tattoo" and "Cold Fire".
Happy New Year 2016!
I am pleased to announce that the conversion of all pages to basic CSS/HTML4 is finished, although a lot of work is still necessary to optimize the CSS for all devices and browsers. The last converted batch consisted of the Observations articles, for which I found a solution to render them on a 640 pixels wide screen without horizontal scrolling (and hopefully without squinting as well).