Past Updates 2001
December - November - October - September - August - July - June - May - April - March - February - January

29.12.01
I have added a new class (variant) to the EAS Fleet Yards, the Emden class escort.
Please vote for EAS at Trekkers Guide (hint: 10 is best ;-)).

22.12.01
Happy Holidays! Please sign my new guestbook I was forced to set up since Vantagenet doesn't support this feature any longer. The poll will be down too, but I'm working on getting a new account.

20.12.01
Read my review of "Cold Front" and see the refined design of the Kremlin class.

17.12.01
Federation space stations new in the Starship Database.

13.12.01
New bridge scans of the Enterprise-D battle bridge, Nova class, Raven and Kazon ship can be found here.

12.12.01
See the "True Story of Broken Bow". :-)

11.12.01
I have updated the links section and added a description to each link.

09.12.01
Thanks to Mark R of Trekmania for great renderings of the Wolf 359 ships.
The EAE Award for December 2001 goes to Devilsworld6. Congratulations to Andrew Hodges!

07.12.01
Ferengi, Cardassian and Bajoran ships are new in the Starship Database. I have also added some data about Federation vessels, plus new and better side views of the Akira, Constellation, Constitution refit, Galaxy, Intrepid and Oberth (all reworked by yours truly).

06.12.01
Some updates in the Starship Gallery and other Galleries. Special thanks to Balapoel for his fabulous uniform charts.

03.12.01
Updated the ASDB. Special thanks to the contributors outside the ASDB.

02.12.01
I have added reviews of "Civilization" and "Fortunate Son" and updated other sections accordingly.

26.11.01
Read an interview with Rick Sternbach, former Senior Illustrator and Technical Advisor of Star Trek Voyager. Rick talks about the making of props and ships for Voyager, his current work on "Star Trek X" and his opinion about Enterprise. I have also updated EAS Today.

25.11.01
While I'm at it: Romulan ships.

24.11.01
Official opening of the extended Starship Database which, in some remote future, will have drawings, data and comments on all ships that ever appeared in Star Trek. Right now, I have added the Klingon and the Pre-Federation pages. Note that the database is under permanent construction. I am grateful for any additions and corrections, but please don't expect me to come up with the missing pages too soon.

17.11.01
Update of the ASDB with new images in many sections.
See also the new Java class container ship at the EAS Fleet Yards.

16.11.01
The new poll: Which is your favorite Enterprise episode so far? Vote here.
The review of "Breaking the Ice" is available.
Weiterhin gibt es einen Artikel über die Trill.

13.11.01
The site search engine by siteLevel is now operational.

12.11.01
The site search is down. Since no one at Freepolls seems to care about the problem, I have registered for another free search engine, but it hasn't begun spidering yet.

07.11.01
Late as always, here is my review of "The Andorian Incident".

06.11.01
TrekEnterprise.com wins the EAE Award for November. Congratulations to webmistress Kara!

01.11.01
There are four new book reviews of the Encyclopedia, The Making of Star Trek, The Art of Star Trek, and The Continuing Mission.

31.10.01
Two new Enterprise reviews of "Unexpected" and "Terra Nova".

30.10.01
Two new Voyager reviews of "Workforce" and "Human Error".

26.10.01
Thanks to my additional webspace, I am able to present six more bridge images: Kirk's Enterprise, Stargazer, Danube, Kruge's BoP, Quark's Treasure, Serosian ship.

24.10.01
There is a new and improved version my Hannibal class.
I am also in the course of improving and supplementing my TOS episode guide.

21.10.01
Thanks a lot to Thomas, who has agreed to host my galleries at concept40.com. I have taken the opportunity and made a few updates. You find the galleries here. Thanks also to the other visitors who had many useful suggestions.

18.10.01
The galleries are down (again), and they won't return until I have found a permanent solution to my pressing webspace and traffic problem.

17.10.01
I am alienated about a recent petition with thousands of signatures to change the Enterprise title theme, which (in contrast to the horrible Akiraprise) IMHO perfectly suits the series. Please go to the petition to keep the theme!

16.10.01
Uploaded review of "Strange New World".

14.10.01
There is a new and improved version of the Himalaya class (and refit).
Thanks a lot to Trek Connection for their Sovereign Class Award!

11.10.01
I have made a few updates to the Treknology Encyclopedia and the Star Trek History, added three 2nd season TNG reviews and set up a page about the sources used for this site.

10.10.01
Congratulations to Le Trekker Fou who wins the EAE Award for his site, Star Trek Fr! Please take part in the new poll about your first impression of Enterprise.

09.10.01
Due to popular request, here are reviews of "Broken Bow" and "Fight or Flight".

03.10.01
The Starfleet Museum will celebrate its second anniversary on October, 10th. On this occasion Masao has created countless new ship patches, and there are some fantastic 3D scenes of the Lancaster class by Thomas Pemberton. The page structure has been rearranged too for faster loading.
At EAS, there is finally an episode section about DS9. I hope I will get the reviews of the final season done soon.

30.09.01
Added Voyager reviews from "Lineage" to "The Void".

26.09.01
Big update of the ASDB with many new images, especially of the Bradbury and Merced 3D models, and dozens of new sketches. Several new images in the EAS Fleet Yards too, thanks to Bob, Brian, Jay, and Peiper!

25.09.01
My complaint about the new Enterprise ("Akiraprise") as being too new has been printed in the recent Entertainment Weekly magazine (see scan, thanks to Shik). Here's the link (gone) to the petition also mentioned in the article.

23.09.01
I'm back with several updates on the links page and my delayed but cordial congratulations to Tara O'Shea, of Star Trek Voyager - Lower Decks, who wins the EAE Award for September 2001.
As the premiere of Enterprise is approaching, I have set up an Enterprise FAQ to explain my criticism about the new series. I don't mean to offend visitors who are looking forward to it, but just don't want to answer always the same questions again and again.

13.09.01
This is not the time to go back to business as usual. I have written down a few thoughts about September 11th which may offer a positive perspective for the future.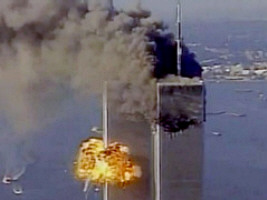 11.09.01
My condolences to the victims. And death to the cowardly bastards responsible for it!

08.09.01
Happy Star Trek Day! Unfortunately I'm currently unable to celebrate this event the way it would deserve. Read here.
Thanks to Starfleet Command Quadrant 2 for their award!

06.09.01
Please take a few seconds for the new poll about Enterprise.

04.09.01
New reviews of "Flesh and Blood" and "Shattered", the latter supplemented with an analysis of the time travel problems.

31.08.01
The Wolf 359 Project has grown to a size where it can't be presented on one page any longer. I have divided it into pages about individual ships. There is some new information too, and Masaki's illustrations how the ships were built.

28.08.01
Starfleet Museum update - added several new images and a page about the patrol ships of the Archer class and Curran class. Special thanks to Jay and Thomas!

27.08.01
I have been planning book reviews for a long time, which I will now do with the help of my buddy Thorsten.
Ein neuer deutscher Artikel befaßt sich mit Zeitreisen in Star Trek.

20.08.01
Working off my to-do list, I have made many small corrections and updates, mostly in the Inconsistencies section.

17.08.01
ASDB update with new images and new ideas.

13.08.01
The EAE Award for August 2001 goes to Hispatrek. Congratulations!

12.08.01
No updates except for a few corrections and some new links. As long as I don't have the time to add it, visit Starship Class for new information about the Wolf 359 ships.

05.08.01
Become a Star Trek author! Try the new "T-Race Generator".

04.08.01
New reviews of "Body and Soul" and "Nightingale", and changes to the links.

03.08.01
I have rearranged the Inconsistencies index to facilitate additions, and made a few updates to the section.
Congratulations to Star Trek Dimension for being online for two years! See Christian's Birthday Special with several new features.

31.07.01
I will post occasional TNG reviews, beginning with three episodes of season 3.

30.07.01
I have just moved my office, and it may take a few days until the next update. Thanks to Bravo Fleet for their award!

23.07.01
New reviews of "Critical Care" and "Inside Man".
A couple of new images in the Starship Gallery.
Several links removed, added or updated. The poll and the petition stay open.

16.07.01
I have added several new images to the starship list. Thanks to Masaki and Reverend!
There are two new Voyager reviews of season 7.
Congratulations to Starship Class and Copernicus Ship Yards who win this month's EAE Award.

09.07.01
New poll. You may guess what it's about. Here's a petition (link gone) I have decided to support. It won't help to get rid of the Akiraprise, but may at least tell TPTB that not everyone devotedly follows their silly ideas.

08.07.01
The Enterprise is the Akira! I have never been so alienated about anything in Star Trek. Read here. EAS Today has been updated.
Thanks to Angel Swan for her award!

02.07.01
Added names registries and new patches to a couple of ships in the Starfleet Museum.
In the EAS Fleet Yards, the Ajax class, Lincoln class and Lincoln class refit have new detailed schematics.
Thanks to Star Trek Info for their award!

25.06.01
Gallery update with 130 new images, mostly weapons, devices and rooms.

19.06.01
After some down times and error messages, the Galleries are working again. Major update to come in a few days.

18.06.01
Finally an update to the ASDB. Special thanks to Bob for his great 3D models of the Mediterranean, Renaissance, Istanbul, Yorkshire and Surak.
Free or inexpensive services and nothing but trouble: Read my rant on EAS Today.

15.06.01
Thanks to Star Trek Sims Recruiting Network where EAS is Website of the Month, and to the Alpha Quadrant Sim Group for their Latinum Award!

11.06.01
New 3D ships in the EAS Fleet Yards and the Starfleet Museum. Thanks to Jay, Thomas, Fabio, and Giorgio! The Kestrel class is presented with a long article.

05.06.01
I have compiled a brief History of the Star Trek Universe, listing fairly all events from the Big Bang to the 31st century.
Thanks to USS Hyphron for their Latinum Award!
Außerdem gibt es noch einen Artikel über die Klingonenmutation aus der Jahresausgabe von Star Trek Weekly.

31.05.01
Read the extensive "Endgame" review at Star Trek Dimension.
Congratulations to Brian Matthews of Stone Trek, winner of the EAE Award for June 20001 B.C.!

30.05.01
Updated EAS Today. Do you think Star Trek is too American? Discuss at the SCN.

28.05.01
Added reviews of "Unimatrix Zero" and "Imperfection".

25.05.01
I have made a few updates to the Starship Articles.
Thanks to Starfleet Databank for their award!

21.05.01
Added a few images to the Galleries, such as a rendition of Quark's Bar.

19.05.01
Added a new page called EAS Today with the TrekToday headlines, a more or less regular editorial, and other features.

17.05.01
Still three more bridge diagrams: Enterprise-C, Jem'Hadar ship, Dauntless. Enjoy!

16.05.01
Now that it's official, tell your opinion about "Enterprise" in the new poll.
Due to popular request I have enabled the access to the bridge diagrams again, they are now back on the glorious EAS main server.
Due to Stratospheric problems it may happen that large files are not completely downloaded from there, because the server simply ends the transmission after a timeout of only a few seconds. In such a case, please try again. I affirm that the upload was complete.

15.05.01
It sucks! The image galleries have been down for almost two days, and now the download size limit of MyToday has been decreased to 200 kilobytes. This means that most of the bridge diagrams can't be downloaded. I'm tired of moving everything around every few days, so they will stay offline for the time being. One request: Please don't mail me with suggestions to move to another server - well, unless you run a server yourself. I know there is no free provider with conditions that suit my needs, and with domain hosting I would have to pay a fortune for the traffic of EAS.

14.05.01
Eight new bridge diagrams are up. Congratulations to Mark who wins the EAE Award for his site, TrekMania.

11.05.01
It's official. The TOS prequel "Enterprise" has been announced by Paramount. Read the full story at TrekToday and my comment. I think that the new series will most likely damage the spirit of 35 years of Star Trek and will completely destroy its consistency. From what we know so far it's also one of the least imaginative science fiction premises ever. Sorry, but I don't have much hope. I can't help feeling this will be the end of Star Trek.

08.05.01
I have added the three missing seasons of the TNG episode guide.

30.04.01
I'm more than concerned about the new Pre-Starfleet series "Enterprise" which is taking shape - although not yet officially confirmed. Read my objections.

27.04.01
Thanks a lot to Dan who has agreed to host the uncompressed fleet charts. Visit his site, Star Trek Minutiae!

26.04.01
That's the last straw! Geocities really pisses me off. For the second time in only a few weeks they have deleted all files in my account and disabled the upload. This time I even obeyed their "friendly reminder" - which I received although I had already uploaded all the files - and used their silly page builder to prove I really want to maintain a site there. Since all attempts to move the large fleet charts in TIFF format somewhere else failed due to file size limits, I can no longer offer them for download.

23.04.01
Grand opening of the new EAS Galleries with currently 550 images, covering all aspects of Star Trek. Thanks to MyToday, where the galleries are hosted for free without ads.
Considering that they must exist, I have added all ships from Wolf 359 to my official ship list.
The Starfleet Museum shows two new previews about Starfleet transports and Klingon ships.
I have also added an illustrated history of this site.
Außerdem gibt es noch einen neuen Artikel über Computerprobleme.

20.04.01
New poll: Which season of DS9 did you enjoy most?

19.04.01
All links reviewed and updated.

17.04.01
I have added an article about the locations of Jefferies tubes on Starfleet ships.

12.04.01
Several new ship patches in the Starfleet Museum and some smaller changes and updates.
Check my latest version of the Mosquito class and see the model of the Asia class refit Jay Hagen has created for Starfleet Command.
Thanks to Ben for his bridge comparison chart. Thanks to Lenny for his great top view of the Akira class.
Congratulations to TrekToday, winner of the April 2001 EAE Award!
Happy Easter! I will be offline for a couple of days.

05.04.01
It's sickening! It's a complot! Once my domain is running again, I have discovered that Geocities has deleted my free account where I was keeping the fleet chart downloads, and that Nedstat has messed up my counters. Never get any free web services! Once you have them, you won't have the time to do anything else but fix them!

02.04.01
Everything seems to be up and running again. Thanks a lot to Lucutus and to Tango Fleet for their awards!

30.03.01
While I'm writing this, the EAS domains are down for 78 hours, because the "routine maintenance" of the server at Strato ended up in a disaster once again. 1.7 million customers are offline too, because Strato has no backup system! Of course, I could change my ISP, but I checked and there is absolutely no chance to get the unlimited traffic EAS urgently needs elsewhere - it's currently 20 gigabytes per month which would ruin me if I had to pay for it. Thanks for your understanding.

22.03.01
Still more new stuff in the Starfleet Museum. Now almost 50 new images altogether!

21.03.01
New in the Starfleet Museum: 3D scenes by Thomas, Fabio, and Brian, plus countless ship patches by Masao.
Thanks to Fredy for his award!

19.03.01
Some new scans in the starship gallery, most notably five-view schematics of the Dauntless, and a terrific image of the Enterprise and Excelsior in the spacedock (Due to the server timeout the image may not load completely - please try "reload" in this case).
Many thanks to Quark's, to Trekstation and to Trekiweb for their awards!

13.03.01
Congratulations to Benjamin who wins the EAE Award for his site Sektion 31.

12.03.01
I hate scans with page folds, so it took some efforts to remove them from the Saber and Steamrunner diagrams. There are several more new images in the Starship Gallery.
There are again some updates to our Wolf 359 research, including a new photo of the Springfield.
Thanks to Syfy World and to Torben for their awards!

07.03.01
New material about Wolf 359, including the long awaited photo of the Springfield class (Thanks a lot to Mike Okuda) and new facts about the Challenger class. Balapoel has provided his new ship recognition charts.
Finally, have a look at the ASDB mirror site set up by Dan Carlson.

05.03.01
I have updated the links.
Thanks to USS Veldran for their award.
Finally, please support the petition to release the complete soundtrack of Star Trek II and III by James Horner.

01.03.01
It is now possible to access the Sci-Fi Chat Network directly from EAS.

28.02.01
There is a new poll about Voyager races and which of them you would like to see again.
Thanks a lot to Warp 13 for their Gold Award.

23.02.01
After Geocities was so wise to disable off-site linking (thereby denying their members the possibility to make their sites public outside Geocities), I had the questionable pleasure of removing about a dozen banners. My apologies to all whose banners are gone. Please contact me when you have found a better server for them. The most disastrous effect is that none of the webring images loads any longer. This is why I leave all webrings once and for all.

22.02.01
Help! I need some free webspace. Read about my experiences so far.
Neues von meiner Partnersite Voyager Center.

21.02.01
The Voyager reviews of season 6 are almost complete now.
Thanks a lot to tech of Star Trek 3000, to Thomas of Star Trek Universum, and to Robert of Kronos One for their awards!

15.02.01
Postwar Romulan ships are presented on a new page, along with many more updates in the Starfleet Museum.
There are also a few new images in the Starship Gallery.

12.02.01
Congratulations to Paris Nights, winner of the February 2001 EAE Award. Thanks for your award, Dave!
There are a few more Voyager reviews, the rest of season 6 coming soon.

06.02.01
Several new images in the Starship Gallery, plus a couple of updates to the ASDB. Follow the

signs.
Please take part in the new poll.

31.01.01
There are some new images in the Starship Gallery, thanks a lot to Reverend!
An improved schematic of the Mediterranean class is available.
Außerdem gibt es einen neuen Artikel über die Größe der Defiant.

23.01.01
Several updates in the Starfleet Museum, including articles on the Quetzalcoatl and Hyperion, and several new 3D scenes.
The ASDB shows new orthographic views of the Renaissance, plus a huge MSD.
Finally, there is a new colored side view of the Raven.

15.01.01
Congratulations to Tango Fleet, winner of the January 2001 EAE Award.
There are a couple of new images in the Starship Gallery. Follow the

signs.
Ein neuer Artikel analysiert allgemeine Fehler bei Star Trek Voyager.

09.01.01
Added a new poll about Starfleet ships.

08.01.01
I have compiled new fleet charts of all alien ships for which I could find size figures or references. Please note that many of them are only rough estimates. The sources of the size figures are described on a separate page.
Thanks to the 5th Fleet for their award!

03.01.01
The true New Millennium brings several new features and countless updates. The Fabrux class (idea by Lance) is new at the EAS Fleet Yards. The design tutorial shows how the ship was created.
Another tutorial describes how to retouch a scan. I have also compiled some notes on (Trek) website promotion.
There are some new ship images and updates of the starship articles, starship list and inconsistencies. There is a new page of fun too.
Finally, navigation bars have been added to many pages.